I'm happy to introduce you to this week's guest poster Melanie for my Wednesday series 
Yes, Works For Me!
 Please welcome her and be encouraged by her yes to God and continue to link up what works for you.
Go big or go home. That's seems to have been my life motto, somehow either born within me or bred throughout my years.
I'm a competitor. High-school valedictorian. Type-A-Organizer. Achiever. Hard worker. (I don't say this proudly, for you see, these attributes have also been my weakness).
Rather than seeking God's will, my heart is prone to wander into seeking to win. That somehow if I gain enough blog followers, or Bible study members, or friends, or a promotion… that I will somehow "prove" I am worthy to be used by God in His big picture plan.
When my heart pushes to compete, I lose sight of the fact that in Christ I am already complete.
Many times we think that God only has special plans for those who do "big things". Bible teachers with huge audiences. Bloggers with millions of followers. Leaders who are cheered by the masses.
Where does that leave us? The ordinary ones? The ones that are not on a stage, or in print, or with a microphone. The ones who blend into the crowds. The ones who long to be used by God but doubt whether He could even want to use our "ordinariness".
Sweet friends, that leaves us right where God has placed us…. where He can use us best.
God doesn't call us to be famous. He calls us to be faithful.
Perhaps God uses us best when we spread His love in the small, private places of life. When no one sees, God sees us. When a friend needs a listening ear, God helps us whisper "cast all your cares on Him because He cares for you". When a cashier just needs someone to ask how her day is going, God shows her that she is noticed. When a dirty little boy asks for a drink of water at soccer practice, God shows His love through our giving just a simple smile and a tiny cup of cool water.

Are we willing to say "yes" to the small or just to the super-size?
In the Gospel of John, the first words we hear from Jesus are "What are you seeking?". I slowly trace over each letter with my finger and read them aloud to myself. "Melanie, what are you seeking?"
Am I seeking blog followers? Am I seeking pats on the back? Am I seeking to be "famous"?
… or am I seeking Him?
I hope you will join me in saying "yes" to the small. How will you do it today? Is there a child who would enjoy listening to you read them a book, a friend who needs a listening ear, or maybe a total stranger that would enjoy a random note of encouragement?
I want to seek Him. I want to see Him — really see Him — in every minute detail of my ordinary life. Today, I'm shouting out a great big, joy-filled, willing-heart, God-seeking "YES!" to the small. Will you join me?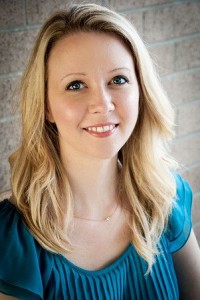 Melanie writes at her blog, 
Only a Breath
, and shares her real-life faith journey. Her blog's mission is a simple one — to make you smile and to point your heart to the Giver of true joy. Melanie works as a full-time software developer and cherishes every moment she can spend with her husband and two hilarious sons. Follow Melanie on twitter at @MelanieAnneTN