The last time Maureen, a child of poverty who now leads the organization in Kenya that Mercy House partners with, spent a few weeks in our home, it wrecked me. That's what happens when you see your first world life through the eyes of someone from the third world.
When she saw five bikes hanging in our garage, she wanted to know if we sold bicycles. Why else would we have so many?
This visit has been different and the same. This time she's not shocked seeing so many pet stores and pet hospitals. She's not surprised by the ease of traffic-free roads or convenience of thirty minute meals. She loves America even though she doesn't always understand it.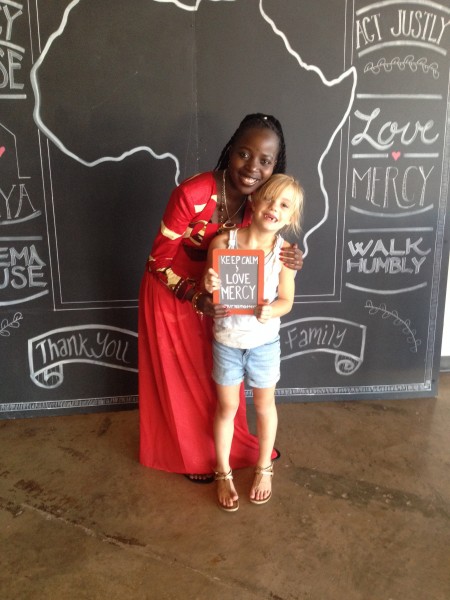 I feel the same.
Driving home the other day, she asked if she could see a mansion. She'd heard about them. We laughed and said, sure.
As Terrell drove slowly thru a multi-million dollar neighborhood with sprawling lawns, massive front porches attached to 7000 square foot homes, Maureen took it all in. She asked a lot of hard questions that were even harder to answer. Only one family lives in this big house? Why?
She suggested we knock on their door and tell them about Mercy House.
We passed an enormous house decorated extravagantly for Halloween with spider webs and skulls and a graveyard complete with headstones. Try to explain that to someone who spent the first decade of her life scrounging for food in a dump.
It was sort of embarrassing seeing it through her eyes. (And it also terrified her, "I could never sleep there.")
And then she said these words and they rocked me to the core.
"Do you remember when I led you into the slum in Kenya five years ago for the first time and you were angry at God?" Yes, I remember. I will never forget that day.
As I followed the raw sewage coursing its way into the heart of hell, I shook my fist at Heaven and asked: "God, how can you allow this?"
That's how I feel today, she said. God how can you allow this?
How can you allow so much wealth when there are so many poor?
How do you explain something you don't understand? How do you explain something you're guilty of? Maybe this is the answer.
America is a land of opportunity. It's the place where we can achieve all we want and more. But just because we have everything we want, should we get more? It's a hard question only we can answer. Because this isn't really about the size of a home or car or bank account. It's not about guilt or lifestyle–it's about the size of our heart.
Because I know people who have a lot and give a lot. I know people who have nothing and give even more.
Last week, I stirred up a lot of comments (and controversy) when I challenged the world to stop giving their crap to the poor. I've thought a lot about my own words and the ones that challenged mine.
I've come to realize it's not really about what we choose to give, it's our motive for giving it. Because if we give with a generous, good heart, we will give our best. And God honors that.
I love the story of the widow's mite. She was a poor woman giving what she had. She dropped those pennies into the plate and it looked like nothing. Maybe even crap. But it was all she had and it was more than the wealthy man in line behind her. And it pleased God.
I have seen poverty through my eyes and it caused me to ask "How can I allow this? What am I doing about it?"
And now I've seen my wealth through the eyes of the poor and I'm asking the same thing.
Today, Maureen leaves the Land of Plenty and I've got plenty to think about.