I always see more clearly when my first world collides with the third world. Sometimes I suffer from double vision in this culture and the line between what I need and what I want is blurred.
Perspective is a gift. And nothing brings life into focus like a shot of it.
When Maureen visited earlier this month, I couldn't help but see my world through her eyes. On the day before her last in Texas, we took her to the zoo for a visit with our kids. We had spent the previous three weeks working nearly non-stop and I wanted to end her trip with a leisure day outdoors in the fall weather.
I didn't realize we had chosen one of the busiest days of the year to visit the zoo. It was Boo Day- a day in which children and a lot of adults in ill-fitting tutus with face paint walk around the zoo and stop at Candy Stations.
I'm not anti-Halloween. When else do neighbors and strangers come to my house, ring my doorbell and ask me for something? For me, it's the perfect opportunity to shine Jesus, hand out good candy and meet people who I probably wouldn't.
But walking around the zoo that day with Maureen and trying to gauge what in the world she must think was something I won't forget. We laughed (and okay, pointed a few times at some ridiculous (or very brave) getups). Because people are funny. She asked a few questions and at one point I whispered to my family Don't even tell her about pet costumes.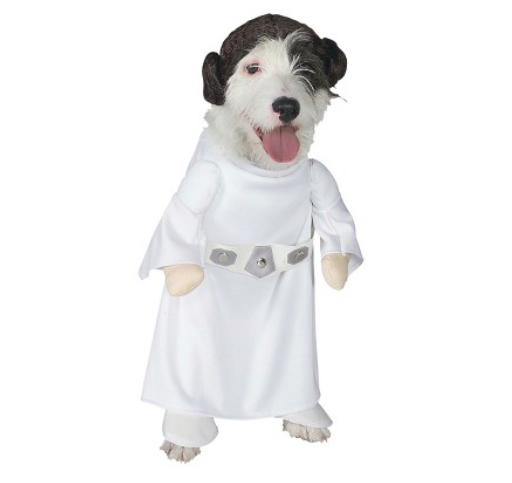 (source)
The week before I overheard a lady at the bank say how badly she needed to stop and get her pet a costume at Petsmart because her sister was throwing a Pet Halloween Party.
We all buy things we don't need. It's one of life's simple pleasures, but some where along the way the line between what we think we need and what we want has been so blurred in our society that when we refer to our pets and costumes and made up parties dogs could give a flip about, we use the word need. I realize it's just a word, but really it's more than that.
Because $330 million dollars.
That's what Americans spent on Halloween costumes for their pets last year.
I can hardly wrap my brain around those numbers. But according to One.org, it's more money than the entire world spends on malaria in a year.
And we can't pretend that the way we live is the way the rest of the world lives. We simply can't keep living this way.
And let's not even talk about cats and other pets at Christmas gifts (Think 5 billion).
Listen, this isn't really about dressing up Fido as Princess Leia or stuffing a stocking for Garfield. It's not about pets or holidays at all. It's about spending our money on things that don't matter and then when we discover something that does matter, we don't feel like we have money to give.
We are approaching the most commercialized and expensive time of the year and it's so easy to get sucked into the materialism of it all. It's easy to spend money on ourselves and our family, on all the fun extras in life. I love splurging on my kids and enjoying leisure days like everyone else.
As Halloween decorations are replaced with Christmas, let's approach this season with a goal to spend less on ourselves.
Because if we only give to ourselves and ignore those in need, we are wrong. We need to do both.
And sometimes, we need to obey the still voice that says less for me, more for others.
Because at the end of the day, people matter more than stuff.
And a little perspective will help us see them more clearly.