At my house, there is a window of time after dinner that is very important.
It's imperfect.
It's messy.
It's my favorite.
It's the pause in our day when we have meaningful conversation. Sometimes it's a hilarious attempt at intentional time that ends in failure (like last week, with Bibles wide opened and something triggered a conversation about bodily functions and names for body parts. Yeah, we just had to scrap the whole thing.) And then sometimes, we uncover a gem of a moment, when we ask hard questions and press into our faith.
This is where we connect and grow. It's also when we open the Bible together as a family.
There's no perfect or right formula for breaking Bread together. We have tried a variety of options. Some have worked, others haven't, but we continue to try.  Family devotions will look different for every family. But even in the messiness of our lives, we can uncover life-changing moments. Sometimes we read inspirational Christian non-fiction books. A few months ago, we passed out spiral notebooks-one for each person- and put our Bibles in a basket near the dinner table. A few nights a week, we each write down 1-2 verses (we started with I John), then we take turns reading what we wrote in the different translations. Next, we write down a sentence or two of what we think the verse is saying…what we observe. Then we write down and share how we will obey the Scripture. Something about this practice, for this season, has been very right for our family.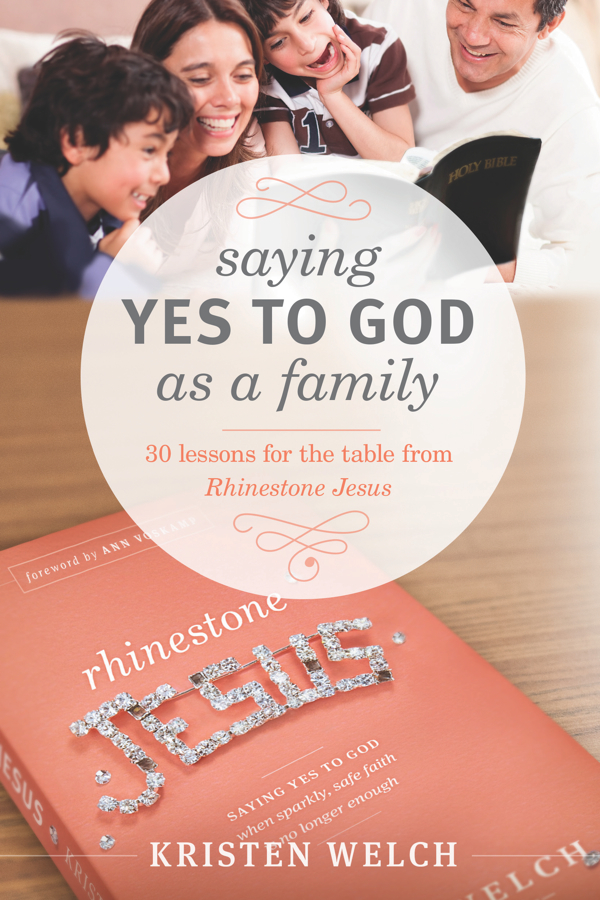 Other times, we do family devotionals like the companion eBook I wrote earlier this year with the launch of Rhinestone Jesus. It's 30 lessons for around the table, with some hands-on activities and conversation starters, plus fun printables. I'm excited to announce that my eBook is included in the Ultimate Christian Living eBook Bundle that is available for a short time, starting today! (I'm including my author affiliate link)
This complete Christian Living Library includes more than 75 eBooks and several bonus gifts. It's valued at $1141 and it's on sale for only $34.95–a 96% savings!
There are so many great books in a variety of categories, from Business to Personal Finances to Children, Marriage, Parenting, Inspirational Fiction and more. Here are about half of the eBooks that are included:
Don't miss out on this fabulous deal on an inspiring collection of life-changing eBooks!
We can't leave our children's Christian education up to the church or youth group. One or two hours a week isn't enough. We can help them connect with God by connecting with Him ourselves. Reading the Bible together as a family and learning from inspiring books is a great place to start.