I'm happy to introduce you to this week's guest poster, Erika for my Wednesday series 
Yes, Works For Me!
 Please welcome her and be encouraged by her yes to God and continue to link up what works for you.
Sharing on Kristen's blog, knowing that thousands may read this post, I am tempted to write about the "wow" yeses. You know, those moments that felt big and important and risky and profound.
My pride wants to impress you and my insecurity longs to win your approval by sharing what we've done and how we've influenced people for the kingdom and taken risks for God's glory. But saying "yes" isn't about me impressing you. Obeying God's call has little to do with what everyone else thinks and everything to do with pleasing God.
I used to tell my students that following Jesus is the greatest adventure they could ever take. And it is.
Following Jesus means listening to His voice and following His lead. But it also means making decisions and choosing paths when the answer isn't clear and the plan not fully understood. Following Jesus means walking by faith, and faith, by definition, means I won't have all the answers. The outcomes won't all turn out as I plan.
Saying yes to Jesus is risky. Many times, our yes, means leaving what is nailed down and secure — resigning from a job or taking a new opportunity, giving when the budget is tight or putting our reputation on the line because we're standing up for what is right.
Saying "yes" to God can be big and audacious and exhilaratingly scary.
But here's the thing.
Sometimes we get so caught up in looking for adventure, in looking for those audacious yeses to God that we start saying no to the areas where He has called us to be faithful.
Following Jesus is the greatest adventure – but sometimes that adventure looks ordinary, conventional, and maybe a little boring.
Our family has said some big yeses to God. We've given up and given in and given away, but one of the hardest yeses that God has asked me to make is to be faithful in the small, ordinary, sacrificial moments of marriage and motherhood.
God hasn't asked me to merely be faithful to my husband. He also asks me to respect my husband, to serve him, and to share myself with him. God asks me to step closer when I want to pull away and pray for him when all I want to do is complain.
Similarly with my children. God is not calling me to say yes only with my time and energy. He's calling me to say "yes" with my attitude as well.
I'm gonna be honest — a lot of times I say no.
I give in to my exhaustion and irritation and my downright selfishness. I stomp my feet or huff and puff or let resentment live in my heart, but the more I say yes — yes to patience and kindness and to obeying God's Word and His Spirit — the more I surrender my pride and selfishness and plan, the more I say yes to God's will, God's way, the more joy and blessing and fullness of life I find all around me.
The little yeses matter, maybe even more than the big ones. After all, "One who is faithful in a very little is also faithful in much, and one who is dishonest in a very little is also dishonest in much" (Luke 16:10 ESV).
By God's grace, I'm learning to say yes.
Yes, yes, yes to God, right here in my mess.
Bio: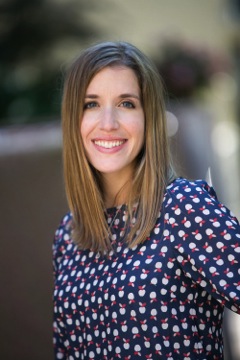 The wife of one amazing guy and Mom to four young kids, Erika is passionate about the Word of God and prayer, and her desire is to help people, young and old, grow in their relationship with Jesus.gue
Erika blogs regularly at erikadawson.com and is a contributing writer at ForTheFamily.org and the Allume Conference blog. She also speaks to women's and parenting groups, and directs the Sunday morning children's ministry at her church. You can also find her hanging out on Facebook or Instagram.
Her heart is for encouraging others to live out an authentic, courageous faith and equipping families to disciple their children.
She is the author of Pray Truth: Praying God's Word for our Husband's Heart and Clean on the Inside: A Family Devotional for Holy Week.