I'm happy to introduce you to this week's guest poster, Christy for my Wednesday series 
Yes, Works For Me!
 Please welcome her and be encouraged by her yes to God and continue to link up what works for you.
It's been almost a year since God started tugging at our hearts. A year since He started whispering this huge change in our life. God was asking us to say yes, in the midst of our mess, in a big way; to move, to uproot, to go backwards, and to say yes to Him.
My husband and I were in ministry together, with our 3 kids for about 6 years. Titles changed, our apartment changed a lot, but the Church and people remained the same. We were doing God's work in a place that needed it a lot, New England. We loved our life and felt that God was moving us forward.
However, in the midst God began to tug at our hearts that things were about to change. Within a few months things became clearer that He had a new assignment for us, a new place He was calling us to. God was making it clear He wanted us to go back to our home state, to my alma mater, Valley Forge Christian College. Not to teach, or to be on staff, but to go back as students, for my husband to finish.
To the outside world, to those around us, it seemed crazy. Why would we leave good paying, stable jobs, surrounded by dear friends, immersed in needed ministry to go back to school? Why would we take our family of 5 and leave a decent duplex to go to a 645 square foot apartment in a dorm? Why would we take a huge step back in our careers, in our ministry, at the peak of our lives?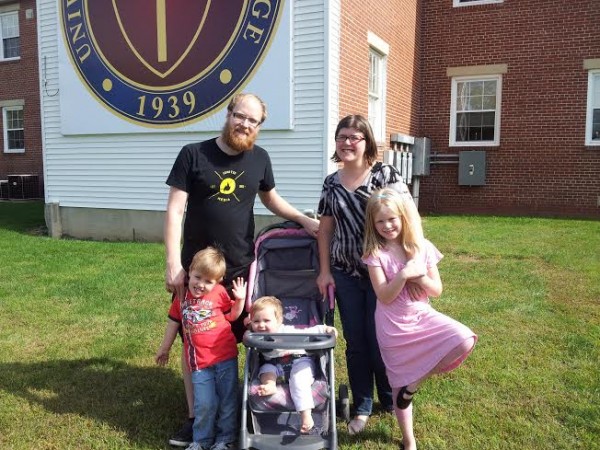 Why? Because God asked. Because He called us too. Because God opened up every door we needed Him to and walked us through all the way. Was it backwards? Technically yes, not many 30 year olds who have been married for 8 years with 3 kids willingly move their family back into their old college so their husband can be a student again. But for us, it was actually a step forward.
God revealed so much to us. That our steps are not our own, they belong to Him. That our future plans don't mean as much as His ultimate plan. That God can pull us backward to launch us even farther forward. That sometimes we to be like the military, to retreat to eventually take the high ground.
What may be a step backwards to us, may not be that to God. When we say yes to God in our own mess, we learn things. We learn to give up the titles, to change our view point, to be humble. If God is calling you to step backwards for a season, don't be scared, embrace it, say yes. The direction on the ladder is not as important as God's place on your personal ladder.
Our family of 5 is now immersed back into college life. But through it God has opened up a whole new village for us to share life with. My husband is studying late at night. But through it God has given him opportunities to encourage the other students around him. I'm juggling a family in a small space while working full time. But God has opened up doors for more family time and new ministries, all beyond what I imagined. I never wanted to go backwards. But God is faithful!
In "Rhinestone Jesus" Kristen says "Saying yes is more about courage and faith than opportunity and success." Going back to college may open up opportunity and success later, but it may not. But for right now, when there is none of that, only courage and faith remain. So does the reminder that when God asks and you say yes, you are not alone. Do not fear the backwards steps God may call you to, they will be hard and they will be scary, but they are not by accident and you are not alone.
Bio: Danielle Christy is a Christian, pastor, pastor's wife, mom to 3, and writer. She chronicles Life in Ministry, Life with Kids, Life with Jesus over at www.christyswithkids.blogspot.com