We let the stack of breakfast dishes sit sticky and we stayed around the table… for three hours. What started out as conversation evolved into an epic board game battle while my daughter and I knitted scarves and I'm pretty sure my son refined his noise-making skills. Oh, junior high boys, you are a mystery.
It wasn't planned. It wasn't perfect. It wasn't entirely peaceful.
There were arguments with winners and losers and tangled yarn battles and annoyances.
So, basically, you know, family life.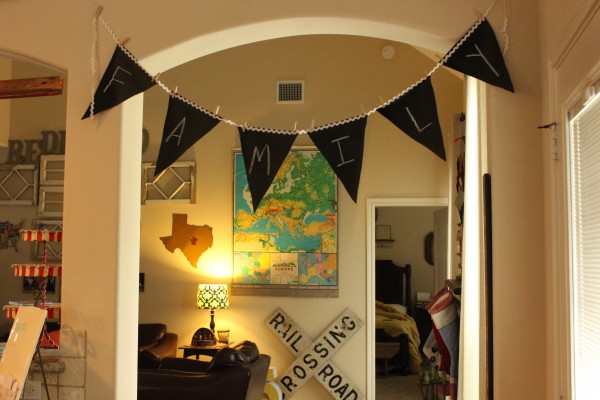 But there was laughter and love and the one word that has impacted our home more than any other the past few years. Togetherness. There was intentional purpose to make time to be together.
I think in a perfect world, we equate togetherness with peace. But if your world is anything like mine, reality is often chaos. There are tears and fears and giggles and grumbling. It's a hodgepodge of emotions. But through it all, we choose to be together and that has strengthened us.
We visited House Church (think midweek Bible Study for families) and we ended up at a house without children. The leader offered a TV to my kids, but I asked if we might stay together, study together. My children sat still as church mice on the leather couch in a stranger's house, quietly listening and I could only think how bored they must be. But as soon as our van door closed, they all talked at once how much they enjoyed the Bible Study and declared being together was the best part and could we please do that again? I smiled wide in the dark car on the way home because I couldn't agree more.
The world will pull our families apart if we let it. It will divide and separate us and interrupt dinner and encourage us to live for yourselves and forget others. It will tell you to buy into the American Dream for your family and move out of that starter home and build your own little Kingdom of worldly possessions.
But our culture won't tell your family breaking bread and breaking your life and giving it away is the way to really keep it together.
If you want to change your family, the world, do it side-by-side. It doesn't have to cost a dime or even that much time. It's about getting back to the basics and getting back together.
Go to church together. Ride bikes together. Play games together. Clean the kitchen together. Look for opportunities to bond as a family in your every day life and a new year is the perfect time to start.
My kids are getting older and I feel a pull to draw them back in.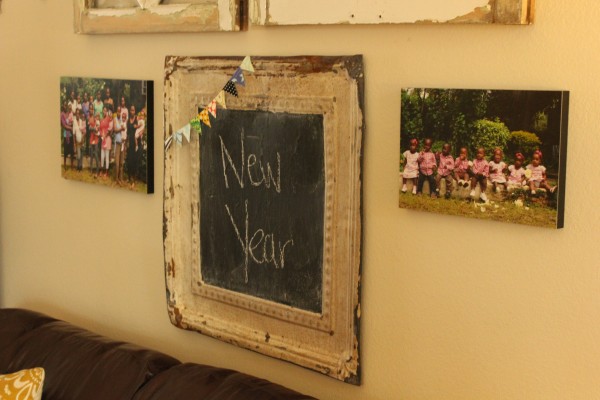 Start with one or two of these four goals that can radically impact your home:

Eat Together – This is as simple as it sounds, but it's not always easy. And it's definitely not a priority in many families (especially as kids get older). When I had toddlers around the table, I just got through many nights. But I did it because it set precedence and one day, your meal will last longer than 9 minutes. As children grow, the demand to move away from the table is strong with practices and rehearsals and games. Fight against it.
Read Together –I don't have to tell you that reading to your children will change their life. But so will reading with your kids. Several years ago, we moved from reading to our kids to reading books with them. You can check out some recommendations here (I've updated the list). Pick a book and read one-page-at-a-time until you're done. You won't regret this kind of togetherness. A perfect time to do so is at the dinner table (and a chalkboard table helps busy hands).
Serve Together –By far, this has changed our family the most and kids are never too young or too old to give to others in some way. (I have a huge list of ideas here). After making this a priority in our lives, I'm beginning to see that my children are becoming servants. Start with one or two opportunities a year; it doesn't have to be about quantity to give quality to your family and others.
Gratitude Together – Get in the habit of sharing the highs and lows of your day together, write down your thanks. Keep a record. Thankfulness and giving our children opportunities to work hard are great ways to defeat entitlement in our home and stir up grateful reflection. I love this one for kids: My First Gratitude Journal: A Write-in, Draw-in Gratitude Journal for Kids.
Goals are just that –goals. We don't eat together seven nights a week, four weeks a month, twelve months a year. But we try to. We don't schedule things during dinner. We look for opportunities to serve; we practice gratitude. We don't always hit the mark, but we aim for it and hit much higher than we would if we led life lead us instead of the other way around.
Together.
This week, I'm reposting some of my most shared blog posts of 2014 with you. Thanks for being a part of this community. I can't wait to see what 2015 brings!