I'm happy to introduce you to this week's guest poster, Lisa, for my Wednesday series 
Yes, Works For Me!
 Please welcome her and be encouraged by her yes to God and continue to link up what works for you.
Heart exploding "Yes!" swiping at tears, I finish Rhinestone Jesus.
Hours "dreamstorming" follow, "It's sort of like brainstorming…Except instead of writing down ideas, we're writing down our dreams. The wilder, bigger, and crazier, the better." (p.57)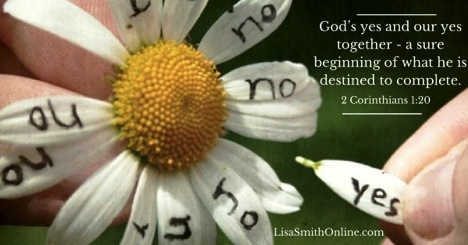 Excitement resurfaces. Eagerness returns.
God shows me my life is like a Texas-sized steak dinner complete with a loaded baked potato, corn on the cob, and a fluffy roll. All on a cheap paper plate.
My plate is too full. I need to limit my portions so my paper plate won't fail and find my juicy life-steak wasted.
I ask God how; He shows me:
Sometimes saying yes means saying no.
Walking away from good things hurts. Weeks of prayer gives birth to the courage to say yes…By saying no.
Hours of sending resignations, RSVPing refusals, and politely rejecting requests bring sadness yet relief. With every agonizing decision, I feel my load lessen.
Like a child, I lift my plate to God showing Him how smaller portions perfectly fit my plate.
Satisfied with my new routine, I set goals based on my "dreamstorming" list and make progress. Slow progress. I determine to be content with slow.
When suddenly life navigates surprising turns.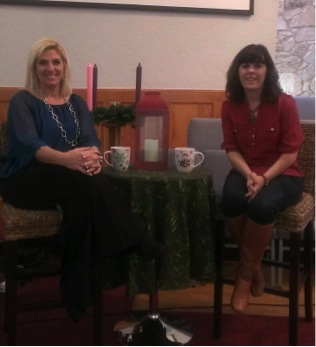 And I learn:
Sometimes saying yes means hearing no.
God's "no" is a result of my yes.
Sometimes saying yes means hearing God say no.
In the no, I sulk; I sigh and, like a child, my disappointment fills the air thick.
I draw strength through Kirsten's words:
"It all comes down to this one question: Do I love my comfort more than Christ? I get a different answer every day. But I believe we need to struggle…Struggle is the food from which change is made…Those who accomplish change are willing to engage in the struggle." (p. 193-4)
Today finds me caught. Struggling. Hope for new tomorrows battles fear of future change.
I remind myself:
Sometimes saying yes means saying no.
His no reveals divine purpose. Freedom is found here. If I search for it, there is always a yes in God's no. His way for my one thing. [Click here to tweet this]
Kristen says, "I believe we are all called to do something, just not everything. Focusing on our one thing and doing it well to His glory is both liberating and life-changing." (p. 163)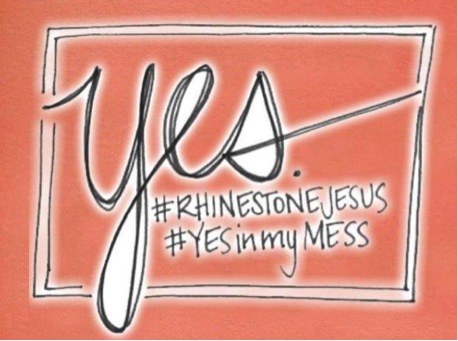 His no to me becomes my yes from Him.
Saturday Kristen spoke at our church.
"As women we fill our plates then add a side of Jesus when He is calling us to empty our plates then fill them with Him," she says.
My heart shifts.
I understand my cheap plate is meant to hold only one thing. Jesus fills my flimsy plate perfectly.
He fulfills. Only Him. Always Him. When He says yes and even when He says no.
Yes is my response.
And sometimes saying yes means saying no.
"God's yes and our yes together—a sure beginning of what he is destined to complete." 2 Corinthians 1:20 (MSG)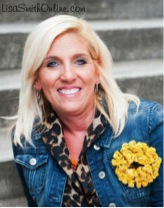 Lisa Smith is a wife, mother of four, and Children's Minister in North Houston. Long talks at coffee shops, big sales on cute shoes, and all her girlfriends inspire her. She writes at LisaSmithOnline.com and posts regularly on Facebook and Twitter. She enjoys speaking at women's events and is working on her first book.
Introduce yourself on her blog this week and be entered to win a free single Fair Trade Friday pack and a copy of Kristen's book Rhinestone Jesus.