Last Saturday I watched my nearly 21-year old nephew face an audience of friends and family in khaki dress pants, matching suspenders and a pink bow tie. He was waiting for his bride to meet him at the front of the church. And I watched for my 8 year old who would be dropping pink flower petals down the aisle any minute.
"He's so young," I whispered to my husband.
"He's only a year and a half younger than you were when I waited at the end of the church aisle," he whispered back.
Yeah.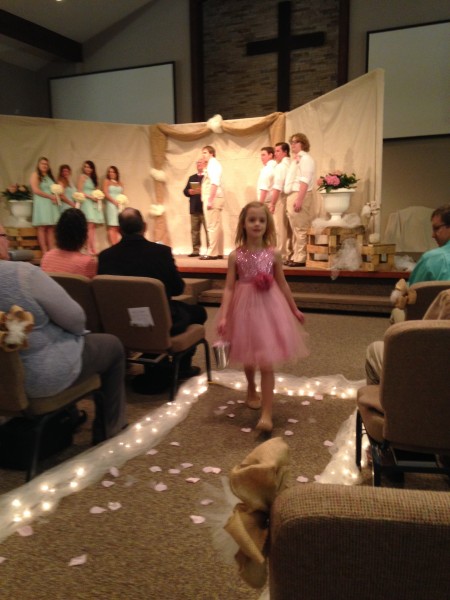 "But it does seem just like yesterday he was the baby I accidentally threw into the ceiling fan," he added.
During the pre-wedding slideshow, I squeezed Terrell's hand and told him to get off Facebook. He told me to stop telling him what to do.
Ahh….marriage.
We made room for the flower girl to sit with us and we watched the beautiful wedding. Several times that day, I peeked at my kid's faces, watching their reaction to their newly married cousin.
They blew bubbles at the reception, joined the rest of the family to sing Shake It Off karoke-style and doused the bride and groom with handfuls of confetti as they left for their honeymoon. I know at some point they must have imagined their own wedding, just as I remembered my own.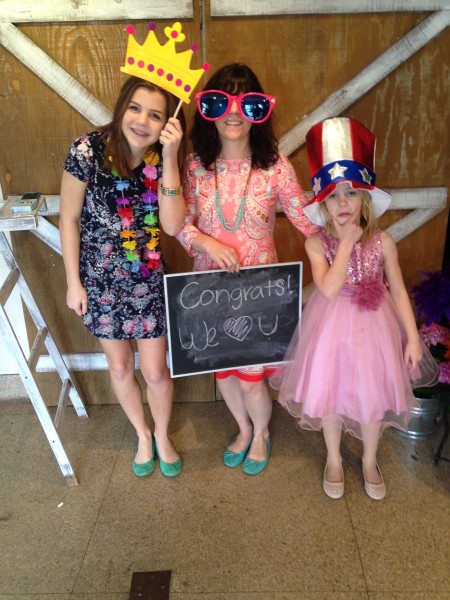 It certainly had my kids asking a lot of questions about weddings. I had already told them mine wasn't fancy or pin-worthy. "But how did you know Daddy was gonna be your husband?" my little one asked.
"Well, at first I didn't. For a long time, we were just really good friends in college," I explained.
"Yes, tell them why you wouldn't marry me," Terrell prodded.
"Your grandparents really liked your dad, but every time they asked me about him, I would tell them I couldn't marry someone who slept in class," they laughed. "It was the only negative thing I could think of at the time."
"I was tired," he shrugged sheepishly.
A few hours later, long after the reception, we were back on the road. I was driving, giving Terrell a break, when I looked over at my husband of 20 years. His mouth was wide open and he was lightly snoring.
I had been thinking about weddings and receptions and I had to laugh.
He's still tired.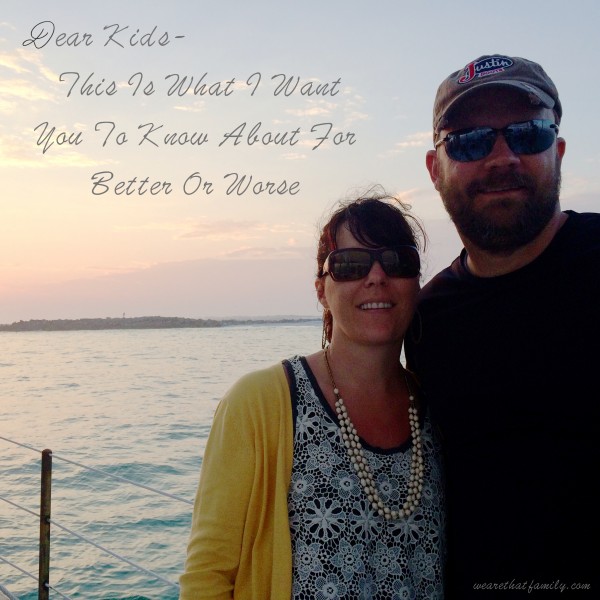 Kids, there's something you need to know about for better or for worse. You probably won't expect either or even recognize them. I thought that first big potato soup fight, that hard financial season, those long years of infertility, that difficult job and challenging boss—those were the worst times. But looking back, what I thought were the worst days ended up being some of the best and these times are chapters in the Story of Us. God has a way of redeeming our broken roads back to each other.
The worst times often become the best when we travel them together. It takes two to stay, two to fight.
And the best days are often the ones where the whole family sleeps in until 9 a.m., eats waffles for lunch in pajamas and jams to music while cleaning the house. We expect the best days to be big things—those trips we've saved for, the dream house, the new car, the perfect job. It's often later, when the trip is over, the house is filled with stuff and the job isn't so perfect, we realize which were the best days.
Marriage is funny, kids. We spend so many days longing for the destination, we often forget to enjoy the journey. Your dad and I have had twenty long-short years to discover this truth.
Maybe the best is yet to come, along with the worst, maybe we will know the difference when we get there, but we will love each other through both. And celebrate today. Because that's what we have.
And someday, we hope you will, too.