I emailed the principal at the high school and asked him what he thought about my daughter missing a little more than a week of school to go to Africa with me.
It will be life-changing, he said.
Yeah.
I thought of all the reasons it would change her perspective, remind her what really matters and shift her awareness.
Parenting is funny.
It turns out these are the exact things she is teaching me during this journey. I've learned so much about my 15 year old this week and mostly, from her. She's more compassionate than I thought, more selfless than I imagined, more genuine than I dreamed and she has challenged me to be a better me. She has been to Mercy House many times, but with 6 flights this week to not only visit Mercy House, but also Fair Trade Friday partners in other places, it's stretched our limits.
It's like you pour love into your kids their entire childhood and then at the right time and in the right place, they overflow it on others.
Here are 5 things my daughter is teaching me about changing the world:
1. Selfies are okay when they focus on others | I've never been a fan of duck lips or selfies. I've taught my teen to know there's a time and place for both. But she chose the right time and the right place because she turned a selfie into something about others and these girls, her peers in so many ways, fell in love with their girlfriend from America. I watched her put them first over and over again and I learned that sometimes selfies aren't so bad.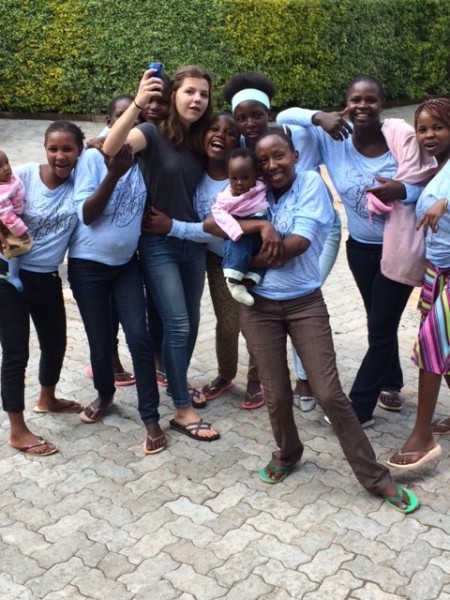 Don't take yourself too seriously | We have shared a lot this week-a bed and a mosquito net, bottles of water and the same Kleenex a time or two. We've traded sweatshirts and soap and a good attitude when things go wrong and a nudge in the side when we needed it. If traveling across the world with your daughter will teach you anything, it's this: don't to take yourself too seriously. She reminds me when I'm too proud or frowning. She's raised her eyebrows at my sighs and impatience. She tells me to smile more and give more. I've watched her hold hands and hug dirty children and wipe away a tear or too. She gets it.

Remember to have fun | Sure kids need to be rescued and loved and sponsored, but they also need to have fun.  My daughter is a child-magnet. They flock around her like flies. She's always ready for a quick game to play. I laughed so hard at the Kenyan chanting slap game the Rehema residents spontaneously played in Kenya.  I stood back and watched, but my daughter jumped right in the middle of a popular game in a different culture and nearly won the bag of Skittles up for grabs.  She's half little girl and half woman and she's a constant reminder for me to loosen up and have a little fun.
You're never too old to try something new | The minute the coffee ceremony started, so did my worry. The black liquid gold filled to the rim and I knew I would need to drink what was offered. My daughter eagerly sipped and nudged me. "But I like tea," I whispered to her. "Mo-om," she said. I took a drink and the sweet warm coffee tasted different than I imagined. I took another drink. "I love it," I whispered. "I told you," she said. I've watched her cross cultural boundaries in fearless abandon. We've stepped over rotting oxen heads and legs on dirt roads (the only parts Ethiopians don't eat), passed out live chickens, and eat a wide variety of different food (turns out lamb is a new favorite for her), but we aren't big fans of fried termites (yes, we tried them.) I want to be this brave when I grow up.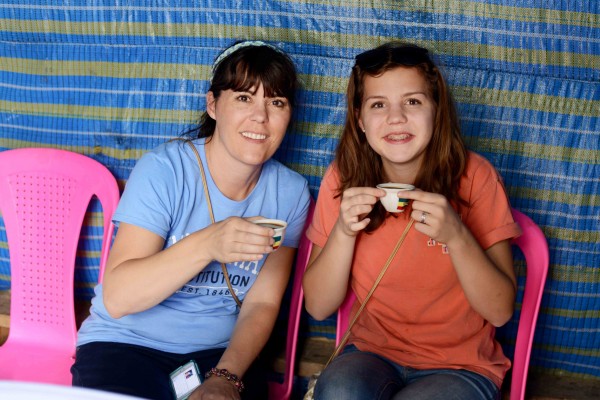 Nothing matters more than people | I'm a doer. I've always got my nose in a book trying to figure something out or answering an email. More than once my daughter has reminded me to put away my resources and tools and live in the moment. It's a powerful lesson and she's a good example.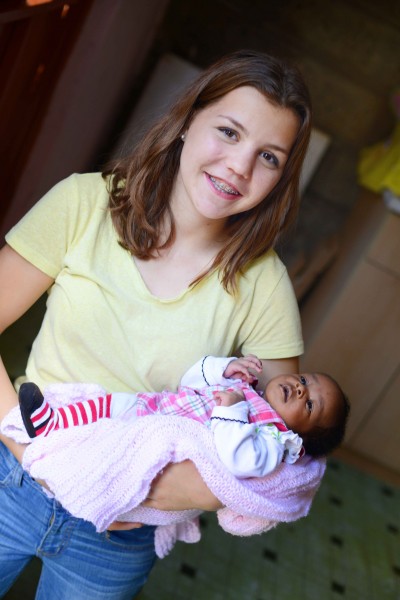 Our kids will teach us so much.
If we let them.