My daughter pushed the grocery cart as I checked items off my list.
Light bulbs.
Super glue.
Father's Day cards were next.
We stopped at the card aisle and I told my kids to pick out one for their dad, while I looked for one for my father.
I'm not a greeting card snob and I don't spend hours hunting for the perfect one. But after 15 minutes and reading dozens, I had a really hard time choosing one card for my dad and my kids for their father, that didn't send this message loud and clear: Dads are idiots.
Half the cards were about farts and beer and the other half were lewd or too generic and not worth the $3.99.
Is this what our culture really thinks of fatherhood? Is this really how we celebrate the men we call father on the one day of year we choose to honor them? Thanks, Dad for being the bumbling guy who is trying not to screw up his kids. Today, we mock you.
We've all seen the "idiot dad" characters and sitcoms where dad burns down the house cooking something hazardous in the microwave or loses the baby because he isn't capable of you know, watching his own children.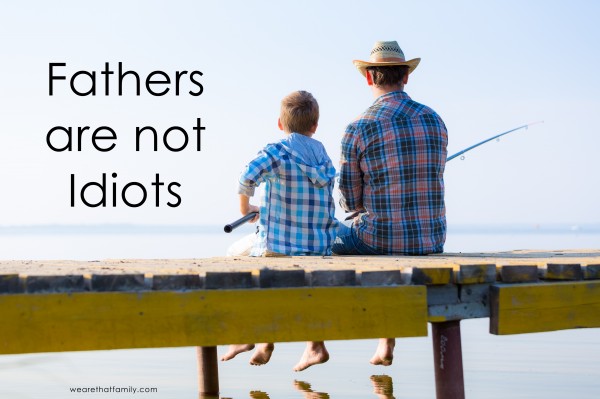 I don't know who these men are.
One certainly didn't raise me. I was raised by a selfless, generous man who taught me to love the world more than I love myself.
And just last week, when we had to keep our youngest home from church day camp because she had a low grade temperature, I went to her room to console her little broken heart (she really loved the camp) only to find her father beat me to it.
As I stood at the door and listened to my husband do it a hundred times better than I could, I was moved with his compassion for her. His too-big-body was curled up next to her on the pink twin bed and as she cried and whined about the unfairness of her fever, he was patient and tender and understanding. And then he prayed for her to get better quickly so she could return to camp.
Tears welled up in my eyes as I thought of the gift he was giving his little girl: his time, attention and care. And more than that, he was showing her the picture of a Heavenly Father who listens and comforts and is there for us when we need Him.
I finally found an appropriate card for my dad that wasn't offensive and my kids made their own for their Dad.
Because even if our culture doesn't see it, we know the dads in our lives are anything but idiots.
Let's do our best in honoring fathers this weekend.