When this email hit my inbox, it made me sick to my stomach:
"My second grader spent the night at a friend's house last week. The girls were innocently playing games on the computer and one things led to another and they typed in the word "boobs" on the Internet to see what would come up. My daughter and her friend were exposed to very graphic porn. She can't stop crying and she can't sleep. We are devastated."
The blog reader who sent me this email asked me to tell parents to do whatever necessary to protect their children from the loss of innocence her daughter is now experiencing.
I hate pornography. I hate how it degrades women and men. I hate how it destroys innocence. I hate how it distorts our culture's view of sex. I hate how the pornography industry tries to convince our culture that porn is okay.
And I really hate how easy it is to access.
I sent a compassionate response to the mom without judgement because it could happen to any of us. Without safe guards in place, it could happen in any of our houses, to any of our kids.
It takes active, involved, persistent work on our part to protect our kids from this kind of exposure. I asked a group of moms out of curiosity at the playground the last week of school how they handled monitoring and restricting their tweens and teens Internet usage. I'm always trying to reevaluate how we handle it. They looked at me like I was an alien.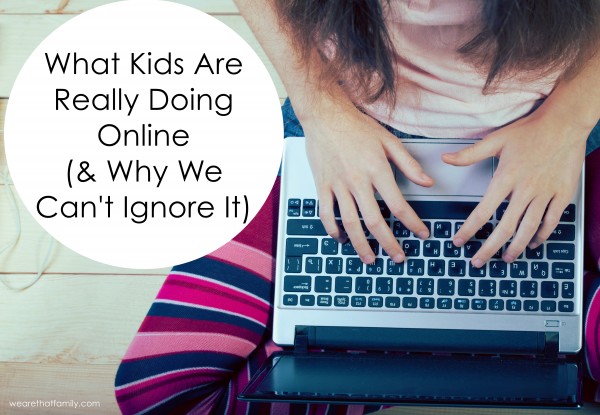 "Aren't you worried about them seeing things you don't want them to see?" I asked.
One mom replied, "Oh, I trust my kids. They would never look at anything inappropriate."
I thought of some of the hard conversations I've had with my teens and I knew this mom might be as shocked as I was at this viral article last week that describes in (warning) graphic detail exactly what  kids are seeing and learning on the Internet. "Kids are learning from the 21st century's version of sex education class, the internet; a more enlightening and forthcoming source than nervous parents and teachers. But these lessons are a dangerous mix of misinformation and distorted images of sexuality…" source
The best way to guarantee our kids are exposed to inappropriate content is to do absolutely nothing to stop it.
1. Don't restrict or monitor computer, tablet or smartphone time.
2. Don't filter your internet or ask family and friends home your kids frequent if they do.
3. Don't talk to them about the dangers online.
4. Don't talk to them about lust, temptations and the lure of pornography.
Sadly, I believe at some point in time, many kids–not matter what we do– will be exposed to porn and content we'd rather them not see or read. In our Internet-ready culture, I think it's probably impossible to completely remove it from their world. Research shows that 92% of boys will be exposed to online pornography by age 16. Unless they live in a bubble, they could see it on a friend's phone at school, church or homeschool group (believe me, it's happened). They could stumble upon it innocently researching a project or turn to Google out of curiosity.
But if we have already had important conversations about it, they will be prepared and know what to do.
When it comes to Internet safety, don't be passive. Besides filtering the Internet, talk to your kids and establish some guidelines.
Younger kids:
Tell them there are dangerous things on the Internet that aren't appropriate for them to see.
Advise your children not to click off games or movies to other links.
Keep the computer or screen in an open place (not in their rooms).
Teach them Google isn't a Dictionary.
Disable search engines or install safety browsers like Safe Eyes. Restrict Google images.
Teach your kids about healthy/unhealthy relationships between men and women (modeling it is a great way to teach it)
Tell them if they ever see anything that seems wrong or that they don't understand, to get you immediately.
Tweens and Teens:
Talk openly about the dangers of pornography online. It's as important as having a sex talk with our kids.
Keep an on-going open conversation about lust and sex and the lure of porn.
Teach them God's standard of sex and His design for it.
Don't be afraid to put restrictions on their devices, including smartphones.
Extend grace. Our kids are sinful just like we are. They are going to mess up and give into temptation. If we freak out, they will be hesitant to confide in us. Remind them we are on their side and while we want them to live purely, we also know they are human.
Privacy is a privilege in our house. We reserve the right to check your phone, computer, etc if we feel like there's a reason to
Remind them that everything they put on the Internet or send in a text is never really private.
Don't expect your tween/teen to bring this subject up or share a lot of their feelings on it.
It's hard for everyone to talk about these things, but that's exactly why we need to.
Helpful Resources:
Preparing Your Son For Every Man's Battle: Honest Conversations About Sexual Integrity by Steve Arterburn
Preparing Your Daughter For Every Woman's Battle: Creative Conversations about Sexual and Emotional Integrity by Shannon Ethridge
Passport to Purity-a life-changing getaway with your preteen.
(Click for a more extensive list of recommended resources dealing with pornography)