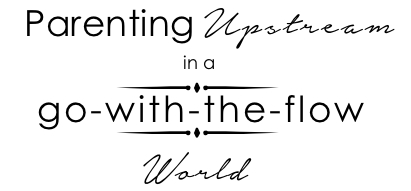 As parents, anytime we step out of the mainstream and try to lead our homes against cultural norms, it's hard. We need God's help and encouragement from each other as we try to navigate upstream. I'm excited about some friends helping me write a new parenting series that will hopefully offer both.
Guest post by Janel Breitenstein
A few years back found me embedded in an intensive Bible study of Revelation, then Daniel. At the time, I was a young mom with preschoolers wrapped around my knees and the older ones around my thighs. I tended to think of things in (exhausted, yet concerned) Mommy Vision: What if this stuff happens to my kids?
That's when I heard an interview with Voddie Baucham. And here's what stuck with me: I may not know what lies in my kids' future. But I do know what the Word says: All Scripture is breathed out by God and profitable for teaching, for reproof, for correction, and for training in righteousness, that the man of God[a] may be complete, equipped for every good work (2 Timothy 3:16-17, emphasis added). With Scripture, they're gonna be prepped for anything life throws at 'em.
Basically, I think this: of all the things I equip my kids with (Band-Aids! In fact, First Aid training! Do you know how to change a tire? You need a new backpack! Have you read Homer in the original language? Did I teach you how to sew a button? Do you know how to apply a tourniquet?)—the Word is the ultimate toolkit for life.
Still, it's not fear that makes me want the Word for my kids more than nearly anything in this world. It's because that's where I've found life. I want them to experience God in His fullness. And as much as the Word is also a scalpel to my heart, it's a scalpel that's cut out the stealthy, creeping cancer of my sin that robs me and everyone I interact with. I want to lead them to true Water, true Bread—rather than them binge-eating everywhere, on everything and…still starving, like so much of the world around them.
So here's what I'm thinking—
First—start with the teacher. When you get heart-level honest, what's your own perception? It's a decent place to start: How do I, in my gut, respond to God's Word? Do I see God and His Word like a policeman, constantly pulling me over, or standing with meaty arms crossed, just waiting for me to completely blow it? Or do my kids see more anxiety from me about obeying or knowing the Word ("gotta check off that box!"), rather than genuine delight? Do I use it as something that makes me the "teacher" to everyone else, like some overgrown hall monitor ensuring everyone's in line?
My husband and I worked together in youth ministry for six years before we actually decided to procreate (was this a subliminal form of birth control, I wonder?). Our assortment of youth group kids was a bit of a grab bag, and from all three major education categories: public school, private school, homeschool. We were frequently quizzed about what we thought was the best method for schooling kids; more specifically, which led kids to a more intimate, genuine walk with the Lord; the kids to truly love Him and His Word.
Now, I'm no George Barna (though it seems he'd back me up on this)—but the common factor actually wasn't where parents sent their kids to school. Their parents' relationship with God was a much more common factor.
Never use Scripture as a club. We all know people whose parents have been so insistent on their kids' spirituality that somehow the kids take off, arms pinwheeling, in the opposite direction. (Tim Kimmel addresses this in his timely book, Why Christian Kids Rebel.) We've seen it in marriages too, right? Wives want their husbands to know the Lord so badly that somehow the husband would rather be found, perhaps, enjoying the pleasures of ingrown toenail surgery with Celine Dion on the loudspeaker, than in a pew.
But we all know the problem's not with wanting our kids (or our husband's) spiritual vitality too much. We've all seen moms use Scripture as a tool to shame their kids—I know I've done it. Reb Bradley argues in this excellent post that the issue is that we don't have their hearts; instead, we rely on authority and control.
A few years back, a friend told me about a mutual housekeeper friend of ours here in Uganda, whose four-year-old had brought home a note from the teacher, requesting that she could beat (i.e. cane) him in front of the classroom for consistently failing to hold his pencil properly. Now, this rightfully seems extreme to our 21st-century American sensibilities. But to me, a key principle remained the same: What would motivate that child to love writing if that's what he associated with the subject? Would he be self-driven to improve, to learn more, if he only remembered it lathered by shame and discipline?
Now, I firmly believe that Scripture does have a place in discipline, and I love some of Ginger Hubbard's ideas of training our kids, using Scripture, behaviors to "put off" and "put on". This concept does not mean that we soften God's holiness one iota, neglect the use of Scripture in discipline, or gain our authority for discipline from the Word!
But if we wield the Bible like a medieval truncheon to keep our kids in line, we're not helping them to love the Word's correction, and God's kindness that leads to repentance. We're helping them…to hate it.
The question is how we're using it. Ask yourself, what tone do I use when I speak God's Word to my kids? What message are they getting about these invaluable words? Do they hear God's judgment, or God's mercy (which still honestly addresses sin)?
Psych 101 says make it fun. Remember "positive association"? It's when we associate something with being good (or with "negative association," bad) because we experienced good things when we encountered it. Contrary to Greek thought, God's firmly anchored our souls to our bodies (think how the lack of a good night's sleep influences your patience and discipline with your kids). What do your kids associate with the Word? You can actually make the Word fun. A few practical ideas:
I had a blast in AWANA growing up, and with all its cool games, patches, jewels, and trophies, a lot of programs are still going strong.
My kids have gathered an amazing picture of the whole Bible from the What's in the Bible? With Buck Denver series from the folks at VeggieTales. I can't recommend it highly enough.
My parents rewarded us all for memorizing 1 Corinthians 13 by going out to dinner at Chili's.
I don't have an AWANA program here in Africa, so I am actually guilty of putting Lego Star Wars clipart around Scriptures in "Star Jedi font", and then when my kids reach an age-appropriate goal, we go out for milkshakes.
I also love how they groove to Seeds Family Worship (cool enough to play in the front of the minivan, not just the back…) and Walking with the Wise (several Scriptures are taken in, but this one's more Scriptural concepts from Proverbs).
I've gotten uber-excited about my kids' ravenous fascination with our Action Bible—the Bible in graphic novel form, which is as awesome as it sounds!—whose cover has nearly been loved off, and in which my kids learned about all sorts of obscure kings and Bible books, as well as key teachings of Christ.
In a discussion during devotions, I've even handed out points to kids for bringing a verse into a discussion, because my boys never met a competition they didn't like.
What's your kids' attitude toward their youth program, and what's the quality of the teaching there? Entertainment is not But whether your kids have solid friends and an enjoyable, Word-loving atmosphere may have more of an influence on their quite-human souls than we realize.
Get kids caught up in God's story! Author Jessica Thompson notes, "don't make the Bible out to be a book of morality. That isn't the message of Christianity. The Bible is the story of God's unrelenting, redeeming love for sinners…I know I don't want to read a list [of] rules. But give me an action-packed story about a good King fighting for his people and I'm hooked." I will admit to totally playing on all the battle scenes for the sweaty, testosterone-charged, Nerf-weapon-packing boys in my house.
Pinterest is chock-full of ideas to help your kids memorize Scripture in colorful, creative, user-friendly ways that capture their attention.
Let kids act out or draw the stories and Scriptures they hear. When we're discussing the Bible, I often haul out the markers and giant paper to let them make posters for their rooms.
Take them shopping for devotionals they find interesting. This site also has a printable worksheet to help kids into doing their own quiet times—to start learning directly from the Word on their own.
Canvass the web or your Christian bookstore for great kids' devotionals—and get kid-approval before shoving anything in their hands.
Let them get their hands in it. In my last conversation with Kristen, she raved about using the super-simple Discovery Bible Study method with her kids and even their dinner guests—where everyone gets a notebook, and everyone responds to the passage. Get them noodling on it, maybe even arguing about Scripture, and get them interested. If it helps, think of it as "sword training": The Bible talks about the benefit of learning how Scripture applies to every situation through constant use.
Let your kids know how it changes you—not as a project of yours ("I must tell my offspring what I learned in Bible Study!") but as a genuine outpouring of your joy in Jesus. Let kids know about what you're thinking about a Scripture, and open it up to discussion—as opposed to just telling all the time.
Capitalize on the heart more than knowledge. Remember, knowledge puffs up; love builds up (1 Corinthians 8:1). It's all well and good if your kid wins first-place at the Bible Bee. But unfortunately, I do think the Pharisees could have also qualified for a similar title. What's the difference? In a word, the heart. Knowledge should lead to worship. Faith. Holiness. Love. Love for God is the first commandment—not knowing who Ahaziah's parents were, or the methods for preparing a bovine offering.
Say "I'm sorry." Why do I think this is important? Well—because I think that parents who are more willing to admit their sin, and their need for a Savior, to their kids are more likely to have deep humility…and the Gospel played out in their homes. Click here for more ideas to make the Gospel real in your house.
Pray. Ultimately, though we have the power to cultivate a fertile space for love of Scripture to blossom in our kids' hearts—even if you're the Apostle Paul, it is only God who grows every seed we nestle deep in our kids' hearts. Diligently ask God to create a deep passion for His Word—not just the knowledge of it, but the knowledge of Him.