There's no doubt about it: parenting is hard.
The kind of hard that makes you want to pull the covers over your head and cry yourself to sleep an hour after you've fist bumped your husband and proudly declared: we rock at this parenting thing.
Yeah, that might have happened this past weekend.
And to make matters worse, we learned in the news that crayons and ibuprofen (two of our greatest parenting resources) are probably going to kill us in the end.
Awesome.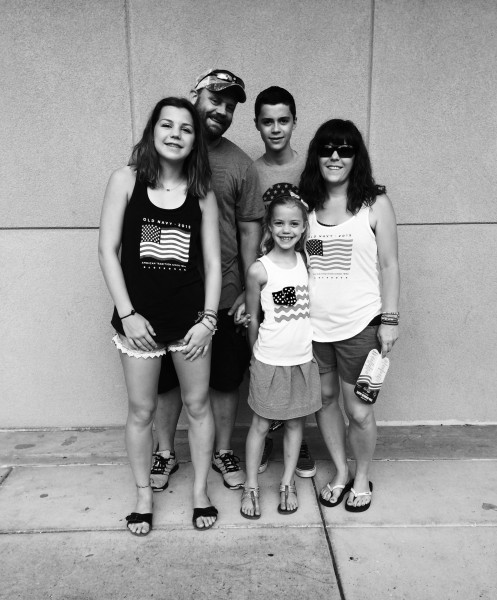 I'm obviously no expert. But I've been parenting long enough to have some hindsight, retrospective thinking, afterthought and other words that are appropriate after you recognize you've messed up.
I'm convinced we don't set out to make parenting harder on ourselves, but I've found that when I overstep or overcompensate (even out of love and concern), I often rob my kids of an important life lesson.
Here are 8 ways we make parenting harder than it already is:
1. When we try to fix all their problems
I hate seeing my kids upset. But life can be upsetting. We need to experience sadness to know true joy. We need to walk through disappointment to recognize success. My kids have experienced some disappointments in friendships and I've tried to step in and help (also known as making matters worse). But when I stepped back and let them work it out on their own, we've all been amazed at what God has done to restore relationships and deepen friendships.
2.When we don't admit we are wrong
I'm really good at this one. I expect my kids to apologize, but find I have a hard time doing so. The other night I was standing in my kitchen in a heated moment with one of my kids and I knew I was as wrong as they were. Nothing diffuses a situation more than saying "I'm sorry." And sometimes we need to be the first to say it.  As soon as the words came out of my mouth, the tension lifted and we were able to talk through the issue.
3. When we make small things a big deal
I've lost my mind over messy rooms and toy-covered floors. And I regret it. That's not to say teaching our kids to clean up after themselves isn't important and necessary–it is. But when we make it a constant battlefield, we do more harm than good. Let the little things stay little, so we can focus on what really matters: growing a deep love in their heart for God and others.
4. When we constantly criticize them
I have watched my children's faces crumble at my harsh words concerning their clothes or room or whatever. I would give anything to take them back. We often lose all the ground we gain with our tone and words. Our words can speak life or death. I'm learning it's better to say nothing than something hurtful.
5. When we don't let them fail
My first instinct is to protect my kids from failure.  But I'm proof that God teaches us in our failure as much as he does our success. Sometimes letting them bomb that school assignment or miss out on allowance because they didn't do what you ask them is really a gift we give them.
6. When we give them what they want when they want it
I've learned this one the hard way. Kids are naturally selfish and usually will take all we give them. When we meet every demand, we feed the instant gratification beast that cannot be satisfied. It's okay for kids to wait. It's okay for them to work for what they want. It's important that we let them.
7. When we compare our kids to others
Recently, I've been guilty of this one and I've hurt them by making comparisons. Every family is messy–even the ones we admire, especially those. We all have problems and challenges. And I wouldn't trade my kids for anyone else's, but when we compare, that's exactly the message we're sending our children.
8. When we refuse to listen to them
I'm convinced that we talk too much. When I quietly wait (and don't push, prod or pepper with questions), my kids talk (especially my older ones). Life isn't a monolog where we monopolize the conversation, pass the mike. I'm always amazed and impressed with my children's opinions and insight and confessions when I hush. I ask God to make me a better listener all the time. Because I think it will also make me a better parent.
Yeah, parenting is hard. But what doesn't kill us makes us stronger, right?
P.S. When I shared the news about the crayons and ibuprofen with my husband, he said, "We will survive! Kids are resilient. When we were young, we used to break open glass thermometers so we could play with the ball of mercury. We turned out just fine!"