I should have never watched the video before bed.
But I did.
And then I couldn't sleep because I couldn't stop thinking about the countless hungry children in Haiti who dine on the flat brown cookies baked in the sun, made of mud and a bit of flour.
But mostly, I couldn't get the image of these desperate bakers out of my head–women, mostly mothers, who make their job selling cookies made of dirt to kids who have nothing else to eat.
It's part of the terrible cycle of poverty, selling things that weren't meant to be bought (like dirt and sex) because it helps people continue to live–in that same cycle.
I think that's why God spoke the words to me in the middle of the night so clearly a couple of years ago.
I told Him, I want to help women and He said, Provide them with jobs.
Jobs that will feed their hungry families.
Jobs that will open the door to the Gospel.
Jobs that will provide sustainability and hope.
And that's why Fair Trade Friday was created. It was intentionally started through Mercy House because we believe in empowering women in Jesus' name. No one is making money off this endeavor, except the women who need it most.
In my exhausting yes to God, I have discovered the passion of my life. This is it.
Friday we celebrate the one year anniversary of Fair Trade Friday.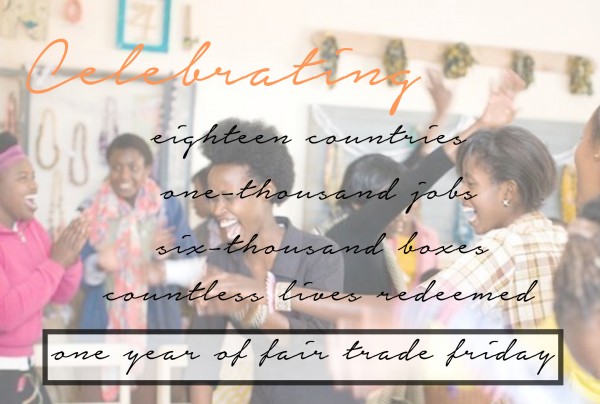 In the past year, we've provided more than 1000 jobs in 18 countries and sent out more than 6000 fair trade boxes to thousands of people. All in the name of Jesus.
And thankfully, I'm far from alone in reminding women they aren't forgotten. There are a host of local volunteers and nearly 2000 club members who are helping us do just that.
If that isn't enough, we've had an amazing online tour happening this summer, where bloggers and Facebookers and instagrammers have been sharing about this life-changing club. I've asked these precious women to link up their posts today for you to enjoy (and get a wonderful glimpse of what comes in a one time box).
Visit their fun posts and come back here and leave a comment and you'll be entered to win one of TEN Fair Trade Friday One Time Boxes (Value $50 each) that we are giving away to celebrate this momentous day!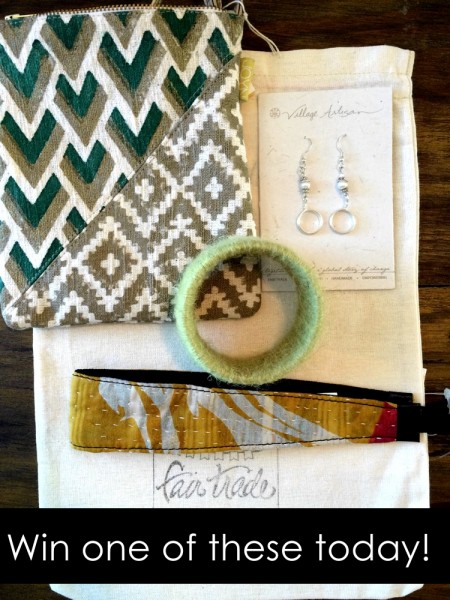 (items will vary from what is pictured)
And although we have a beautiful waiting list for our monthly club (join the 2-3 month wait list here), we still have room for late summer/ fall home parties for you to host your own girl's night out!
We also have an unlimited supply of one time boxes (in various styles) for you to enjoy until a spot comes open for you. Use code 4hope to save $5
winners have been notified