Guest post by my sweet friend, Kristen Strong
I have 3 precious children, and like all good mamas, I believe they are the most stunning works of art God ever created. Of course they have their faults too, and when it comes to not fulfilling certain responsibilities, each one is eager to use his or her differing limitations as excuses for a free pass.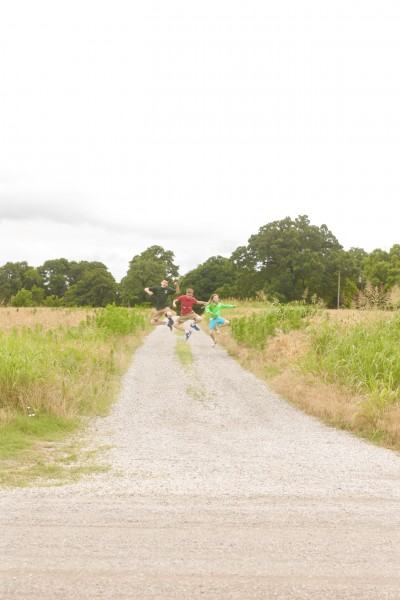 For example, one of my sons is a chronic forget-er. From taking out the garbage to walking the dog, he has a difficult time remembering particular duties. Thankfully, his teen years have brought improvements to this department. But from time to time, he still pulls out this winner of an excuse when held accountable for repeatedly forgetting his responsibilities:
"Mama, I'm just a forgetful person. How can you scold me for something I honestly forgot? It's not like I maliciously did it on purpose."
Nice try, son. Nice try.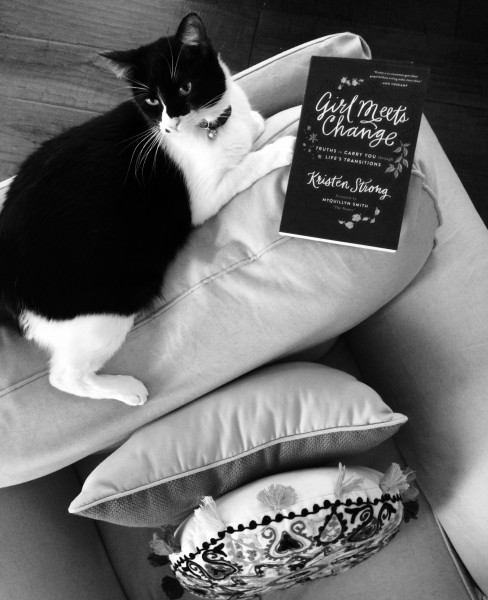 When it comes to accepting the change in our lives, I believe a lot of us view the challenge like my son views his forgetful nature. We see the change itself as a steely gray, concrete limitation to thriving, not something to work through or around. Not something to flip over and study as something God wants to use for us rather than against us
We see the change as the end of the story rather than a part of it.
Certainly, it's easier to thrive through a limitation when it's something on the small side like forgetting a household chore. But what if the limitation looks like a broken trust because of a change in relationship? What if the limitation looks like a downgrade in your living situation because of a change in employment? Or a disruption of your plans because of a change in your health or the health of a loved one? How do we keep these looming limitations from swallowing us and our ability to thrive?
How do we hang on to belief that God wants to use change for us rather than against us?
At times I have crossed my arms and allowed the limitations brought on by change to turn me bitter and disgruntled. I have complained till the cows came home and wished things were different. I have refused to believe God's promises and character, instead believing I knew better. Too often I expect to have ultimate control in my life, and change with its limitations prove I do not.
In my own desire to make peace with change, this is what I've learned: Life's limitations are God's invitation to change my expectations.
In one form, limitations are boundaries. But in another limitations are wide-open fields where I acknowledge my own weakness and accept I need Jesus to go the distance where I cannot. They become a fruitful garden spot for me to reflect on God's believability rather than on what I've lost because of my life change.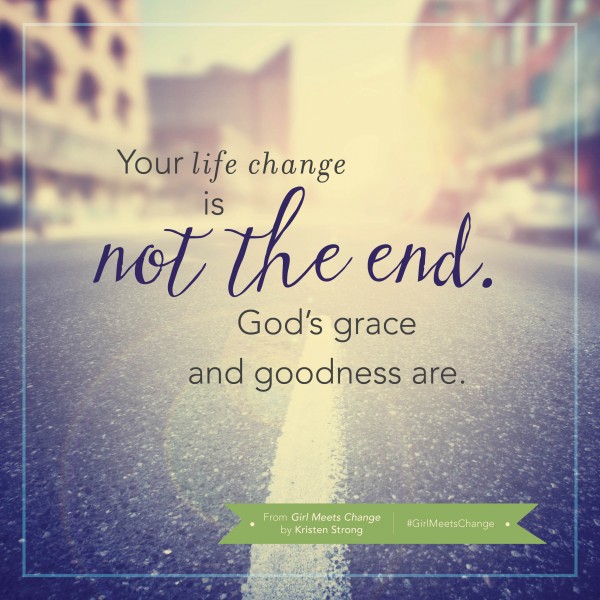 Colossians 2:10 tells us, "In Christ you have been brought to fullness. He is head over every power and authority." He gives us fullness of good things and rules over that which tries to interfere with those good things.
So if change brings a limitation in the form of rebellious kids, Christ is head over the authority that says you'll never have a restored relationship.
If change brings a limitation in the form of a job loss, Christ is the head over the authority that says you won't be able to find another position as good as your previous job.
If change brings a limitation in the form of a dangerous diagnosis, Christ is head over the authority that says worry and fear will do you in.
He is head over every authority that is a fear stalker and hope stealer. Christ is the bridge between your expected outcomes and God's best outcomes for you.
Yes, while change may introduce new circumstances into your life, the same unchanging God is working abundant good for you and in you. Your life change—and its tag-a-long limitations—are not the end of your story.
God's grace and goodness are.
May we expectantly gather hope as we hold onto His limitless love.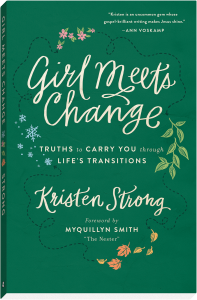 Bio: As the wife of a career Air Force veteran, Kristen Strong speaks from the heart of a woman who has experienced change in many makes and models. Many of her life experiences, as well as stories of others and stories from Scripture, can be found in her just-released book Girl Meets Change: Truths to Carry You through Life's Transitions. In this hope-filled read, Kristen invites you to see all the ways you are loved and cared for in the midst of change. She walks alongside you as a friend, gently ushering you toward a new view of change, one that meets you at the crossroads of your own sense of anxiety and God's sense of purpose. Read more about the book at www.girlmeetschange.com and find out here how you can get the book's small group study guide for FREE.
Kristen and her husband, David, have three delightful children and enjoy their home under the wide blue skies of Colorado.
Thanks to Revell Publishers for sponsoring this devotion today.