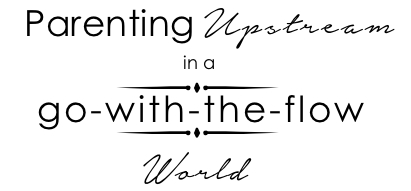 guest post by my friend Arlene Pellicane
When your child has a problem – maybe he's not paying attention in class or she's experiencing girl drama – what's the first thing you do?
Google the answer, of course!
Yes, it can be handy to have so much information at our fingertips, but if we are turning to Google before we turn to God for answers, we're in trouble.
Remember the beautiful and famous words of Psalm 121:1-2:
I lift up my eyes to the mountains – where does my help come from? My help comes from the Lord, the Maker of heaven and earth.
Unfortunately, we can pray this, but in reality, our lives reflect this statement:
I lift up my eyes to my phone – where does my help come from? My help comes from Google, the holder of all information.
Ouch.
We have become so resourceful, so reliant on our digital world, that we can forget our dependency on the Divine. The answers to your family's problems aren't found on homepages or search engines. The answers you need are found in the ancient pages of God's Word and by speaking to the source of wisdom Himself.
James 1:5 says,
If any of you lacks wisdom, you should ask God, who gives generously to all without finding fault, and it will be given to you.
In other words, when your toddler is screaming or your teenager is rebelling, ask God for wisdom. Have a conversation with your Heavenly Father first. Not your phone first. Not your friends first. Talk with God first.
Do you check your phone first thing in the morning? If so, you're like 40 percent of all adults and 56 percent of millennials. Instead of reaching for your phone, why not say a prayer instead?
I heard author Sheila Walsh share something simple you can try tomorrow. First thing in the morning, she says "Good Morning Father." As you say "Good morning Father" you can hear Him saying back to you, "Good morning my child." Every day you get the chance to start over. Fix your attention on God first before you fixate on your phone.
Prayer can be frustrating because who has the time? But you know what, even if you take the first five minutes a day praising God for who He is, it will change the way you see your kids and their needs.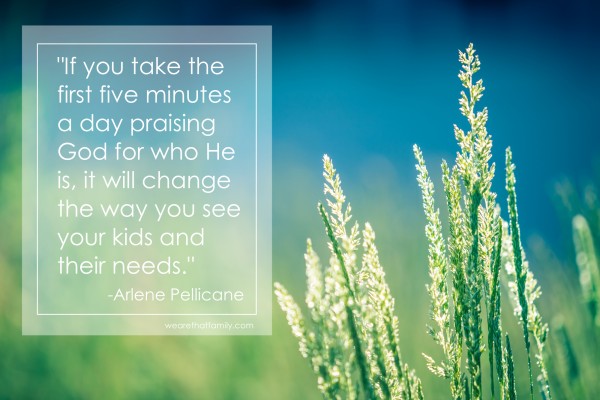 When my oldest son Ethan was in first grade I joined a Moms in Prayer group. Moms in Prayer meets once a week for one hour to pray for kids and their schools. I remember one meeting, I prayed for Ethan to find a Christian friend in our huge public school of 1200 kids. And do you know what?
The very next day, Ethan said, "Guess what? I found a Christian boy at recess. He was singing a song and I asked him if he was a Christian, and he was!"
God answers prayer.
Whether you're praying for your kindergartener to learn how to read or you're praying for your high schooler to say no to drugs and sex before marriage, your prayers make a difference. You might pray for each child by name as you fold his or her laundry. You might pray for your family while you're standing at the kitchen sink. Make the most of your in-between moments to talk with God and also put time in your schedule to pray.
If you will make prayer for your kids a priority in your life, you will experience the best school year ever.
I love what my friend author Kathi Lipp has to say about prayer:
Prayer does not change God, but it changes me in big ways. It helps me accept the unacceptable. It helps me love my kids when they are unlovable. It helps me trust God when all the circumstances are untrustworthy.      
Let's pray together:
Lord, indeed my help does come from You, the Maker of heaven and earth. Forgive me for relying on Google and information for answers. I realize You are the source of wisdom. Teach me how to pray effectively for myself and my family. I leave my concerns at Your feet. Please fill me with your peace today. Amen.
Bio: Arlene Pellicane is a speaker and author of 31 Days to Becoming a Happy Mom and 31 Days to a Happy Husband. She is also the co-author of Growing Up Social: Raising Relational Kids in a Screen-Driven World (with Gary Chapman). She has been a featured guest on the Today Show, Fox & Friends, Focus on the Family, FamilyLife Today, The 700 Club, and Turning Point with Dr. David Jeremiah. Arlene lives in the San Diego area with her husband James and their three children. To learn more and for free family resources such as a monthly Happy Home podcast, visit www.ArlenePellicane.com