Can you hear it? Listen.
It's an uprising. I'm so encouraged by the army of parents who are willing to go against the flow and lead their families upstream.
Raising Grateful Kids in an Entitled World is sitting on the Best Sellers list at Amazon this morning in the Top 100 Books (it's somewhere between a riveting board book on going potty and the latest Diary of a Wimpy Kids book.) Woot!
I feel like this book should come with a warning label for parents.
It might read something like this: If you go against cultural norms and lead your family upstream, doing the things I've suggested, it's completely possible that all hell will break loose in your home. Even with a big bow on it, that's a difficult truth to swallow. Yeah. I'm pretty sure my publisher wouldn't go for that. 
You might have a child who embraces your parenting wholeheartedly. And you might have one who fights you every step of the way.
I have experienced both.
Think about how hard it is for us as adults to go against what everyone is doing. Human nature makes us want to be like everyone else, to do what is popular and culturally acceptable. And when we don't, we often become the target, or at the very least, feel left out and alone. There have been many occasions when I have put my kids in a hard place by what I've asked them to do or by the way we've chosen to live as a family.
Here's the simple truth that isn't so simple: Raising kids to be different from the world really does make them different from the world.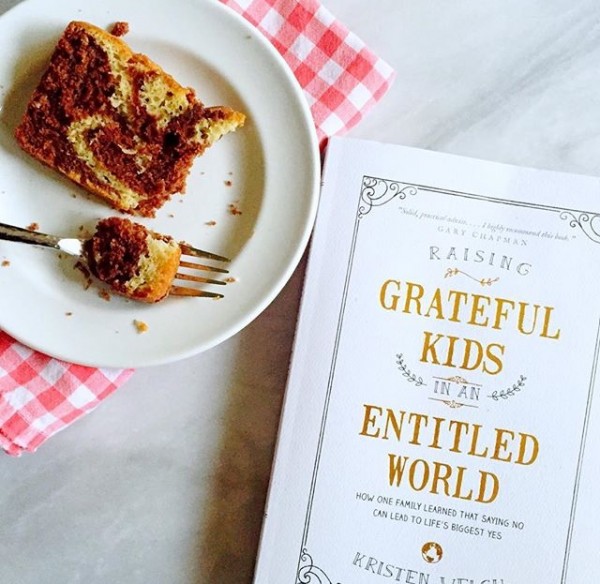 This is true whether you homeschool them or send your kids to public or private school. Once you set them on that path, they will stand out when all they want to do is blend in. Teachers and other parents will probably notice, but kids will immediately zero in on this. My children have been praised by other adults, teachers, and even childless couples for being different from other kids. But they have struggled with feeling left out and mentioned often that they feel weird. They are warm, friendly kids and hardly social outcasts, but they do notice when they aren't invited or included. Being different is as hard now as it was when we were kids.
And you must know, there have been tense friction and terrible fights, tears and tantrums on this journey. We know we are asking our kids to do hard things. I love this quote from Do Hard Things: "Our uprising is against a cultural mind-set that twists the purpose and potential of the teen years and threatens to cripple our generation. Our uprising won't be marked by mass riots and violence, but by millions of individual teens quietly choosing to turn the low expectations of our culture upside down."
If we expect our kids to give in, they might. But if we expect them to be different, to make hard choices, they will surprise us.
I think this is why giving our kids a world perspective is so important. It doesn't make their day-to-day peer pressure less, but it reminds them that even though being different in our society can be challenging, it's not usually life-threatening like it is in many places around the world. It's not the kind of persecution that puts their lives at risk or places them in desperate situations where they have to make unthinkable decisions to survive.
The bottom line is this: All the right-from-wrong-teaching, character-building, faith-instilling, intentional parenting that you've made a priority in your home is producing children who do not fit into the mold our society has deemed normal.
And it leaves us with children who sometimes feel left out, different, alienated, and even alone. But this doesn't mean we've failed them. It's through this kind of struggle that their own faith is forged and deepens and their relationship with us—bumpy days included—grows.
But mostly, it makes them aware of the costs of following Jesus.
There will be growing pains raising grateful kids upstream in a downstream world of entitlement.
It will make our kids feel different.
It will get harder before it gets easier.
It will make them feel alone.
It might make you doubt the course.
It will probably cause fights and friction.
It will make them strong, world changers. Aliens in this world.
You have been warned.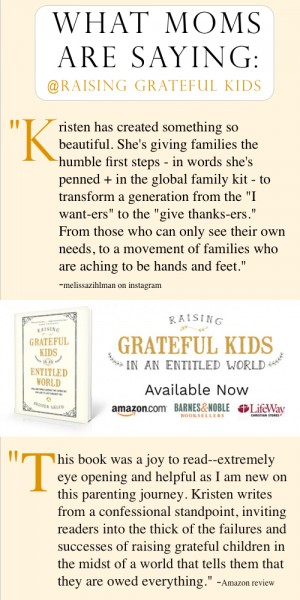 Friends, it's crazy to me that this little book is nearly selling out at Amazon! Thank you for buying and sharing this important message. Amazon has books left and is getting more, so keep ordering from them. But here are a few more options where's it's also $10: Barnes & Noble and  Christian Book Distributors