She disobeyed.
I threatened a consequence.
She disobeyed again.
I followed through with the punishment.
And all hell broke loose.
This scenario has happened countless times in our home with every one of my kids. And every time it is hard.
It's hard to be consistent. It's hard to stay strong. It's hard to watch our kids hurt. It's hard because it hurts us, too.
Doing what is right is hard.
It's a constant battle here in our little Texas house. How serious is mom? How hard can I push, dad?  How close can I walk the line that's been drawn? Will Mom really take that away? It will be hard if she does. I will make it harder if I don't get my way.
Doing what is easy would be, well, easier.
I've told my husband countless times, some days parenting would be easier if we did nothing. If we looked the other way, if we pretended we didn't notice. But we both know easy doesn't always equal right.
Years ago, I read the average kid will ask their parents for something they want 9 times. 9 times! Over and over, again and again, trying to wear our resistance down.  Once I was onto them, I actually counted and mine were just getting started at 9. Overachievers.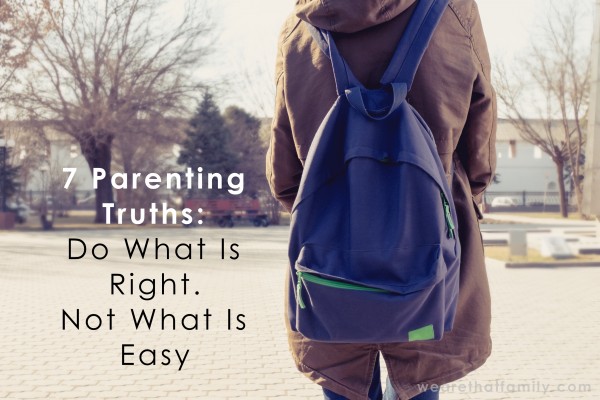 Kids want what they want and they are banking on the fact that if they push and press us enough, we might just give it to them or give in to them.
It's exhausting.
But when we stand our ground and choose the harder road, we are show our kids we love them and we are teaching them 7 very valuable truths:
I will fight for you, even if it means I fight against you | I've always been a peacemaker. And the older I get, the more I crave peace and unity in my home. But we all know that peace all the time generally means the wrong people are giving in. I will fight for my kids–they know it and I remind them often. But sometimes fighting for their best, means fighting against what they want (or think they need).
I say no because I can see what you can't | Parents have the gift of wisdom and maturity. We can see so much further down the road than our kids can. We know that giving in on some things will teach them to give up on others. Kids thrive on the here and now and lean on us to look ahead and say no now, so we can say yes later.
Sometimes it's okay to be unhappy | We live in a culture that has elevated happiness as the ultimate goal in life. But we all know being happy every moment of every day is unlikely. Because life. When we do what's right for our kids, even if it means unhappy kids, we are teaching them that life has ups and downs. God is constant, even when our circumstances aren't.
Discipline is a part of life | When we follow through on rules we've established and consequences we've laid out, we are teaching our kids to respect authority, laws, teachers and bosses outside of our homes. If we constantly let them off the hook, we are inadvertently teaching them they can do whatever they want and it will work out fine.
So is grace | Even in the midst of discipline, I want my kids to feel loved. It's the beauty of grace that says you deserve a lot more than you're getting. That doesn't mean we don't follow through, but it does mean we try to do so in love and forgiveness and grace.
God is good all the time | I want my kids to understand God's order. He set into motion cause and effect from the beginning of time. He protects us so He can provide for us. There is order and when we go against it, there are consequences. Parents are the path that introduces children to Jesus. Every one of our kids is going to face difficulty in their lives in some way and if we follow God's order and parent in love and discipline, we are showing them how God loves us. We are teaching them that even when life doesn't go our way, God is still good.
One day we will be friends | I hold this thought close to my heart. I hope one day when my kids are adults they will look back on some of our hardest moments when we held our ground and understand we did so out of love. I pray we will be friends and that some day I can encourage them to stand strong with their children.
Do what is right, not what is easy.
It will be worth it.