This insightful upstream parenting post by my friend Janel is helpful and beautiful. If you're not following her blog, you are missing out! Please welcome her.
I still remember the tension in my chest there in the pediatrician's office, my happy five-year-old perched on the crackling tissue paper. The doctor's requests: Draw an O. Draw an X.
He couldn't do it.
I was the phonics-crazy, let's-learn-about-the-world-every-minute mom. But there in the office: What kind of mom was I?
In hindsight, my heart would twist much tighter just a few weeks later, when he was diagnosed firmly with ADHD. And a year or so later, when we discovered the dysgraphia. And when I was trying to synthesize the first diagnosis with, you know, moving to Africa with our four kids, youngest aged two. Having witnessed the profound exertion of some adults with ADHD, I was simply…overcome.
Five years later and up to my frontal lobe in books, podcasts, websites, supplements, medications, diet adjustments, conversations, techniques, and prayer, here is what I know: We have discovered a deep gratitude for these disorders, and for the exquisite way God has crafted my son. My son's disorders are not only part of his story God is writing. They are part of mine. He is more intuitive, creative, hilarious, insightful, courageous—and yes, even thoughtful—because of his intricate, oddball makeup that we have come to cherish as a family.
Grant it, this is smack in the middle of us working diligently on a spelling list of words a year and a half behind grade level. It is right before standardized testing next week, which always makes me a little nervous. And this morning before the meds kicked in, his sister shrieked in angry tears after he "accidentally" spit milk all over her, her blanket, and the sofa. We are still a work in progress.
Yet imagine the surge of emotion a few weeks ago when my son—whose honey-colored shoulders I've held through so many of his tears— immediately knew his topic for his first speech for school: "The Treasures of ADHD." His conclusion? I am glad for the way I am. I am still amazed by the way God made me.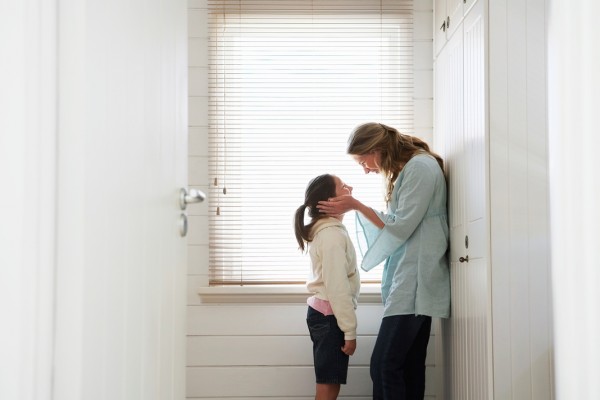 Some of the unique challenges our kids face are exquisitely painful to walk through with them. Honestly, as parents, sometimes they require that we face our own fears and issues all over again–like the graciousness I've had to acquire, and the relinquishment of achievement I've too often cherished.
In dealing with our kids' pain, we're sculpting their theology—their thinking about God and His relationship to the bad things that happen. Kids learn methods to deal with suffering in these moments—and to choose trust and courage rather than fear at those little, and large, forks in the road. They're also answering the question, "Where is God in my pain?" When God gives us reasons not to fear in the Bible, the recurrent answer is because I am with you.
How can we help our kids turn their challenges into worship, without coming across as insensitive or Pollyanna?
Hear her heart. We want our kids to be able to "name, recognize, and manage [their] feelings"in honest ways that dig into these symptoms of our hearts, and hopefully communicate them. Set the tone with compassionate, gentle questions that wait to "fix" and are patient to understand. We want our kids to present their hearts transparently to God, as in the Psalms. Feelings are "flashing lights" of place where God wants to connect with us and create His good work in us—not just signal us to get our act together! (Helpful Resource: Emotionally Healthy Spirituality)
Make your life a treasure hunt. A friend of mine who eventually lost his wife to Lou Gehrig's disease once recalled to me a profound moment with God. While he still cared for her as her body deteriorated, he had lain on his bed, overwhelmed by grief and loss. But God seemed to be leading him to gratitude. Not able to swiftly move there, my friend simply started with thanking God for the ability to draw air into his lungs; for the mattress he lay upon. From there, his gratitude snowballed, ushering him into worship. My friend's attitude has revolutionized my approach to suffering. Somehow, it tips my chin up from my self-focus and fixes my eyes on Jesus, opening my eyes to the gifts piling around me second after second. Whisper tender words of gratitude in your child's ear for the ways he's made, for the unique graces God's giving both of you in this situation.
Work to embrace the story God's writing. It's hard to help your child worship God in his suffering if you're not sure what you think about God in this yourself. Take all the time you need to get real before God, unpack your heart in all its nitty-gritty reactions and hopes, and then…preach truth to yourself. Tim Keller notes, in the Songs of Jesus
…all true prayer "pursued far enough, becomes praise." It may take a long time or a lifetime, but all prayer that engages God and the world as they truly are will eventually end in praise.
Check your definitions. Tim Kimmel considers what "true greatness" in our kids looks like in Raising Kids for True Greatness: Redefine Success for You and Your Child. Hint: It's not found in their future jobs, their SAT's, the label on their jeans, or the number of digits in their annual salary. Success in my parenting is whether my children become men and women after God's own heart. It has zero to do with his GPA or his correct spelling of the word "because".
Be her fiercest advocate. Fight tenaciously for her to find her gifts.It means bearing her burdens alongside her (Galatians 6:2). It means advocating her strengths, and working with her in honesty about her weaknesses. Without dominating or stealing her opportunities for growth, be in the trenches with your child. For me, this led me to the decision to homeschool my son, which amidst its intense labor has been rewarding for us. Not everyone's ready to make that leap—but the point is still to be your child's helper (not enabler!), as God is for us.
Listen well to understand her truest concerns, and when she's ready, work together with her to find practical, workable solutions (try not to settle for "I don't know"). Get super-practical, especially for younger kids who think concretely. For some of my kids, providing potential "scripts" for what to do or say in a confusing situation, or telling them stories (fiction or non-) about other people going through similar situations, has helped equip them. For my son's ADHD-related anxiety, I laminated a card for his pocket, listing strategies for out-of-control situations: "I can find a place to be alone. I can find one thing to be thankful for…"
Watch your language. Until my son was old enough to more fully appreciate his strengths and uniquenesses—and not use his disorders as a crutch—we referred (with hope and a positive tone of voice) to "the way God made your brain." Kids, I think, pick up on a whole lot of what we think about something by the ways we talk about it. My goal wasn't to move my child into denial, but rather to help him see promise in the way God's writing his story.
Sometimes you'll be choosing whether or not to remove your child from a challenging situation or allow him the critical teaching experience—and emotional muscle—of learning from hard stuff as you work each situation out. 
See you on the flipside. My mom is fond of saying, "Your greatest strength is your greatest weakness." If you're struggling to find the advantages of your situation, consider any unique blessings of your child's challenges. Edward Hallowell (himself with ADHD, and a Harvard professor) notes that ADHD has a remarkable counter effect of spontaneity and courage. Plus, that unstructured thinking brings spectacular creativity; that hyperactivity means tremendous levels of energy, passion, and enthusiasm.
Maybe your child's flipside is painfully difficult to locate right now. May I encourage you? The faith, trust, and maturity of my son and me is light-years different because of the character and perseverance God's cultivated in us through the uphill battle that is learning and behavioral disorders (check out Romans 5:3-5). God has bound us to Him in this struggle. What's your flipside?
Reward your child for courageous steps he takes, realizing that a small step for a child without challenges may be gargantuan for a struggling child. Together, adjust your expectations for his new "normal." Cheer him on! Recount all the staggering promises in Revelation 2-3 for overcomers…and get ready to be conquerors together.