We were driving to the grocery store and the DJ on the radio was telling a story about her 9 year old son.
I think I really started tuning in when I heard her say that her son texted her from his iPad at 2 am to ask if they could talk. My eyes locked with my 9 year old daughter's riding in the backseat and we both listened as I turned the radio up.
The story went something like this: The DJ mom and her son settled on the couch with their iPads in the middle of the night and the little boy told his mom he was addicted to the internet.
He was asking for help because he couldn't stop playing games and surfing (and who knows what else). The DJ mom cried at his confession and said she needed help too and they agreed to be accountable to each other over internet usage.
I turned off the radio, pulled into my parking space and took a deep breath.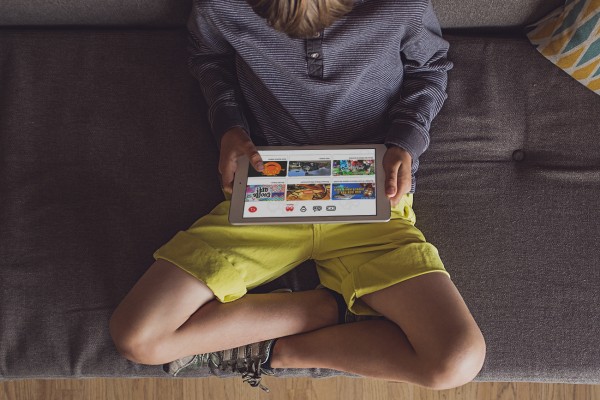 I felt a wave of sadness.
Because I know that without constant monitoring, unplugging and resisting my kids' desire for more technology, this could be us. And I'm guessing balance is probably a struggle for most families, too. I know some have simply stopped struggling against it and just given in. I get it.
We are in an unprecedented era of technology that none of us have ever experienced. And we really don't know the effect it will have on our children.
As I listened to the tearful DJ mom, I was thinking about when my 9 year old asked me if she could get Snap Chat. From the look on her face in the rearview mirror, I think she was thinking about our conversation, too.
I nearly fell out of my chair since she doesn't have a phone, iPad, kindle or internet access except on my devices. She explained that some of her third grade friends had it and it looked fun. Third grade!
One of my teens rolled their eyes the other day when they had to ask me to enter the password for the family laptop to do a last minute school assignment. "Really, Mom? I'm a teenager."
Exactly. Hate me.
You guys. This isn't going away. And if you're like me and you're struggling against it trying not to give into the pressure, it's going to take brave parenting to resist it.
And let's face it, summer is the hardest time to control screens and also the best time to start.
This summer my kids and I will serve, we will volunteer at the Mercy House warehouse, we will work (I have a driving babysitter!), we will go to church camp, we will have fun. There will be movie days, sleeping in and mindless surfing.
But it will be controlled. Because that's my job.
So, here's our summer internet plan that I'm taping on all the kids bedroom doors in my house on June 1. I'm happy to share:
Mom, I understand before I use screens/internet this summer:
I will eat breakfast (or brunch as some days might have it)
I will get dressed/shower if I haven't gone swimming lately (gotta love summer)
I will check with you to see what the plans are for the day
I will make sure where I live is not appealing to rodents
I will keep the pets alive with food
I understand once these things are done, you will un-pause our Circle device so I can enjoy 2 hours of screen time for the day (if we aren't going/doing anything)
If I want to earn more screen time today, I will read. [Every summer since my kids were little, we've exchanged reading time for screen time. If they read an hour, they get an extra hour of screen time. This works in several amazing ways: 1. Once they get into a good book, they can't put it down 2. They can't bank screen time for the next day 3. It turns kids into fabulous readers]
Thank you, Mom, for caring about me 🙂
If you haven't heard of or tried the Circle, you guys, it has literally empowered my husband and I as parents with one simple push of a phone app. (I'm not being paid to tell you about it and I bought the one our family uses and I'm blown away by it). Every device in our house is controlled by the Circle device. We can pause the internet for one or all of our kids (from the kitchen or from out of state on the phone app). We can set bedtimes and see exactly where they are going online, plus there's a safe family filter in place. I highly highly recommend it!