I've discovered the secret to raising grateful kids in an entitled world.
Lean in and I'll tell you…It doesn't exist.
Every home and every kid is different. That's one of the things that makes family life so amazing–we are unique! There are no two exactly alike. What works for one, might not work for the other. We are all doing the best we can.
If you're like me, with summer in full swing, you might need a little dose of gratitude sprinkled around your house. Boredom is setting in, kids are complaining, and you could use a little encouragement.
I'm not done in this parenting journey; I'm in the trenches with you. But here are 4 things I've found helpful in my quest to raise children who are grateful:
1. We Can Make Our Home a Safe Place
"I hope you don't act this way at school!" Raise your hand if you've said it. I have. I used to wonder why my kids would get glowing reports, and then come home and act like little devils. An older mom once cleared it up for me. "Kristen, isn't this what you want? You teach them how to act and treat others, and they are doing it where it's most important. They conform to society's rules of no touching or talking in the hallway, and when they get home, they just need to let it all out. They feel safe at home—that's why you see them at their worst." Well, let me tell you, that was good news for this mom.  I want my home to be a safe place. I want it to be the place they bring their friends and hang out. I want my kids to feel secure enough to confess their struggles and sin and share their successes.
2. We Can Choose Relationship Over Rules
My husband and I grew up in a legalistic church background and this kind of atmosphere makes rules pretty important. Although we're trying to raise our kids in a grace-filled home, sometimes old habits die hard. My nature is to follow rules. It took me a long time to see that rule-following doesn't always reflect a heart for doing what's right. When we choose grace over legalism, we are really choosing relationship over rules. That's not to say we shouldn't have rules. I have a long list. But there must be flexibility, too. There will be times when we have to lay aside our rules to save the relationship. When our kids push against us, our first reaction is to push back. But many times when they are struggling, they don't need more discipline—they need more love.
3. We Can Choose to Live in Community
Nothing has helped our family more on this countercultural road than living in community with families who have the same goals. No, we haven't moved to a religious compound or formed an exclusive clique. But we intentionally spend time with people who want the same results we do. That doesn't mean it's perfect or even tidy. When we let people into our lives and become vulnerable, they are going to see our mess. They will know we don't have it all together; they will see that we are just like them.
4. We Can Pray for Our Children
Nothing we do or say can ever substitute for bowing our heads and praying for our children. There have been some really hard days in this journey when I've gone to bed burdened for one of my kids and slept fitfully, only to face another conflict the next morning. I have wanted to give up many times. And I have found comfort and peace in only one place—on my knees. There is something deeply spiritual and healing about humbling our bodies and our pride and laying the burden at Jesus' feet. Prayer is often the last thing we think of when it comes to difficult parenting days. We reserve it for our desperate moments, when there's an unexpected diagnosis or rebellion. But God wants to walk this path with us.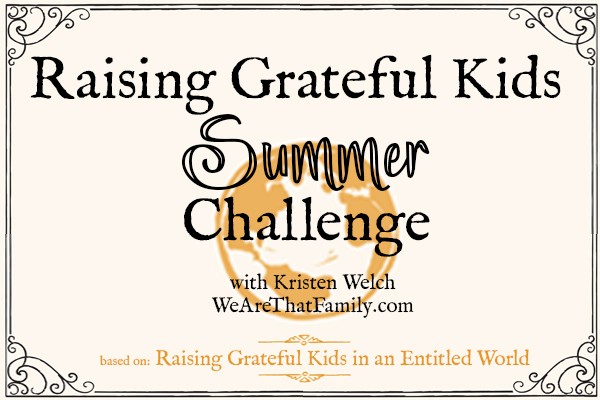 Over the next few weeks, I'll be sharing a few things we're doing this summer to stir up some gratitude. To get us started, today I'm giving away 10 copies of Raising Grateful Kids in an Entitled World. Leave a comment if you'd like to win . (Congrats to winners, you have been notified)