She sharpened every pencil and carefully placed them in her new pencil bag. She looked up and smiled.
"I can't wait!" my last elementary child said. She was glowing.
About that time, my son came down the stairs in a stained shirt, wrinkled shorts and uncombed hair, and said, "Oh, I can wait."
My teen daughter got up from the table and held up her hand as if to say, "Don't even ask."
I didn't.
Ah. Back to school.
It's amazing how quick kids lose that new school shine. And sort of heart breaking. My son became a man over the summer and my teen daughter is talking about SAT tests and pours over a college scholarship book for fun reading. One minute they are excited about all a new year holds and the next they are close to tears with the trauma of Who will I sit by at lunch?
It's enough to make a momma long for more summer. You know, unless that actually means more summer. Talk about mixed feelings.
This year, school will look different for us, with two working from home and one returning to her public school. New school years are a jumble of relief and panic all rolled up into what I think is best known as motherhood. Gah, this is hard.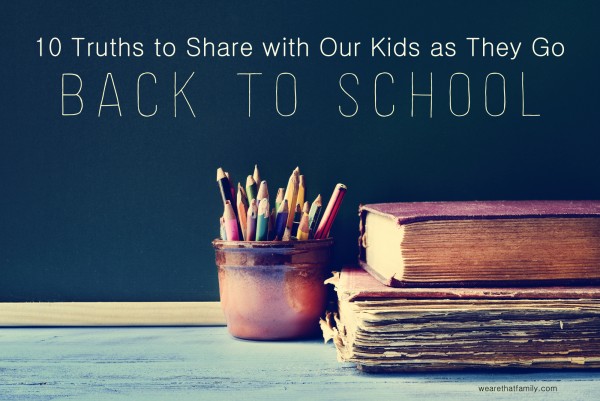 Good days are coming. So are bad ones. And I plan to remind them this school year of these 10 truths, during both:
1. God sees you
When kids hit their tween and teen years, they usually just want to blend it. They don't want to stand out. But sometimes when they get what they want, they don't feel seen at all. Because at the same time, they long to be heard and known. They are a lot like us. I think a core truth we need to reiterate to our kids is that God sees them–all the time, everywhere. Not in a creepy or judgmental way, but in a you matter more than you ever know way. 
2. You're not alone
I'm in the season of door slamming and room retreating with a couple of my children. But I've learned just because they crave solitude sometimes, it doesn't mean they want to be alone. Our kids need to know that wherever they go, whatever they do, even if we don't understand, we will walk through their highs and lows with them.
3. You can be yourself (and tell me anything)
I want my kids to know that it's okay to be themselves. Every school year offers it's own unique challenges. I want my kids to know they don't have to face them alone.
4. Be bold
I'm raising a houseful of introverts and sometimes it's plain painful watching my kids navigate life. (Probably because it's like watching myself). But being quiet or even shy has nothing to do with being bold. I want them to know what they believe and stand up for it when the time comes.
5. Fear is normal but fear not
Anxiety and worry are types of fear and I want them to know they can resist them, even in the scariest situations. God tells us to fear not–not because school, work or that Algebra test isn't scary, but because He is with us.
6. You are more than what you wear
The pressure to look and dress a certain way in our culture is real. And it starts earlier and earlier. And it can be a struggle that isolates and destroys self esteem. I want them to know who they are on the inside is more than what is showing on the outside. I want them to know they are more than a bad hair day or the latest trend.
7. I may not understand, but I will stand with you
The other day my daughter said, "You just don't understand how I feel!" I thought about her words and my temptation to respond with, "Yes, I do." But when I stopped and really thought about it, I told her she was right. In her world, in her heart, I didn't understand everything she was feeling. But that didn't mean I didn't want to, that didn't mean I wouldn't stand with her while she figured it out. Sometimes that's all our kids need to know.
8. Normal is overrated
Upstream parenting in a downstream world is hard. And if it's challenging for us, it might just be brutal for our kids. Normal is easy. Being yourself is hard. But it's worth it. I want to encourage and inspire my kids to go against-the-flow. Sometimes it's just a small thing and sometimes it's big. Every step in the opposite direction matters.
9. One friend is enough
The other day my son and I ran into a childhood friend at the store. It had been a pivotal friendship for my son back in the second grade. You see, his friend had some severe special needs and had been integrated into my son's class for part of the day. I will never forget when my little guy was given a Citizenship award for including and mentoring this kid. He was confused what all the fuss was about and said, "I shouldn't get an award for being a friend." I want my kids to always, always go back for the one, to look for the person by themselves at lunch or on the bus. I want them to know that one good friend is enough. It might just be a friendship they will never forget.
10. This will pass
Everybody has bad days. I've been doing this long enough to know that my kids have them–just like I do. And they need a safe place to fall apart. I decided a long time ago, I want that place to be home (and not school, church, or with someone else). I want them to know that their current struggle will pass, but that doesn't mean it's not important today. And if it's a really really bad day, they might just get a free pass to spend it with me.
Homeschool. Public. Private. All of the above–whatever your school year looks like this year, Mom, you're not alone.