I couldn't remember the last time my husband and I kissed in the kitchen.
I mean really kissed.
You know-heated things up in the kitchen for no reason other than the main reason.
This thought hit me in the middle of carline the other day and it really bothered me.
Marriage has been hard lately.
Not the fighting or disagreeing kind of difficulty, but the kind of hard that comes from living busy lives that stretch you from sun up to sun down. The kind of hard that comes with transition, tackling challenging stuff and tethering our life to Kingdom work.
Some days we simply high five each other as he heads one way and I go another.
Yeah, I get it, it's a busy season and we all have them.
But busyness can kill a marriage. It's like turning up the stove and you don't even know you're cooking and you're over done before you realize you were the main course.
That's how good marriages unravel. Slowly, over time. And then you realize you haven't touched in months –not physically, but soul to soul.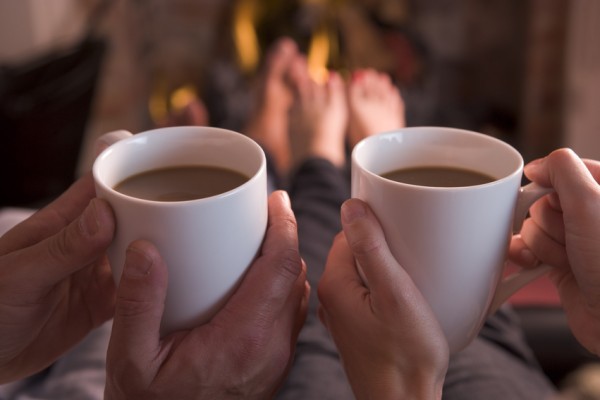 We overcome the big stuff –the real marriage killers that we can all name– but end up losing our union to the little foxes that spoil the vine.
In our twenty-something years of marriage, we return to these four phrases again and again when marriage is hard:
I'm sorry | Sometimes we need to say it as much as we need to say it. In our early years (and maybe even last week), we would wait each other out. Who will cave first? But a meaningful, heartfelt apology can shorten the distance between us with a giant leap
Forgive me | When we take our apology a step further and ask for forgiveness, we are doing more than mending a fence, we are building a bridge to each other. Forgiveness is a divine act and it opens the door for holiness in a marriage.
Thank you | These words are like a breath of fresh air. When we acknowledge how hard our spouse works or bless them for blessing us, we bolster and strengthen who we are as a couple. Try it and watch the very air change.
I Miss you | These are 3 of the sexiest words we can say in our marriage. Because missing people find a way and make the time to fill the gap.
I made a beeline for my man when I heard the door close. I miss you, I whispered long and slow in his bent ear. His arms tightened and we had that long overdue kiss, right there in the kitchen.
The kids were grossed out.
And we high-fived each other.