I watched her shaky hand move the needle and thread up and down through the felt, making tiny white stitches.
She was connecting two hearts together.
Still feeling the effects of the glue she had sniffed for years to stifle hunger pains, she was an unlikely artisan, a beggar in the morning and a prostitute at night, with one baby strapped to her back and the other holding onto her leg.
It would have been a lot easier to drive past her outstretched hand in traffic, walking from car to car, begging for something. Anything. It would have been easier to look away. It would have been easier to fill her shaky palm with coins than try to transform those hands into a seamstress.
But easy isn't always right.
I watched her brows knit in concentration, trying to make her thick fingers do the delicate work. When she started sewing hearts together the size of a quarter, she could only do twenty in a month. It was hard work at first, but now she can make more than 200. Because she knows this good work is changing her life.
At Mercy House, we offered her work, sewing hearts together, and God began to heal hers.
Do you know what women in poverty want more than our charity? They want a job.
They don't want us to feed their children or pay the $20 rent on their 10×10 shanty. They want to do it. When we provide work instead of a handout, we offer them a chance to provide for their families. It's called dignity.
And that's why we created Fair Trade Friday. So oppressed and impoverished women would have an opportunity to work.
It's not so you can have more scarves, earrings and necklaces. God knows none of us need stuff.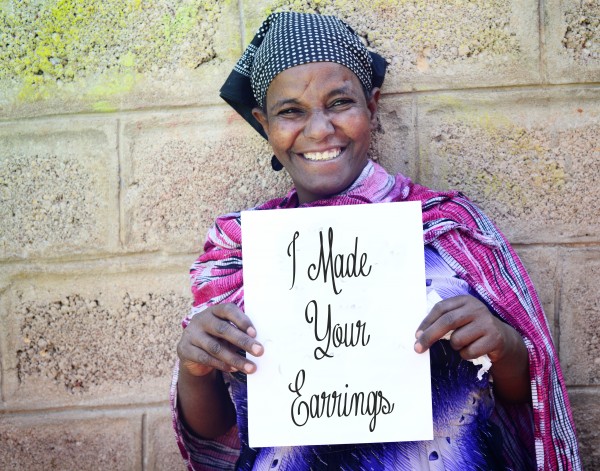 But I hear this statement over and over from middle class North American women and it makes me angry, "I would join the Club, but I just don't need more stuff," I want to respond with "This isn't the same stuff filling our lives. This is life."
It makes me so angry.
Because we are so good at making everything about us.
Last week, I counted four new storage companies building rows of units in my town within one mile of each other. Four. We fill our homes and lives with so much stuff, we have to move some of it out of our houses because we cannot contain all of it.
The average American home has 300,000 items in it. The average 10 year old owns 238 toys. Americans will spend more $1.2 trillion dollars on things they don't need.
But when we have a chance to purchase from the poor, offering them dignity though hard work, that's when we decide we have too much stuff?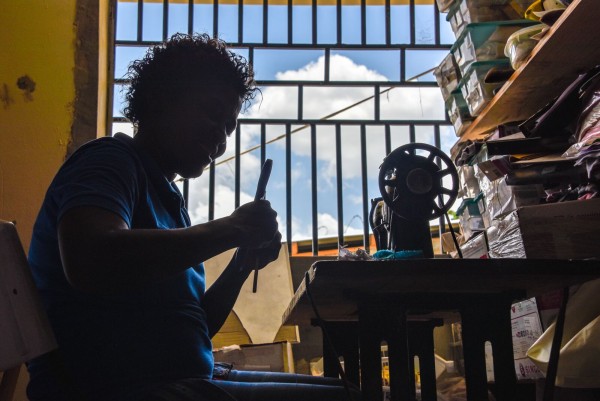 We buy billions of dollars in clothes and shoes and jewelry from all our favorite places and brands and we have no idea how or where they are made. We live in an age that has more slaves than any other and if we pulled out a magnifying glass and took a closer look at who made what we wear and fill our homes with, we might just see how much we contribute to modern day slavery. That favorite t-shirt that was such a deal, those shoes, that bargain jewelry–it might have been cheap for us, but believe me, it cost someone.
So we spend our money on stuff that we can't trace or (don't want to), and when we have an opportunity to provide a job in Jesus' name, we cry, "we can't afford it or we have stuff enough already."
God help us.
Buying fair trade products through Mercy House isn't about us. And joining our fair trade monthly subscription club isn't just about value, getting a bang for your buck or receiving the latest trends. It's an opportunity to live out the prophetic commission of Matthew 25 that basically tells us what Jesus will say to us at the end of time, when we give an accounting of what we did with what He gave us: He will say I gave you a chance to feed and clothe the poor and you either nailed it or completely blew the opportunity.
We know we don't need more stuff. But this isn't about us. It's an opportunity to stop consuming things we can't trace and start buying freedom in the form of fair trade goods from women being helped in Jesus' name.
The average American plans to spend nearly $1000 on Christmas this year. We are going to buy stuff. Let's buy right.
And yeah, maybe you have more fair trade earrings and bracelets than you need, this is your chance to pass on the story by sharing what you have received.
There is a teacher in your life who would love that fair trade coffee you won't drink. A mail carrier who would be tickled to wear the necklace that isn't your favorite color. A neighbor who needs their day brightened with a little surprise gift. An elderly woman at the nearby nursing home who would cherish the crocheted item that isn't quite your style.
There are countless people in our world we can bless. We can share what we've been given.
And don't tell me you don't need more stuff. Because that stuff is changing the world and connecting our hearts together.