I don't know about you, but the 31 days of January felt like a year all by themselves.
Yeah, it was a long month and a difficult one.
Way back in December of 2016, I looked at the sparkling New Year on the horizon and I felt good. Good about where we were, what we were doing and where we were going. So, mostly, I thought everything was under control. And by that, I mean, under my control.
But then something broke down. And another thing and another and before I knew it, nothing seemed all that stable and everything sort of seemed shaky and I had to be an adult an awful lot. I'm talking around the truth of it, but maybe I don't have to give you details and you just know what I mean?
More than once, in the long days of January, my husband would say, "God is doing something. He is shaking things up."
Yep, I said, gripping for dear life. I felt the earth quaking and I didn't like it one bit. And so I told him, "I don't like this tearing down thing God is doing."
"He knocks down walls to rebuild them–stronger." I'm pretty sure I tossed a throw pillow at him.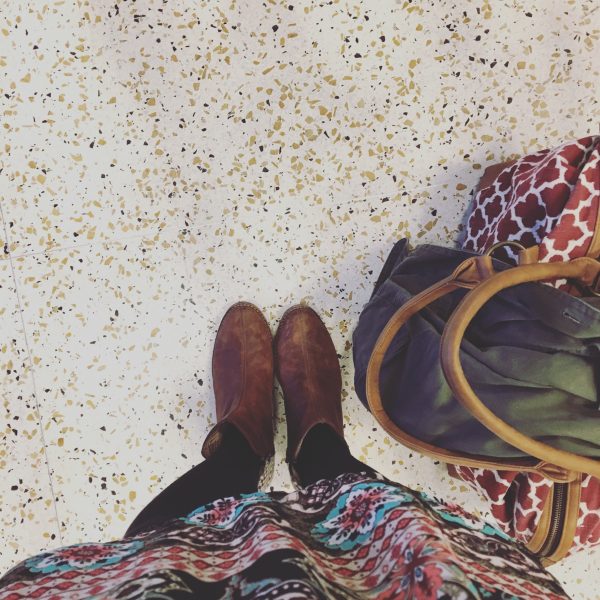 Early one morning as I was leaving for a speaking event out of town, I was whining about all the renovating and I remembered this quote and I've been mulling it over and awful lot:
"Imagine yourself as a living house. God comes in to rebuild that house. At first, perhaps, you can understand what He is doing. He is getting the drains right and stopping the leaks in the roof and so on; you knew that those jobs needed doing and so you are not surprised. But presently He starts knocking the house about in a way that hurts abominably and does not seem to make any sense. What on earth is He up to? The explanation is that He is building quite a different house from the one you thought of – throwing out a new wing here, putting on an extra floor there, running up towers, making courtyards. You thought you were being made into a decent little cottage: but He is building a palace. He intends to come and live in it Himself." ― C.S. Lewis, Mere Christianity
More shuffling and shifting and shaking and I found myself flinching and overreacting with every aftershock. Because obviously I handle change well. I like my comfort zone even though it would have terrified me a decade ago. I'm good at what I know thankyouverymuch.
Last week, I might have been at an all-time low. Or pretty close to it. After a very late night of budget-crunching, trying to decide just how many pregnant teens we could afford to rescue in 2017 at Mercy House and shaking my head at needing another 140 sponsors for our graduates, I stood in our warehouse surrounded with too much fair trade product. (Lo, they told me January would be slow). I stood there carrying too much burden–for too many women needing help–with too little money and I felt like the weight of it might crush my very soul.
I can hardly breathe just typing the words.
And so I did what all good southern world changers do, I cried.
I mean, I cried ugly. There was snot and mascara and maybe even a hiccup.
Right there, standing in front of my desk, next to pallets of Fair Trade Friday product that I had convinced customs to release in no less than 6 one-hour conversations, I bawled. One by one, our sweet staff found me. Patted me on the arm and hugged my neck. I cry a lot in that warehouse so no one was really surprised.
And there in our big red barn, one of my favorite places in the world, I waved my imaginary white flag.
I gave up. I surrendered. I was done. Undone.
In the stillness, words came to me in a holy hush, "There will be miracles."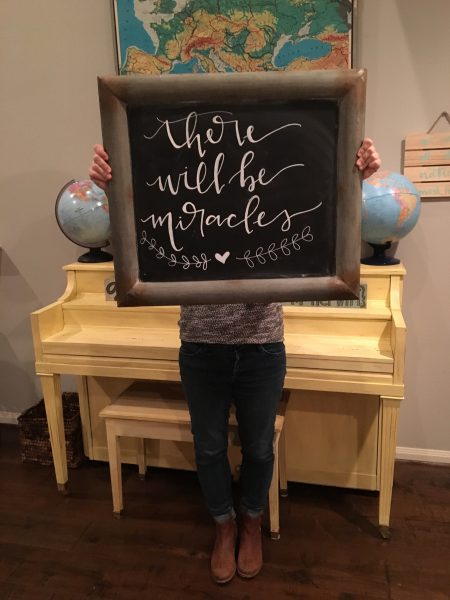 My head snapped up as I thought of these  words I had see on a sign a few days before and stopped to type them in my phone so I could chew on them later.
But this time, I didn't see the words. I heard them. I stopped and looked at the shaky, shifting floor under me and realized new grown is holy ground.
And There Will Be Miracles.
I didn't pick one word for the New Year like I usually do. This time it picked me. I asked my daughter to write the words on our chalkboard so I could read it every day.
There Will Be Miracles.
I know this because there have been miracles. So many, more than I add up on all my fingers and toes. And God loves a good miracle. He loves doing the impossible because when it becomes possible it's obvious who is behind it.
The bush will burn.
The sea will part.
The sun will stop.
The walls will fall.
The bread will multiply.
The lame will leap.
The dead will rise.
There will be miracles.
There will be enough money to rescue new pregnant girls in Kenya.
There will be 150 sponsors for our teen momma graduates and their babies.
There will be a new Fair Trade Friday member for each one that canceled this week because the post office raised shipping by $1.
There will be shoppers in our retail store like the women who came in yesterday because she thought it was a costume shop and left 45 minutes later –crying– with $212 in life-changing fair trade product.
There will be shoppers in our online store who believe that every single item sold means freedom.
There will be hope for the impoverished and oppressed women around the world who are desperate today.
So, friend, wave your white banner in the air with me, not in surrender, but in victory. I don't know what you need right now, but I know there will be miracles.