She put on her "girls can change the world" shirt on our first full day in Kenya because they can.
She doesn't remember a life before Mercy House and she thinks this life we live is normal because it is.
When my little one was 5 years old, she gave her new kindergarten friend a tour of our house and when they got to the fridge covered in pictures of people we love from around the world, her friend asked who all the people were. "Oh, those are people we love. That's how we change the world. What does your family do?"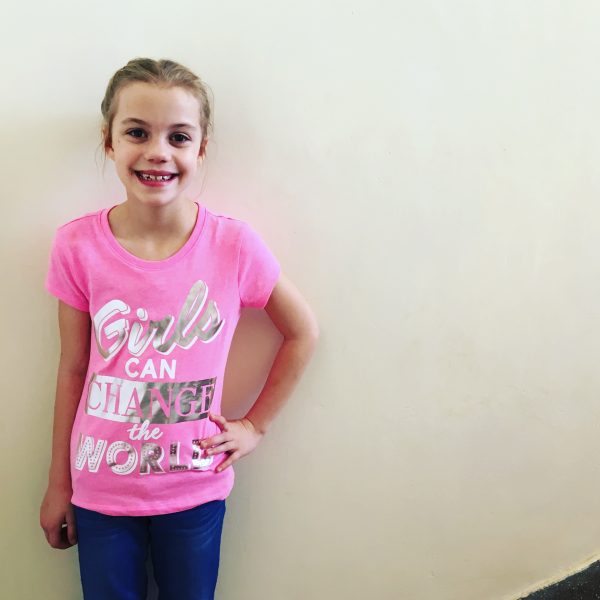 I didn't correct her because we are raising our kids to believe they can change the world because it's the truth.
She wore that pink shirt into the heart of the slum today and I tried not to think about the gun in the back pocket of the policeman leading our family into a dangerous section for a home visit. I tried not to think of the living conditions of the growing group of shoeless, sniffling children following behind us.
We walked right up to where Hilda sits most days, making product. Today it was small, colorful paper bead earrings.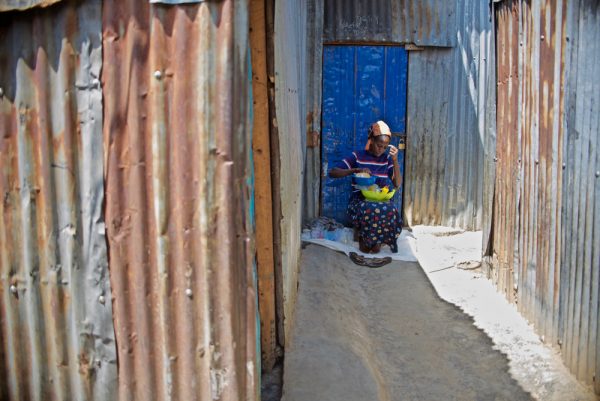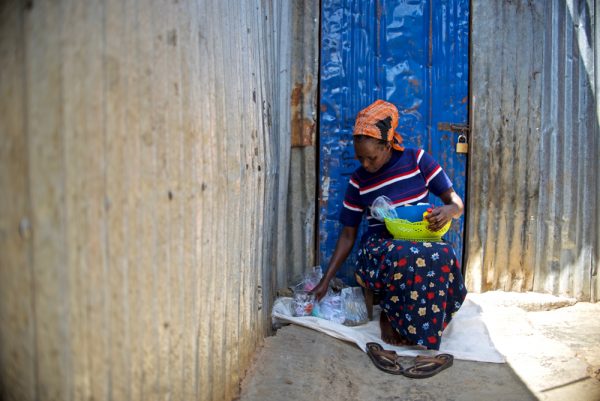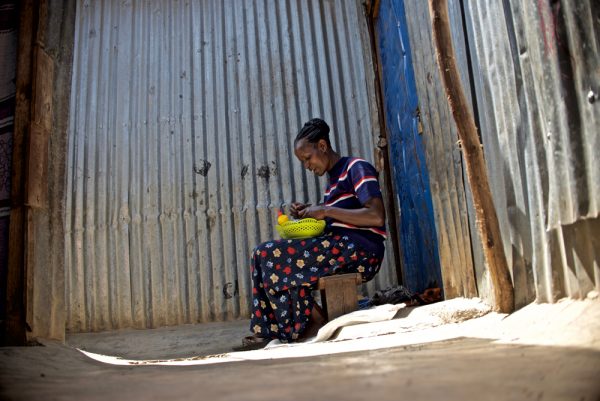 The sun was blazing and my heart was on fire, seeing her there, working on a Fair Trade Friday order for a summer box.  She looked up and smiled because she knew us.
We stepped over the running sewage that ran along the side of her home and she proudly showed off the clean, tidy space. Hilda is a mother and widow and sole-provider to 10 children and holds her head high with a quiet strength.
She hasn't always had joy, but she has a job and hope came along with it and she has moved her family into a better place. She can provide for them and that makes her very happy. Because it's enough.
She told us as much and all I could think about was the small paper bead earrings.
I was asked to say something and the first thing to come out of my mouth on my first day back in Kenya and it was a sob. Tears mingled with the sweat on my face and I said, "I'm crying because I ordered those cheerful little earrings from your group because they were small and you needed work and . . ." I didn't tell her that these earrings were an afterthought, an extra item for a Fair Trade Friday box filled with bigger things.
"Oh, to you these seem small. But to us? They are very big. We are providing for our children because of these small things."
Sweat ran down my back as I thought about her sleeping in the little home with her children and I looked at my kids, crammed around her table, and thought, "Oh God, that we would be this thankful for the small things."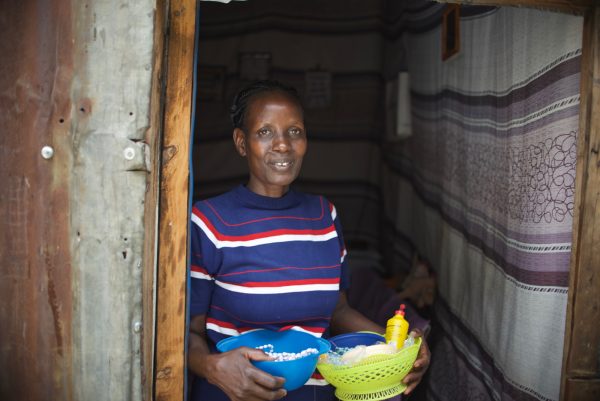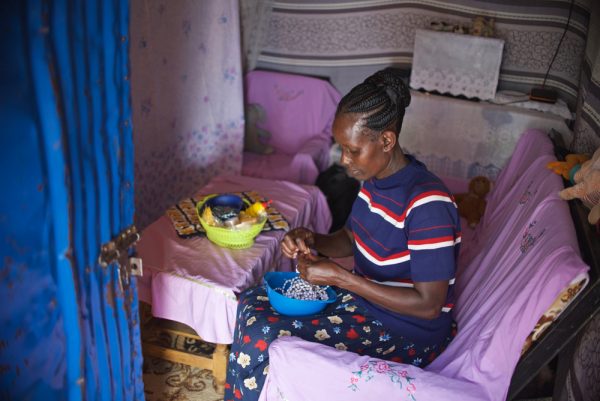 It's so easy to think our small yes doesn't count. It's so easy to believe that a piece of jewelry is just a piece of jewelry. But as God as my witness, it is so much more. Hilda wants you to know that what may seem small to you, is big to her (and the 19 women in her group).
Some days I feel like that little kid in the Bible who had just a bit of fish and a couple of loaves in my rolled-up paper lunch sack.
And God says, "Who will say yes? There's a need, who can meet it?"
I look at my lunch and I know it's not enough. And I know God can do it without me. He can speak the Word and meet the need.
But there it is: an invitation.
I can clinch that sack or hide it behind my back. Or I can offer my little lunch. It's not much, but it's all I have.
Because here's the thing: your yes may feel small, but God is big and so size doesn't matter. And we can turn down the invitation. We can walk away and enjoy our little lunch off by ourselves. And we will never know what we missed.
But we will miss it just the same. Because we were created for more. We were created to say yes to God.
The true miracle isn't that Jesus fed thousands of people with five loaves of bread and two fish, although that was awesome. The miraculous act is that He can take whatever we willingly give—even though it seems small to us—and do something extraordinary with it.
Today, we were out of our comfort zone. We were uncomfortable. We were hot and car sick and a little afraid. But I want to raise kids who believe this truth: "The world offers you comfort. But you were not made for comfort. You were made for greatness." – Pope Benedict XVI
My small girl in her bright pink shirt might not think straddling a pit latrine to use the bathroom or puking out the window in traffic due to car sickness makes her a world changer.
But it does.
So here it is: your invitation to read these stories this week; to feel a little uncomfortable. This is your invitation to do something. Giving money, purchasing extras from a fair trade store can feel big during some seasons, I get that. But the world will tell you it's small, unnecessary, an extra you don't need.
But please hear me–today I looked into the eyes of Hilda and they are begging you to know that it is really big for those you do it for. An Earring of the Month membership may seem insignificant, but it's not for the earring-makers. A Bracelet of the Month membership may seem little, but it's not for the bracelet-makers. Hosting a home party, sponsoring a mom and her child–these may seem unimportant. But they aren't.
Because God takes the small and makes it the new big.