It's the second week of summer.
The second week of my husband on bedrest. The second week of boredom (if you ask my kids). So, yeah, our plans changed and instead of vacationing in Colorado this week, friends are dropping off meals and we've got follow up visits with a surgeon and a lot of canceled plans.
And bored kids walking around the house, whining about nothing to do.
I could literally hear my youngest breathing outside the bathroom door waiting for me to come out this morning. (I wasn't hiding, really).
Maybe this sounds familiar?
Go. Find. Something. To. Do. I said through gritted teeth. She gave me a blank stare and then I realized she was waiting for me to tell her what to do, to do something with or for her.
And there it was again, this "You Owe Me" mentality that is wrecking our culture. We do so much for our kids- camps and classes, back and forth to lessons and events, we spend money and fill their lives with stuff and you'd think they would be oozing gratitude, but we are taken aback when they just want more.
More activities, more fun, more stuff.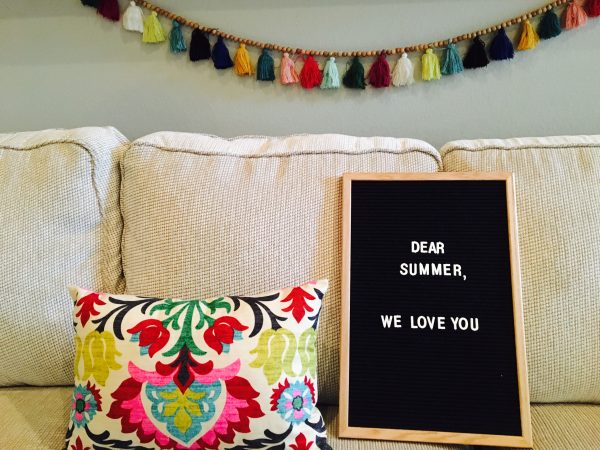 And honestly, I can't really blame my kids. Because for a long time, I provided constant entertainment. I bought into this lie that it's my job to make my kids' summer magical and fun and everyday an adventure all about them.
I have fed the entitlement beast and when it rears it's ugly head, my children aren't the only ones to blame.
The last two weeks have reminded me that a little boredom won't kill my kids. And yeah, cancelled plans are a bummer and disappointing, but sometimes that's life. And life goes on.
Our children need to be bored. They need to kick their feet and wait outside of bathroom doors, unanswered. They need to be sent outside or to their rooms to play. They need to turn over the bag of tricks and find it empty.
Because that's when they will discover they don't need stuff to fill their time. They don't need a plan for entertainment.
They can create their own. And that's when summer gets magical.
I pulled my little one aside and got down on eye level and I said, "Let me explain summer to you, honey."
"There will be fun days! We will check boxes off your summer bucket list. We will play. We will work. We will serve. We will have great times. But there will also be a lot of unplanned days, there will be empty hours. There will be days when you've watched enough TV or we won't be leaving the house for something fun.
At first, these days may seem boring or like there is nothing to do. And that's okay. Because after you whine and perhaps, cry, you will have to make up your own fun. You'll get into that book from the library. You'll draw doll furniture and cut it out and give your paper dolls a good home. You will figure something out. I love to see you having fun, but I will not, I cannot make every day fun. It's not my job to make every moment The Best of Your Life. But it is my job to teach you that the days that aren't fun usually end up being the best ones of summer."
So, moms, take heart. Boredom won't kill summer, it might just make it magical.
Sometimes we have to just wait for our kids to remember just how fun boredom can be.