It's a thing. 
I was born in Texas and I've lived here most of my life. It's home. It's also the friendliest place I've ever lived. It's the one thing my husband and I missed most about living out-of-state the first ten years of our marriage. People didn't nod their heads at stop signs, smile readily on the sidewalk or wave at strangers for no real reason like they did back home.
And of course, as you can tell by the news coverage of hurricane Harvey, being good neighbors goes much deeper. We take care of each other.
When I talked to my friends in Haiti about screen printing a fair trade Texas Strong shirt for Mercy House to sell, they jumped at the chance. Not only did they want to provide needed work for their artisans, they wanted to support Texas too. It was surreal to get emails from India to Europe to the Caribbean from artisan groups checking on us during the storm. But if working in the fair trade world has taught me anything, it's this: we are more than just fair weather friends. We take care of each other.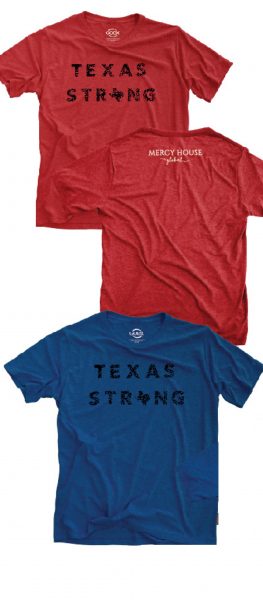 Of course, my Haitian friends and I didn't know they would be facing a storm of their own a week later. Please join me in praying for Haiti and the entire Caribbean in the path of Hurricane Irma.
I think it's pretty amazing that when you purchase this fair trade shirt, you're not only helping Mercy House make up for lost sales during Harvey. You're also providing our friends in Haiti with jobs and a portion of every sell supports Houston Welcomes Refugees, a local non profit we volunteer with that lost 1/3 of their inventory to welcome new refugees to our city in the storm.
It's a win-win-win.
If storms teach us anything, it's that we aren't alone. And we have friends who stick with us–no matter the weather.
Pre-order your shirt here for only $18.
Check out our other Texas Collection items here.