Parents, I think this is a critically important post by my friend Janel. I urge you to read it and together, let's teach our kids that "compassion begins with seeing ourselves in someone else's eyes."
We were headed to church, exhaling clouds of steam in the still-cold car. Up in the front seat, I happily remarked to my husband about the expanding diversity in our small town–as judged authoritatively, of course, by my trips to Wal-Mart. After five and a half years in Africa, I can feel a little stifled amongst all the vanilla around me.
My daughter, from the backseat: "Why does 'diversity' make you happy?"
She didn't, it turns out, know what diversity was. So we talked about it: That God expresses Himself through every culture. That differences make us more vibrant and loving and whole. That we want people of all types to be welcome here.
In light of this year's extensive, heartrending violence, maybe you're wondering along with Virginia governor Terry McAuliffe, "How did we get here?"
Here's what we know. The Church must–must–lead the way in accepting each other as Jesus accepted us (Romans 15:11)–when we were still His enemies. As pastor and radio host Bob Lepine recently pointed out,
The source of all racism and white supremacy is the person the Bible describes as the father of lies (John 8:44). Racism is demonic. It's diabolical. To believe that one group of people has more value or worth than another is the spirit of antichrist….
Racism is a sin against God Himself. It is God who created us in His image, after His likeness (Genesis 1:27).
….Christians must publicly, humbly, and boldly stand against racism. Followers of Jesus should be at the forefront of the chorus speaking out against what has taken place. Especially when white supremacist groups claim that what they're espousing is somehow a Christian way of thinking.
There should be no equivocation on this. No nuance. We must speak clearly and forcefully in proclaiming that all men and women bear the imago dei—the image of God.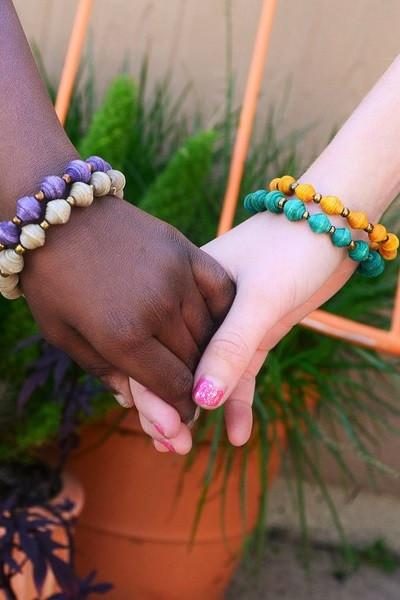 How can we instill this in our kids? I'll throw out a few ideas–but I'd love you to chime in through the comments section.
Perhaps the best, hands-down way to do this: Exposure. It's harder to reject a certain class of people when you know and love people from that very group; when thinking of "the homeless", your son thinks of the guy he eats dinner with when you guys are at the shelter. (I'm not talking as a "project" or voluntourism, but as opportunities arise)
I'm hoping my kids will be endless advocates for refugees because they know refugees (they already get hot under the collar when refugee politics are discussed on the news!). They care about Muslims because they know Muslims from the refugee center. They have a good relationship with a homosexual. Friends who have HIV. A dear friend with Down's.
Compassion begins with seeing ourselves in someone else's eyes. A British friend told me about "Who Do You Think You Are?", a TV show where stars find their ancestry. She noted that suddenly, the stars' empathy for formerly anonymous people in history, now connected to them by blood, changed. You belong to me. If you don't believe me, check out this fascinating video. (You may never forget it!)
If you don't have a lot of diversity in your community, you might read books by or about people different than your kids–understanding their stories (for picture books, see the first two categories on this page). Rent movies about people who've struggled in these ways.
It's hard to put people in the category of "other"–a source of fear, an  us/them thing–when they aren't a label to you; they're simply people.
Train them in handling conflict.

At its heart, instilling a love for diversity in our kids is giving them practical tools to negotiate conflict–in ways different than the how the rest of the world navigates. We return a blessing for an insult (um. Am I the only one whose kids find a

lot

of practice with siblings?). We admit the "log in our own eye" first. And it's not us against each other, but us against the problem.

Click here for more ideas on helping kids manage conflict.

Constantly work with your kids away from judgment, yet towards discernment.

What's the difference? In a couple of words, humility and love. Judging carries with it condemnation, and separation from its subject; it becomes an "us/them" comparison, a superior-to-inferior attitude.

This post

and

its part II

expand on how to talk about this with your kids!

Rather than simply choose what's best for our own families, we must consider our communities, too.

I love the story of my friend "Susan", who chose to keep her girls in a school that was performing in the lowest 20% of her nation:
I realized most the kids from our church remaining there didn't have a place to go or the means to get out. They were stuck there. And it didn't seem like 'being the church' if I pulled out and left them to flounder.
So we pulled together a bunch of people and started praying. And some of us got on the [school board], and I eventually became the [chair].
Together, they considered their school problem a community problem, and therefore a Church problem. Sometimes, one of our greatest strengths as a church–the advocacy for our own kids–can become a myopic, even self-centered weakness. (Read more on this here.)
4. Grow kids' global awareness. Find 20 Ideas and 20 More Ideas for Raising Globally-Minded Kids here.
5. Constantly be training in empathy: in books you read; news stories you watch.
Believe it or not–this might even involve not picking up your kid's backpack from the floor or schlepping his lunch to school! Real Simple magazine reports that when we intervene, it communicates incompetence and a lack of confidence to our kids. And this can mean they're less courageous to deal with adversity, including bullying and the differences in others they encounter.
Alright–enough of my ideas. Let's hear yours! What can we practically do to help our kids embrace kids who are different?