A few days ago, I sat in the home of one of the sixteen street moms in Kenya who are hand stitching their way out of poverty one little felt heart at a time. Twenty months ago, I wondered how in the world we would provide jobs for the most disregarded women in the country.
But they keep sewing and you keep buying and it keeps working because He is working.
Last week, I was in Milka's one room house in the slum as she shared that she had been homeless since she was 13 years old and did anything and everything to survive for more than a decade. But there wasn't sadness in her words as she showed us the home she had moved into–thanks to those little hearts.   There was only hope.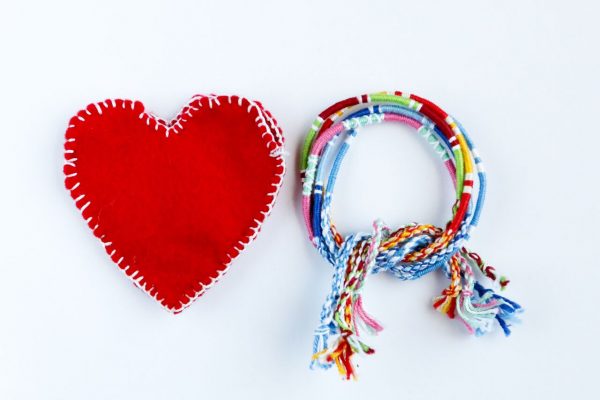 I think sometimes we think changing the world means we have to do something huge–some big gesture to really make and impact. But really, we just have to have a little heart.
We think these sweet little hearts make the perfect classroom valentine's for your kids to give to their friends. Or share with some special girlfriends in your life, your Bible Study, neighbors… Each felt pocket heart contains 5 handmade friendship bracelets from the Philippines.
Today, while I'm in NYC at the Handmade Global Market trying to get orders for these precious women, you can do your part and get these adorable pocket hearts + 5 friendship bracelets for only $5 in a flash sale deal! (Half off!)
$Five Bucks=Change their World.
Plus, save an additional 15% off the Valentine Collection at Mercy House with code: spreadlove. Today is the last day to order from the Mercy House Valentine Collection and receive by Feb. 14.