I woke up at 5 A.M. in a hotel room on my daughter's last day at "home." It was college dorm move-in day and our cars were packed and she was ready to fly.
It was still dark in the room but light enough to see that my son was hanging off the air mattress on the floor next to both our daughters still asleep in the bed next to my husband and I. I quietly slipped out of bed and stood over them and tried to memorize the moment.
That's when I noticed my girls were holding hands, asleep.
For weeks, we have all been feeling the epic shift that was happening in our home. Preparing your child to leave is the true definition of the word bittersweet. I just can't think of another word to describe the excitement and sorrow all tangled up together.
This letting go is a slow grieving process filled with joy and fear. It's a paradox of conflicting emotions. It's hard and oh, so good.
We were out of the hotel by 7:30 in the morning for our daughter's 7:45 slotted move-in time. As we rounded the corner in front of her dorm, we could hear the chanting and cheering and I could feel the lump swell in my throat.
We rolled down the windows and we could hear the crowd around our car saying these two words over and over, "Welcome, home. Welcome, home." I squeezed her hand, her car door opened and the welcome team ushered her out of the car to get her room key. In a matter of seconds, the upperclassman had carried off her boxes to her room and she was gone and I was alone in the car, husband and kids following behind.
These words were echoing in my ears and heart. Welcome home.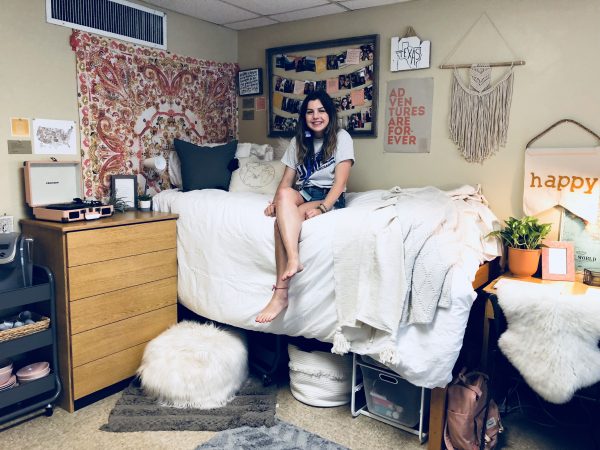 All the planning and prepping, the arguments and cherished moments brought us to this moment when I realized yes, this was her new home and that's when I lost it.
I could barely drive to park the car for the tears. It would be the only five minutes I would be alone until we were back home later that night. I sobbed.
I hid my red eyes behind my sunglasses and our family spent the next 3 hours making our daughter's room adorable (she basically just told all of us what to do) 🙂 It was perfect. And hard, and oh, so good.
More than a half dozen times, I swallowed the lump in my throat and stopped the flow of tears that were threatening while we put her parking sticker on her car and visited her mailbox and did all the things to seal the deal on this big transition.
We knew goodbye (which we had already dubbed "see you later") was coming and none of us wanted to say it. The five of us stood in her dorm, held hands in a circle and prayed the sweetest words over our beautiful, strong and incredible girl.
It was perfect. And hard, and oh so good.
Right before we drove the three hours home, I whispered in her ear,  "Welcome home, honey."