I've been in Kenya for two days and I've already lost count how many times I've cried. I've made over 20 trips here and yeah, I'm still that person.
In the last 48 hours, I've visited 6 homes in different slums and 4 artisan groups and witnessed blinding hope and devastating hopelessness. It's a constant before and after–before Jesus and after, before a dignified job and after–and the difference is staggering. Breathtaking. It leaves me grasping for words to try and describe it.
I love telling stories. Sometimes the story is so holy, you just hold onto it for a bit and so while I'm processing the beauty and the brokenness, there are 7 things I'm wildly desperate for you to know: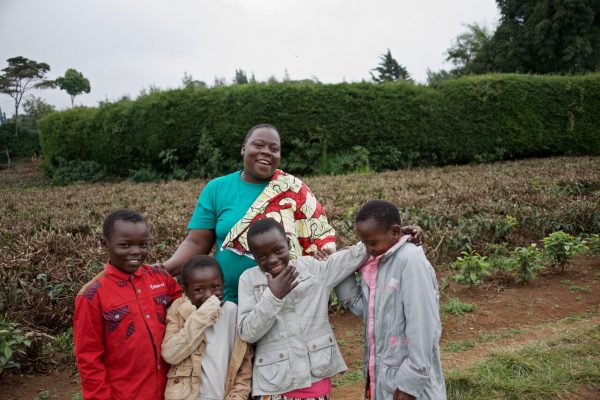 Everyone has a before and after. I need you to look at Miriam's face in these before and after pictures. The first is the day her pregnant daughter was brought into the maternity home in Kenya. You can read her story here and here. That was two and a half years ago. The second photo was her face today as we danced our way into her beautiful home thanks to her job at Mercy House as a weaver. You might be in a before season or dancing your way through an after. Don't give up. God isn't done.
A bottle of Coke is more than a bottle of coke. Something happened that has never happened before: we were served bottles of soft drinks by Miriam in her home. She bought them with her own money and they signified much more than a cold drink: they were a celebration! She brought her children home (they were staying with family because she couldn't afford to feed them) and her gratitude for a job was palpable. And even though she sits at a loom  five days a week doing very difficult labor and travels in hours of traffic to get there and back, she was thankful. It oozed from every pore and it was brilliant. What are you grateful for today?
Don't doubt for a second that it matters–I'm so desperate for you to really believe this, for you to listen closely to these words: Every time you purchase something fair trade you are literally changing the world. I continues to shock me how earrings or rugs or a simple bracelet can save someone's life and alter the future of an entire family. But it can. I am an eyewitness to this truth. When we believe this we understand the following:
Empowerment brings dignity to the poor and it provides purpose to the rich. Please, please hear these words–God doesn't just ask us to help those who have less because it empowers them–it changes us. This is our joy.  When we lend a hand, provide work by shopping fair trade, do something for someone else–we are helped too. We discover our purpose isn't to be happy or have more, it's to share what we'v e been given and that changes everything.
The struggle is real. I wrestle daily with my desire for more stuff, to have what I don't. I long for it just like you do. I feel the weight of my own materialism and I struggle. I'm asking you to wrestle too. Consider how your purchases can change lives (instead of just improving your lifestyle). When we stop struggling we stop progressing. Fight on!
We need you. One of the street moms we work with asked us today to pray for the other women still living on the street because "I left so many behind when I moved into this home," she said. She lives at the bottom of the slum in the most primitive house I've ever seen and she was thinking about those who have less. My life's passion is to provide dignified jobs for those left behind. If you're not a Fair Trade Friday member or a Mercy House Global donor, would you please consider becoming one today? We want to provide more jobs for those left behind.
Love your neighbor. Even if your neighbor is really different than you. Leaving Israel the day before the worst attack on USA soil against Jews sickened me–these are dark days in our nation, but we can show the world what it looks like to truly embrace our neighbors and love one another. As I sat in homes that were so different than mine, with women who are HIV+ and illiterate, I kept thinking about what love can do. It closes gaps and bridges what separates us. Today, I met with neighbors because of love. It's the most powerful weapon in the world.