Black Friday is over. Cyber Monday has passed and I decided to go ahead and tell one of my kids that the one (expensive) thing they really wanted for Christmas isn't going to be under the tree this year.
And they let me know they blamed the last 9 years of their "Mercy House childhood."
So, you know, that went well.
It wasn't said to hurt me, because hurting people hurt people and aren't we all walking around a little wounded? But it was said in pain and those words knocked the breath right out of me. I cried into my coffee early the next morning while the house was still asleep because sometimes the truth hurts.
Sometimes we do our best to give our kids the world and sometimes we give them what they want and other times we can't–the reality–we still let our kids down. It's the kind of pain every parent knows.
Yeah, the truth hurts, but it also sets you free. Because it's unleashed some things in me I didn't realize were all pent up.
I don't regret saying yes to God. I just didn't know that I would spend the rest of my life broken. Breaking. Laying the pieces of my marriage, parenting, my pride, everything, at His feet. I keep trying to keep it all together and He pries open my hands and says lay it down, give them to me.
My child's words rolled around in my head and I replayed them over and over. At first they bound my heart with guilt and remorse over the sacrifices my kids didn't choose to make. On some very long days and in some very heartbreaking seasons, we carry the weight of the world even though we aren't supposed to.  Sometimes a yes can change everything. And everyone.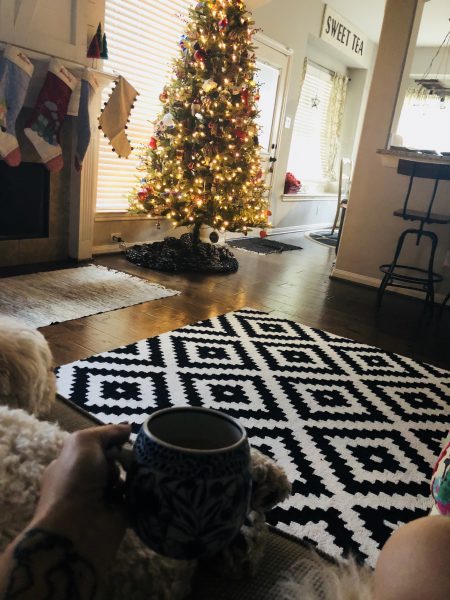 But then I heard it: the truth. And let me tell you, this parenting truth is setting me free this Christmas.
I remembered the path we were on as a family nine years ago and I thought about the childhood I wanted to give my kids that was full of stuff and things and a bottomless well of never being satisfied. We played the disappointing game of comparison and no matter how much we got, we only wanted more. We tried to be like everyone else and it was exhausting and disappointing.
It's easy–especially this time of year–to focus on what we don't have instead of what we do. It's easy to wish for something different–a home, a job, a life, even a childhood.
It made me think about my child's words in a different way. What a gift it has been to help my kids see the world and others first, to have to opportunity and resources to give. It turns out giving my kids a "Mercy House childhood" is really okay.  One day I pray they see every bit of it as a gift, but today, I choose to see those words–as a gift for me.
Moms, we do the best we can with what we have. Sometimes it's a lot and sometimes it's not. Sometimes we are broken and make mistakes. We get it right and we get it wrong, but we keep trying. And let me tell you this:  it's okay. It will be okay because God redeems everything…our mistakes, our pain, what we can give our kids and what we can't.
But don't believe for a second that our kids will remember what we can't give them this Christmas; they won't remember fads or trends or the latest must-have's. They won't have memories of gadgets and gizmos. No, they will treasure moments together, minutes in the kitchen making someone else's Christmas brighter. These memories will makeup their childhood and they won't forget what we gave them.
Focus on what you can give this Christmas, instead of what you can't.