I haven't unpacked my suitcase from Kenya yet. It will take even longer to unpack my heart.
I can't stop thinking about Mary. She stood still on one foot in her tiny home and lifted it like a statue for 60 seconds and then switched to the other. We were inside her thin paper walled home, with a river of sewage running next to it. Mary wanted to show the group with her leg test that she was sober.
"Mary, did you think a year ago, you'd have a job sewing felt? Can you believe it's improving your life?" I asked.
Mary looked me right in the eye and said, "I was born to be beggar. My fate has always been to suffer. That's all I knew," she paused for a long time and then smiled big, "But then I got a job sewing felt with Mercy House Global and I moved in my first house and one day I'll have a TV…This job has changed everything,"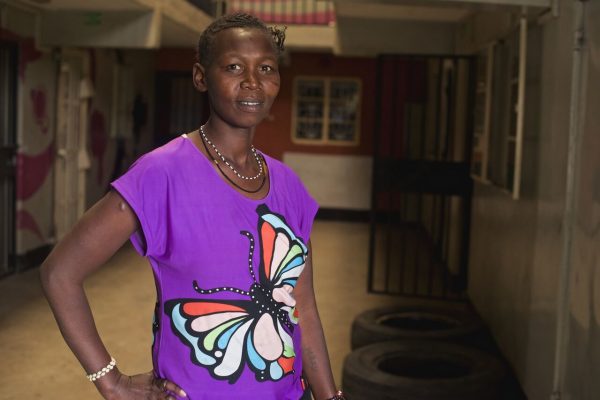 And I can't stop thinking about Caroline who was asked to leave her home at age 12 because her desperately poor family thought she had a better chance at survival if she became a beggar. Her 14 year old brother was also sent to the streets where he died in a fight the first year.
Involuntary shudders ripped through my body as I sat in her dark home and thought about my little girl who turns 12 next week.
Caroline ended up living on the streets for 15 years and did whatever she could to survive and added three babies to her burden. Only two have survived; they are now 9 and 4. This was her fate until Mercy House Global invited her to become a part of Street Hope, a small artisan group that employs women off the street.
As I sat in her one-room home last week, she told us she was supporting the same parents who asked her to leave.
"How?" I asked. "How can you forgive them?"
Her answer stunned me and I couldn't' stop the tears.
"A job isn't just putting food on the table and helping me provide for my kids and pay rent. It's given me the power to forgive. Work isn't just dignity and provision. It's restoration and reconciliation. This jobs gives me an opportunity to support my family and maybe they will also meet Jesus," she said quietly.
Against all odds, these women have learned to hand sew felt and they are stitching their way into homes. These precious ornaments have provided 18 months of work and we believe they will provide your own with gratitude and perspective.
Felt nativity ornaments don't just keep her hands busy and adorn our Christmas trees, God is using dignified jobs to change her world–ours too.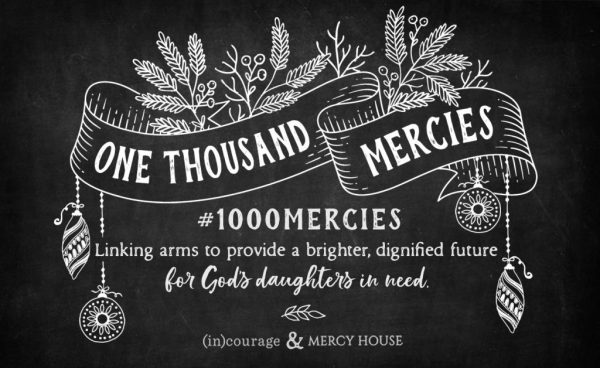 We're looking for 1,000 women to join (in)courage in partnership with Mercy House Global . . . will you be one of them?
Our goal between November 1st and November 16th is for 1,000 women to donate $15 or more to Mercy House to help provide sustainable, dignified jobs for women in poverty around the world. This is one tiny, practical thing we can each do — in Jesus' name — to make a huge difference in a woman's life.
Will you join us?
When you donate $15 or more, we will send you a beautiful hand-stitched ornament made by a Mercy House Global artisan — one of the very women who will benefit from this fundraiser. While this will look GREAT on your Christmas tree this year — even more important– it'll be a visual reminder for you to pray. Pray for the woman who stitched the felt, for her children and her community. Pray for the women who have not yet discovered Mercy House but soon will. Pray for Kristen and the entire Mercy House team for strength to continue with their mission.
Together, we can help to provide a brighter, more dignified future for God's daughters in need.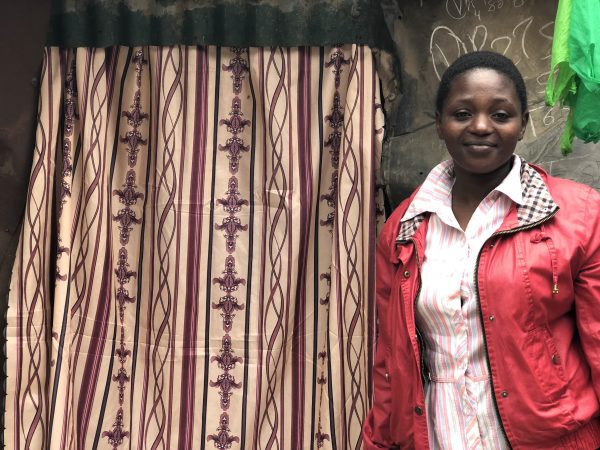 As a thank you, we'll send you an ornament hand-stitched by a beautiful Kenya woman who is part of the Street Hope artisan group.
Let's work together to sponsor 1,000 ornaments this Christmas!
May we each hang one on a pine bough as a reminder of the way Christ bowed down to come to earth as a baby so that we might receive God's greatest mercy. And when Christmas is over? Keep your ornament in a place where you can see it every day as a reminder to pray for Mercy House Global and the women they work with . . . for their safety, their future, and their relationship with Jesus.