Tonight at the airport, I kissed my 19 year old daughter goodbye.
She got on a flight alone that will carry her 9000 miles away from home. My dear friend, Ally, who worked for Mercy House Global before she moved overseas, will meet her in Thailand. Together, they will explore how to use art to empower women with dignified jobs.
As my husband and I drove back home, I thought about my first solo flight to Kenya ten years ago. I had no idea how that trip would change everything. Everything. It would reveal my entitlement and my lack of gratitude. It would wake me from the American Dream. It would be the catalyst for us to start Mercy House.
That overseas trip led to many more with my family. It opened our eyes to the suffering and the beauty of the global poor. The world's normal impacted our own. We hung maps in our home and fell in love with diverse food. We read about other countries and began to understand people who are different than us. We supported the persecuted church and started working with refugees in our city.
I didn't realize it at the time, but we were raising our children to go.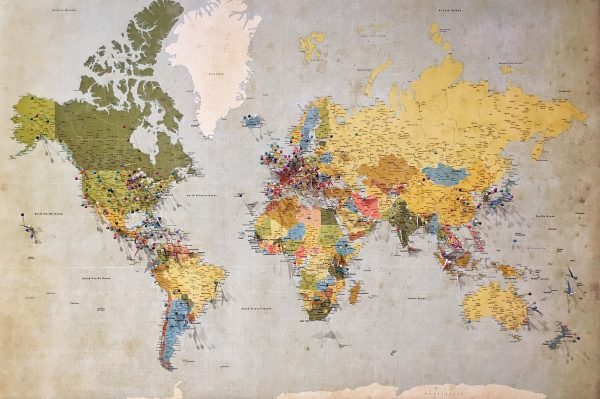 Most days, I want my kids to stay. I really like them–usually. (It's summer so I'm being honest).
As they have gotten older, we have found the rhythm that comes with consistency and maturity. There are less battles and deeper, thoughtful discussions. Their sarcasm and witty comebacks are appreciated. I trust them. I love them.
But they also crave independence and have an itch to go. They want to explore and travel and well, leave me. It's really amazing and also really hard.
The dynamic of launching children into adulthood is bittersweet and it's made me reflective. I have to be honest–looking back, I didn't realize I raising my kids not to stay. I didn't know they would crave going and seeing, exploring and doing.
I have friends who have no desire to travel and will always live a few miles from their family. They are happy with their choice to live in the same town they were born in and are living fulfilled lives. Any maybe you know I'm not just referring to the physical desire to go or stay, but believing we are called to live a mission that is bigger than ourselves, to live a life beyond our comfort zone, to break free from the safe bubble we are so good at creating for our family?
Assuming the posture of going will take us beyond our four walls.and it will help us pursue one of our greatest missions in life: to love our neighbors. I live in one of the most diverse cities in the world, so my neighbor represents every race and religion in our world.
The truth is even if we stay, we are called to go.
Before we dropped our daughter off, I asked her to sit down with me and have a conversation for an upcoming podcast (coming next week). As I listened to her thoughtful mature responses, it dawned on me that choosing a missional life would send my kids on their own mission. And that's a fact whether you ever leave town or not.
So, friend, are you raising your kids to stay or go?