Twenty-four hours. That's all the time my oldest daughter gets off work each week while working as a counselor at camp this summer.
My cellphone rang after her first week away and when I saw her name on the screen, I nearly knocked the table over trying to answer the phone. Her 24 hours had started.
It's weird seeing your kid one brief moment at a time because the first thing you notice is what's different. When her face showed up on my phone, I thought, she's tan from lifeguarding.
It turns out going away to camp is just as hard on a mom as going away to college. When she's at school, we text throughout the day and night and well, all the time, here and there. But while she's working at camp, she doesn't have access to her phone at all. She loves the unplugged time.
But I miss her.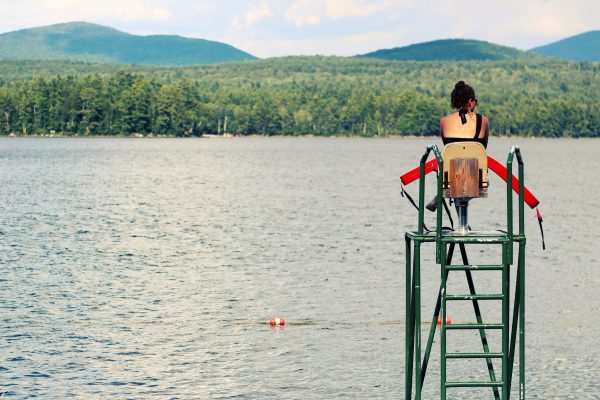 "Mom, I've been wanting to call you all week and apologize," she said in a rush. The clock was ticking.
"Honey, what on earth for?" I couldn't imagine what she was referring too.
"I wanted to say I'm sorry for the way I acted my freshman year of high school, for the way I treated you. I was awful. This past week I was a counselor to 9th grade girls and well, mom, I'm sorry," she said sweetly.
I swallowed down the lump in my throat and told her I'd been waiting for this call for years! We laughed and then she said this,"Oh and Mom, thanks for the way you and Dad parented me. For being strict, saying no, for not letting me have a phone too soon or allowing me on social media until I could handle it. Please, please keep telling my brother and sister no. One day they will appreciate it, too."
My first thought was her poor brother and sister will not like these once-a-week calls.
Then the call was over. She only had 23 and half hours left to do her weekly laundry, shower and most importantly, sleep!
Ten minutes later, still at the table, I was still holding my phone and big fat tears were wet on my cheeks as I replayed the conversation and tried to burn the memory into my mind forever. I wanted to go back and hug myself, sitting at this same table a few years ago, crying for a different reason, struggling with my freshman daughter, when everything was a battle and she hated our rules and our choices and even our obedience that resulted in starting Mercy House.
My kids are 19, 17 and 12.7 years (five months until she's 13 because she's counting) and I finally understand the season "they" were talking about–that brief moment in time when the young you and the now you collide and you can see the redemption in the seasons that were long and hard.
Hold on, momma. You might be toe-to-toe with your strong willed girl or weeping over your son's poor choices–I have done both. But don't give up. Don't stop loving them or leaning on God. Don't beat yourself up or stop believing in them. You might be dragging yourself through summer, just trying to keep everyone alive. It's okay. Be faithful. Be brave. Be the best mom you can be and let God do the rest.
Trust me, "they" are right.