"I love what your family is doing, but we could never do that. We are just too _______ [insert one of 1000 reasons].
The statement makes me uncomfortable, but I also understand it.
I feel the same way about 367 days a year. "I can't do this mission. Our family is too human. We don't know what we're doing, I can't even keep up with laundry. I yell at my kids. We argue and live this grace thing out in ugly ways some days…"
My lists of "I can't and I shouldn't" are endless.
But living on mission doesn't start with doing something for God. It begins with what He has done for us.
The question isn't Is my family called to a mission?
That question has already been answered.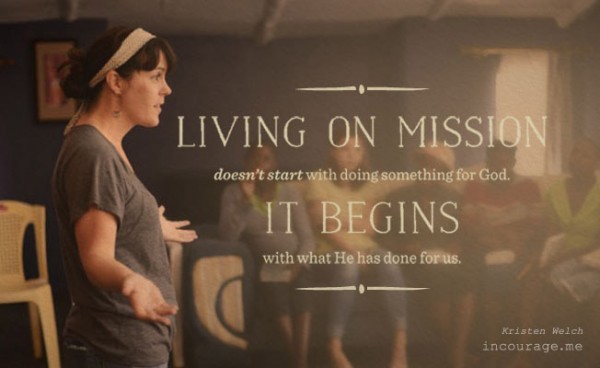 It's simple really. God has called all of us-families included-to welcome others into His family.
God's mission for the family is expanding God's family." -Ann Dunagan
We are called to go. By nature we are a sent people. That's our identity. It's the why of our lives.
Do you wonder what God's will is for your family? It's to fulfill His mission.
Living a life of going doesn't just show our kids our obedience, it shows them our love for Christ and his mission for our family.
Dr. David Shibley says, "The normal Christian life is anything but balanced, as popularly defined . . . The normal Christian life is high risk and high joy. The normal Christian life releases the temporal to embrace the eternal . . . God is not calling us to win the world and, in the process, lose our families. But I have known those who so enshrined family life and were so protective of "quality time" that the children never saw the kind of consuming love that made their parents' faith attractive to them. Some have lost their children, not because they weren't at their soccer games or didn't take family vacations, but because they never transmitted a loyalty to Jesus that went deep enough to interrupt personal preferences."
We wonder where, what, when . . . and we often get bogged down in the unknown details. The way we accomplish this mission will look a million different ways. Where are you going today? The grocery store. The school. The neighbor's house. Wherever you go, fulfill your mission and shine Jesus. Your small step of obedience might lead you to great destinations or it might just lead you to the dog food aisle. Either way, going is half the victory. Because that is your family's greatest mission.
A mission-minded family will serve together. Look for needs in your community and brainstorm with your spouse about how you can partner together to meet those needs in a way that works for you. My husband is handy, and I love to cook. My casserole dish and his tool box work well together. Is there a single mom who could use some help with yard work? Is there an elderly couple who needs help hanging their Christmas lights? Look for creative ways you can serve side by side and connect with each other and your neighbors."
― Lyli Dunbar
God isn't waiting for us to be perfect or get our act together, so we can change the world; He specializes in using the less-than-perfect places in our lives for His glory.
High risk. High joy.
Worth it all.