A few weeks ago, I got a text from a friend and she said, "I had a dream about Mercy House. I want to share it with you some day."
The next morning, another text from the same friend, "Kristen, I had another dream last night. Call me when you have a chance."
I read the text out loud to my husband. He said, "Are you going to call her and ask about the dream?"
No. I replied. I already know what she was going to say. He gave me a funny look. She's going to say "In my dream, Mercy House is a ship in the ocean and the waves are pounding and tossing that boat around and it's going to sink."
He glared at me. He was not impressed with my interpretation.
Oh, but I wasn't done. And the second dream is probably of me in the storm, I've fallen out of the boat and I'm drowning.
As I guessed my friend's dreams, I was sitting in a hot bathtub of water feeling sorry for myself. It was 8 in the morning and I was already late for work, but instead of rushing around, I was being super positive. A real delight.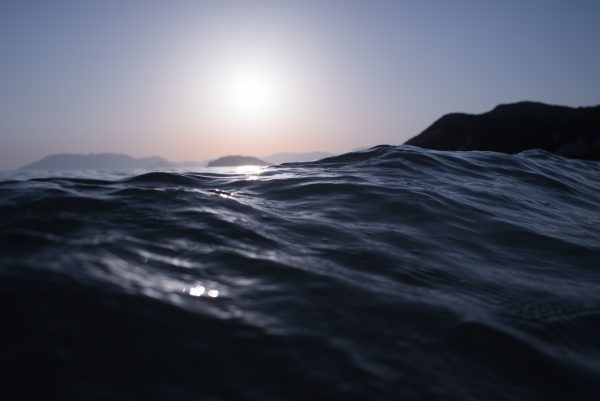 In the last six months, half of our staff at Mercy House has transitioned. It's the most turnover we've ever had. And what's been even harder is every single one of my friends and coworkers have left because they are putting their family first—from maternity leaves, to husband's out-of-state-job promotions, I couldn't blame them.
In my next book,  coming in 2020, I go into greater detail, but the past year has been the hardest and most challenging I can remember—professionally and personally.
Terrell tossed me a towel and said, "Mercy House is not sinking."
I bit my lip, Yeah, well, it feels like everything is falling apart (including me)
"Honey, When things feel like they are falling apart, they are really being rebuilt," he said.
Sometimes I hate his positivity.
I thought about his words a lot though.
Christine Caine's words became a lifeline that I repeated to myself over and over the past year, "Sometimes when you're in a dark place you think you've been buried, but you've actually been planted."
A long time ago, I told you how I sat in the office of a large church in Texas, trying to explain how Mercy House began. We were invited to present our ministry because the church had money to give away at the end of the year and they were considering making a big donation to our non-profit. It was a one-of-a-kind offer that isn't exactly part of our normal. For the briefest moment, I didn't even know how to begin. I knew my job was to convince them that we were worthy of their money, but all I could think was I'm not supposed to be here. As I sat there on a bright yellow chair, wringing my hands, I tried to find a place to start the story of the last decade that has turned my life right-side up. And so that's why I began with the truth:
"I'm not supposed to here. I'm a mom, a writer, a person who is forever behind on laundry…" But I then told them through tears how God used the poor to show me my own poverty. How –against all odds– we opened maternity homes in Kenya, have welcomed dozens of pregnant teen survivors, started Fair Trade Friday to provide dignified jobs in Jesus' name, opened retail stores and sell a lot of fair trade product.
Then I told them how I have panic attacks on nearly every overseas trip I take. How I had recently endured burnout and wound up on a counselor's couch (more about that later)… how I carry the trauma of 50 girl's horrific stories, how I have asked my family to give and give and give some more, how I have some amazing days but mostly I feel overwhelmed, tired, and very alone. I told them how this yes to God has cost me some of the most precious relationships in my life. I told them how often I want to quit. I took a deep breath and ended my "presentation" with, "I have no idea why God asked me to do this." So, yeah, I nailed it. It was just another example of how inadequate I felt for this job. I didn't have a slideshow, a business plan or even notecards. I had compelling stories and tears, lots of tears.
After I dumped my heart on the table between us, the room was deathly quiet. And then the Missions Pastor leaned across the table and said four words that I promise were holy and prophetic and exactly what I needed to remind myself every single day: "Kristen, God likes bad odds."
It reminded me of what Louie Giglio , Pastor of Passion City Church, said, " God is not intimidated by the odds. He's like, DUDE, I've made galaxies." I pulled out a pen and right there in that big church office, I wrote the words big and bold across my paper. God likes bad odds. He isn't a gambler. He isn't taking a risk on you; He is confidant in His strength in our weakness. God uses flawed people to reach a flawed world. We are in good company, friends.
In her book, Unstoppable: Running the Race You Were Born To Win, Christine Caine goes on to say, "The Bible is full of ordinary people whom God called to his divine relay. Which of them, in their power, their resources, or their ways had what was required to do what God called them to do? Not one. Moses was told to lead his people from slavery, then was caught between Pharaoh's chariots and the Red Sea. Joshua was told to conquer the walled city of Jericho armed with nothing more than trumpets. Gideon was told to defeat the massive Midianite army after the Lord purposefully shrank his army from 32,000 men to only 300 armed with nothing more than trumpets, torches, and empty jars. Peter was beckoned by Jesus to get out of the boat and walk on water.
Are you catching the theme here? Just like these people, when we learn to focus on who God is rather than on what we are not, we see that it is God who is working in us to do the very thing he has purposed to do in our lives. As we learn to run the race, accept his batons, and submit to his training, God's work in and through us is always growing and increasing. Christ in us becomes an unstoppable force in our lives and is spilled out into the lives of others."
I don't know what you're facing right now, today, at this very moment, as you listen to these words. I don't know what mountain is around the bend in your life. But I do know that life is full of ups and downs. I want you to know that you have permission to feel loss, sadness, disappointment, and grief in your situation. I think this is the first step in taking the right next step. We live in a fix-it culture that's consumed with a microwave, drive-thru mentality. But speeding up the process of grief doesn't help us get over our pain any sooner. Instead, it delays it. You will eventually grieve and it might hit you when you least expect it. The opposite of grief isn't happiness. You have permission to be sad, to experience sorrow, if you need it.
Just remember when things feel like they are falling apart on the mountain, they may just be falling together. God is always building something from the ruins and difficulties in our lives.
I think there are some days when we honestly just feel like we are sinking. It's on those days we can find comfort and relief in the Word of God. We can remember we aren't alone. In Pslam 69 David wrote
Save me, O God,

for the waters are up to my neck.

I have sunk into the miry depths,

where there is no footing;

I have drifted into deep waters,

where the flood engulfs me.

I am weary from my crying;

my throat is parched.

My eyes fail,

looking for my God.

But He also wrote
Psalm 46:1-11 (NRSV)
God is our refuge and strength, a very present help in trouble. Therefore we will not fear, though the earth should change, though the mountains shake in the heart of the sea; though its waters roar and foam, though the mountains tremble with its tumult. There is a river whose streams make glad the city of God, the holy habitation of the Most High. God is in the midst of the city; it shall not be moved; God will help it when the morning dawns. The nations are in an uproar, the kingdoms totter; he utters his voice, the earth melts. The LORD of hosts is with us; the God of Jacob is our refuge. [Come, behold the works of the LORD; see what desolations he has brought on the earth. He makes wars cease to the end of the earth; he breaks the bow, and shatters the spear; he burns the shields with fire. "Be still, and know that I am God! I am exalted among the nations, I am exalted in the earth." The LORD of hosts is with us; the God of Jacob is our refuge.
Don't forget that God is working behind the scenes, rebuilding us through our challenges, our difficulties, our mountains. It also doesn't hurt that God likes bad odds.
[Click to hear the audio version of this post in my latest podcast episode]
Podcast: Play in new window | Download
Subscribe: Android | Email | Google Podcasts | RSS