I don't want to live in a world where little girls become mothers. 
I don't want to think about how Margaret and Elizabeth got pregnant. I don't want to see their cramped homes with dirt floors and the mat on the floor that serves as a bed for six people.
I don't want to hear how Lillian was passed around in her village like garbage. I don't want to imagine the horrors she endured without a chance at education or a right to dignity.
I have watched the video footage below of her rescue. And when she wipes away silent tears at the thought of leaving her hell, the world weeps with her. Because for the first time in her broken life, she had hope.
I don't want Mercy House to exist.
But it does because 12 year old mothers do.
I don't want to think about these things…
But I have a 12 year old child and I can't forget how girls in our world live everyday.
God wants you to see these faces, to know these names. Mercy House depends on your knowing. It thrives on you not looking away, leaning into these hard, broken stories.
In the last 9 years, more than fifty pregnant girls have been rescued in Kenya and little girls have become mothers.
When you become a part of the story, you become a part of the success.
Today, we need 100 new sponsors to support the dozens of teen moms and their kids at the  Mother Child Graduate Sponsorship Program.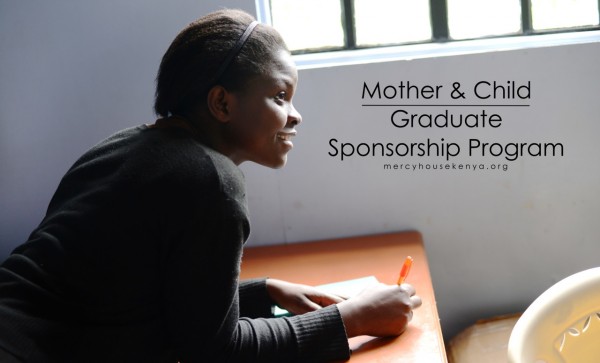 Every teen mother at Rehema House (supported by Mercy House) has a story. And although they are all unique, each girl has endured unspeakable trauma and unimaginable hardships.  But that' s not the only thing they have in common: Every mother hopes for a better future for herself and her child and often that dream starts with education. From the beginning of every rescue, Rehema House's holistic approach works to transform each mom emotionally, physically, socially and economically in Jesus' name, while simultaneously seeks to reconcile each girl back home or with a caring guardian when possible.  It's a beauty from ashes story over and over again.
Our Mother & Child Graduate Program provides school fees, uniforms and books for four years to the graduates who are transitioning from Rehema's residential facility back to their homes, supported by their families. The sponsorship program will also help meet any medical needs that might arise for their children. As part of the resident's economic growth, every graduate will be able to pay for her child's education from the account that has been set aside from the product she has made during her residential stay (No money will exchange hands, Rehema will facilitate these accounts). It's a beautiful way to help a teen mom, help herself and her child. Sponsors will receive up to 4 letters a year via mail, along with updates on each sponsor page.
We need 100 people to step into 26 young mothers lives and go the extra mile to support her and her child. For as little as $20 a month, you can do just that.
I can't think of a better way to spend our lives and introduce perspective into our homes.