(click below to listen to this post as a podcast)
Friday is a favorite day of the week for most people because it signifies the end of work or school and the beginning of the weekend which generally means rest, fun or both. This year, especially the last six months of Fridays, has meant an hour drive into Houston to visit with refugees that are employed as homeworkers of Mercy House Global.
We've had some tough years at our little non-profit, but none have been like 2019. It's been full of transition, disappointment and frustration. Good and amazing things have happened too but let's remember that positivity isn't exactly high on my strengths list. And it's not just me saying it's been rough. Collectively, our staff has cried more in 2019 than in our 10 year history, so yeah, fun times. It's been the year where I've dreaded Mondays and maybe that's why the Friday's have been so sweet.
There's just something very holy about stepping into the modest, cramped homes of refugees from around the world starting over in my city and getting a big dose of needed perspective or a tangible reminder of why we work so hard for women around the world. The language is foreign, the food is fabulous, the fellowship is so, so sweet. But it's the faith that keeps me going back…believing that God intersects our lives with our global neighbors for a reason that is much bigger than we can understand.
It was early Friday morning a few weeks ago and I was sitting in my car, waiting to pick up my team for our trek into Houston. I was physically exhausted, spiritually depleted and emotionally drained. On top of stress at work, for the last year we've walked a hard medical road with one of our family members. When our bubbly candle and soap teacher opened the car door and sat in my passenger seat, she said, "How are you?"
I broke. And I don't mean tears welled up in my eyes.
They poured down my cheeks, as I tried to apologize for my ridiculous outburst, she patted me on the back and asked if I wanted her to drive.  I tried to explain what I was feeling. There have been a handful of times in my life when I felt like God was speaking to me. As I tried to describe my overwhelmed, anxious thoughts, which all sounded like a mushy pile of fear and doubt, I ended up saying something like, "There just isn't enough" I was talking about all the things I needed- wisdom, strength, endurance, and money to keep going. I was referring to provision or the lack of it.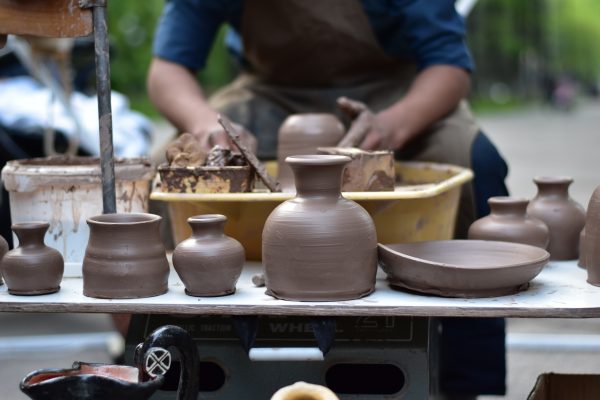 As I said it, I had one of those moments when I knew God was speaking to me. I Kings 17:7-16 came to mind so forcefully that I had to read it right then and there. "Some time later the brook dried up because there had been no rain in the land.8 Then the word of the Lord came to him: 9 "Go at once to Zarephath in the region of Sidon and stay there. I have directed a widow there to supply you with food."10 So he went to Zarephath. When he came to the town gate, a widow was there gathering sticks. He called to her and asked, "Would you bring me a little water in a jar so I may have a drink?" 11 As she was going to get it, he called, "And bring me, please, a piece of bread."
12 "As surely as the Lord your God lives," she replied, "I don't have any bread—only a handful of flour in a jar and a little olive oil in a jug. I am gathering a few sticks to take home and make a meal for myself and my son, that we may eat it—and die."
13 Elijah said to her, "Don't be afraid. Go home and do as you have said. But first make a small loaf of bread for me from what you have and bring it to me, and then make something for yourself and your son. 14 For this is what the Lord, the God of Israel, says: 'The jar of flour will not be used up and the jug of oil will not run dry until the day the Lord sends rain on the land.'"
15 She went away and did as Elijah had told her. So there was food every day for Elijah and for the woman and her family. 16 For the jar of flour was not used up and the jug of oil did not run dry, in keeping with the word of the Lord spoken by Elijah.
As I read the Bible story, I knew what God was trying to tell me. "I am enough. There is enough, Kristen. You want a dozen jars overflowing all the time so you won't fear or doubt, but I am asking you to trust me when it isn't there, when the jar has just enough oil. If I give it all to you, would you still come to me asking for more or would you rely on the abundance of what's on hand."
John Piper says, "God is always doing 10,000 things in your life, but you may be aware of three of them."  Think about how many times the disciples missed what Jesus was doing right in front of them. They missed the lessons.
God is always working. Even when we don't feel him or see him. He is working. I love the song lyrics
Way Maker
Miracle Worker
Promise Keeper
Light in the Darkness
My God. That is who you are.
During some of my worst anxiety and fear, I've discovered that if I go ahead and imagine the worst, it dissipates. Because even in some of my biggest fear like Mercy House running out of money and not being about to continue or my children facing life-long medical challenges, even facing my worse fears head on, Jesus is there. And He is enough.
If ____ ends, it ends. I was obedient and I can't keep it going anyway—it's not mine. If my children endure ____, they belong to Jesus and He will walk with us through the darkest places.
On that entire car ride down to Houston that day, I looked at my jars a little differently—instead of thinking how empty they were and how much I needed, I looked at them expectantly….like He was about to fill them. And you know what? He did because after sitting with refugees, sharing their incredible burdens of loss, mine looked different. Almost easier.
So, instead of looking at all the empty jars that need more time, money, wisdom, strength, opportunity—you name it— know that God gives us what we need when we need it. It might not always look like we want it to, but we can trust that he is up to something good. Because that is who He is and what he does.
Podcast: Play in new window | Download
Subscribe: Android | Email | Google Podcasts | RSS