Click to hear my newest podcast episode below or read the notes:
I'll never forget the first time I stood on the edge of a mountain.
I was a newlywed, and Terrell, my young husband, and I were hiking. Even though he grew up near Amarillo, Texas, which offers a flat terrain and a view for miles, he was comfortable in the mountains because during childhood family vacations he traipsed all kinds of rugged terrain. I grew up on the other flat side of the state in a suburb of Houston, and the only time my family had ever gone camping ended with us loading up our tent in the rain and heading home in the middle of the night. To say I wasn't in my element on top of a mountain was an understatement.
If I had an element, it would have been called a safety net. I have always loved my feet on the ground and adored my comfort zone. I really liked what I knew. I wasn't a fan of change, and I didn't crave new and daring heights. I was an above-average control freak.
But still, the mountains called me.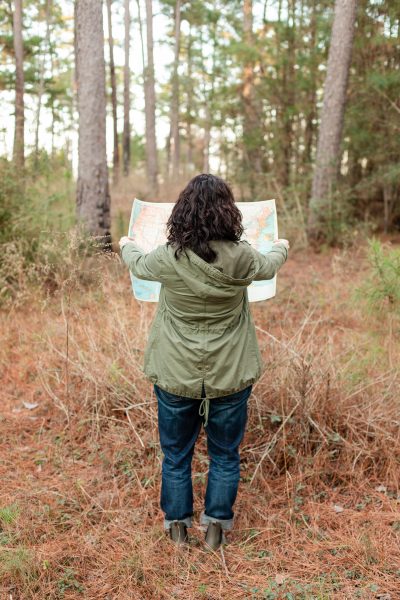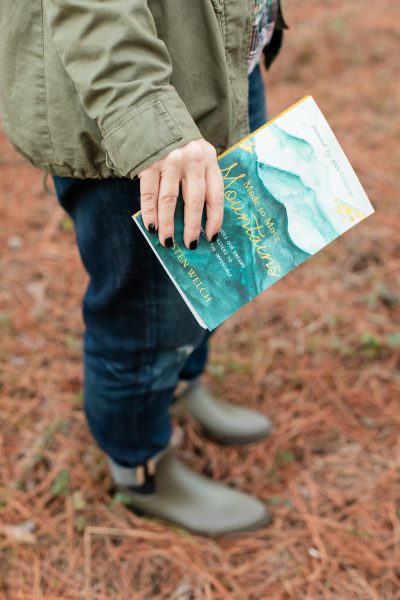 On those early hikes, often I walked uphill behind my husband, stepping where he did until I became surefooted. He would give me an encouraging tug or push along the way.
But I remember the first long hike we took. At the edge of my first mountain, I discovered a few things about myself. First, I was scared of heights. I was at the highest peak I had ever been to, and I didn't like it one bit. My fear didn't surprise me, but it did remind me that I liked control. The edge of the mountain terrified me. I stayed away from it—just to be safe. I had no desire to dangle my feet into the abyss below me. I wasn't a risk taker. Years later when I became a mom, my most-often-used parenting phrase to my children was "be careful." I still cringe at old home videos that recorded how many times I warned my family not to take risks.
The second thing I learned on the mountaintop was that my husband wasn't afraid at all. In theory, this wasn't a surprise either because I loved Terrell's adventurous side and his confidence to take new situations by storm. But loving him made me fear losing him. So when we climbed to the top and he immediately went to the edge to hang half his toes over, I flipped out. He called me over, and I refused. In the areas marked "danger," I watched in fear as he leaned over the railing and pushed every possible limit. The more fear I showed, the more he thrilled at the danger. Uh-oh. I had married a risk taker.
His thrill seeking and my comfort zone would clash in a million little ways as we learned to live together in the early years. We proved what they say about opposites attracting. I think it's safe to say that my voice of reason tempered some of his adventures and his risky behavior pushed me out of my comfort zone, and we found a place to meet in the middle. But even after twenty-five years of marriage, he still goes to the edge of every cliff while I beg him not to—some things never change. (If you read my book Raising World Changers in a Changing World, you know my middle-aged husband shattered his ankle on a skateboard. Point made.)
In the first decade of marriage, we climbed several mountains. Life is full of twists and turns, setbacks and successes. Every one of them will lead us back to Jesus if we let them. Whether we are on the mountaintop or in a low valley, God uses what we endure to draw us closer to him.
Whether it is an audacious dream to end global poverty or simply to open a bakery in your town because you make the best chocolate chip cookies and the world needs to taste them, dreams are, well, dreams. They may not always make sense to everyone else, but you imagine them coming true. I love this anonymous quote, "Every great dream begins with a dreamer. Always remember, you have within you the strength, the patience, and the passion to reach for the stars to change the world."
Over the last decade, we have watched God part the Red Sea, feed the five thousand, rain manna from heaven, shut the lion's mouth, and cast mountain after mountain into the sea. Mercy House Global has rescued more than fifty pregnant teen girls, and we've welcomed their miracle babies in the multiple maternity centers near Nairobi that our nonprofit funds. We've empowered their families with dignified artisan jobs in an effort to break the generational poverty that imprisons so many. Mercy House Global works with over seventy artisan groups in more than thirty countries to replicate this goal by selling millions of dollars in fair-trade product every year—all to empower women around the globe in Jesus's name.
Dreams are hard. This one has broken me in ways I cannot explain. It has changed my family and given my kids a Mercy House childhood instead of one built on the American Dream. It's given them a global perspective, but it's also required enormous sacrifices. It's made me desperate for Jesus.
Podcast: Play in new window | Download
Subscribe: Android | Email | Google Podcasts | RSS