"There's only one reason we're still together," I told my husband quietly as we were cleaning up the kitchen after dinner one night.
He stopped loading the dishwasher and looked at me,  "What?"
"There's only one reason we are still married and our home is semi-functional," I said louder, over our kids arguing about what to watch on TV.
"And happy?" He said sarcastically with a laugh. "Honey, what are you talking about?"
I reminded him of the week of bad news we'd heard in our circle of community. There were just too many announcements of friends our age divorcing, and destructive behavior from their defiant kids and one too many defeated leaders in the same kind of work as us, throwing in the towel.
"There's nothing really different from us than from this family or that one. There's only one reason it's not us divorcing, dealing with wayward kids or dropping out of the non-profit world."
I had his full attention.
I swallowed the lump in my throat. The answer made me want to weep right there in the kitchen.
"It's Jesus. He's the only reason," I said softly and handed him another plate to load.
We were quiet for a moment–chewing on the truth hanging in the air between us. We have had plenty of reasons over the years to give up on each other; to call it quits on Biblical parenting, to find jobs that were easier. More than once, it would have been easier to just walk away than stay and fight.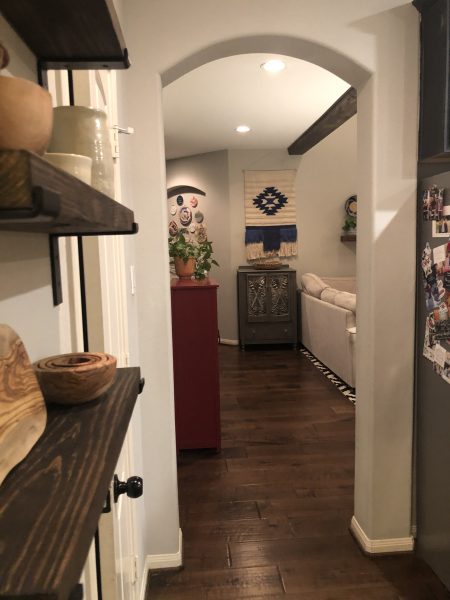 But we didn't survive those seasons because we made good choices or because we were good people. And it's important to acknowledge that our sacrifices, self-denial and sad attempts to hold it all together–didn't somehow work.
No, we are defying the odds because of Jesus. Simply. Profoundly. Because of Jesus. And we both knew it.
The more we talked about it, the more we had to acknowledge that every bad choice, difficult season, hard year, scary impossible mountain, every single challenge we have faced– and still face–we have overcome or are overcoming because of the miracle-working power of Jesus.
We didn't give up and He didn't give up on us.
This is it, friends. This is the truth that I wish I could explain to my friends who stopped going to church, who gave up on their kids, who wrote Jesus out of their story:  Don't stop trying. Don't quit climbing. Don't give up on Jesus. He can do anything, anywhere, with anyone.
Updated to add:
It was pointed out to me on FB that I got this post wrong or left sometime important out. I agree. I apologize. I was speaking for myself and trying to give God the glory for where we are and so many others… but I never intended for it to hurt others. A commenter, Carrie Thompson, said it better than I did:
"The problem is that these other people who are divorcing, or who have wayward kids… well the truth you don't understand I assume, simply because you are not walking it, is that there are PLENTY of them that didn't give up either… nor did Jesus give up on them….so your theory is not really sound…
and to be truthful this is kindof hurtful (and I am NOT easily offended—nor did you actually offend me), but it is likely hurtful to that large handful of your readers who ARE divorcing—simply because a spouse gave up, or a circumstance they cannot control, or they are in the fight of their life with a "wayward" child —which by the way, the definition of wayward is—
"difficult to control or predict because of unusual or perverse behavior"
Which means those parents you are saying gave up or Jesus gave up on— don't want it to be that way— they didn't ask that their child be wayward…. they didn't necessarily make choices in their life that equaled to a wayward child, they are crushed, scared, frustrated, angry, they are on their knees, they are trusting God, they are believing in a WORD, that does not return void….
What they need is for you who aren't struggling in that area to be standing in that gap for them… instead, they get posts like this…
This post gives no space for the fact that we live in a human condition that does not always play fair…. we aren't promised a rainbow existence, we can never BE good enough, we don't control others actions. Sometimes things are happening in others lives that we don't agree with or understand, but we also do not know everything. We don't see the everyday spiritual fight they might partake in… we can only be judge and jury to the outcome, or to the gossip, or to the circumstances we see with our eyes…
But JESUS doesn't give up on any of them… and Because Jesus…..
Maybe that woman who has been emotionally abused is able to leave,
Maybe that woman whose husband leaves her can keep breathing and make it through the shame (which shouldn't exist)
Maybe that parent is hanging on and clinging to verses they have instilled into that black sheep
Maybe those on the precipice of despair over their circumstances can hang on…
Because Jesus.
To all you divorced, or given up on church (which doesn't equal giving up on Jesus BTW), to parents who must have boundaries between you and a child, or whose children are making their own life choices…. JESUS is still with you… HE doesn't give up. You don't know the end of your story yet, you don't know what will be turned for GOOD, you can't read this and lose hope…
Because Jesus.