On a cool Friday in October last year, Ann Voskamp and I knocked on my refugee friend's door.
We had spent the morning making cold-press soap with a refugee from the Congo. In between our home visits, we needed lunch. I had the honor of introducing Ann to Whataburger (arguably one of the best hamburger joints in Texas) because it was quick and convenient. We were in a rough area of town, sitting at a semi-clean table, and I'm pretty sure someone was arrested in the parking lot. When I told my friend I don't put on airs, I didn't exactly mean to prove it. Ha!
When Ann asked if she could meet some of my refugee friends, I knew I had to introduce her to the family I told you about last week.
Ann writes of our day, "I once walked up to the door of a grandfather refugee from Syria, who now lives under a roof in Houston, and he flung open the door of his narrow townhouse, then flung his arms wide open and bellowed, "A million, million welcomes!" I smile shy. A part of my heart falls in love with him.
"Get up every day and light a flame and fall in love with all the same things."
He's only been on safe soil away from the missiles exactly 6 months minus a day.
He welcomes me into their small living room and tells me that they had raised their children under a roof in Damascus, Syria, and they kept count, until they counted 57 houses bombed in their neighborhood.  "It was the same, day after day — danger, barrel bombs falling from sky, driving our children right into the ground."
His daughter stands at the table awash in later afternoon light, trimming wicks of candles one by one.
"The day the sky over our village exploded in black clouds, I called home and my daughter did not pick up the phone, nor my wife — but a soldier answers the phone in my house. And I knew. I knew."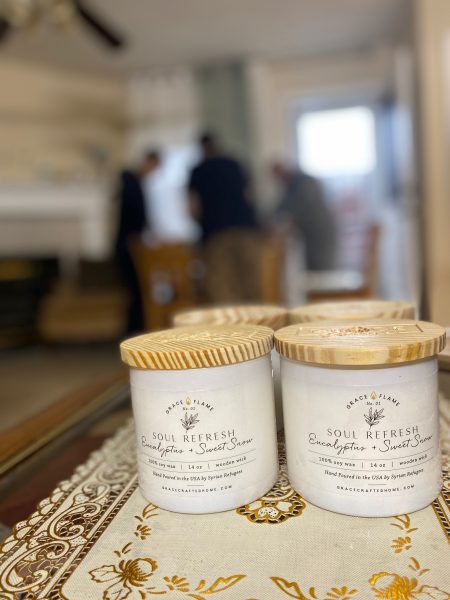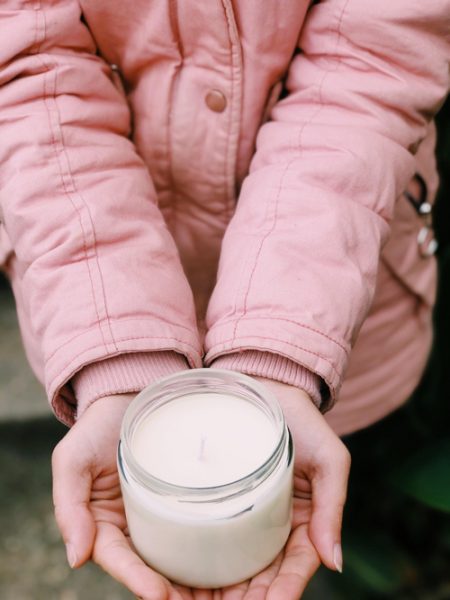 The white-haired father pauses — composes himself — then looks me in the eye.
"If you are actually killed — you die once. But if you actually have to live through the same nightmare, the same pain, the same misery, day after day, you die a hundred times. I am alive, but I have died a hundred thousand times."
There are people who are living a life that feels worse than death.
After he managed a way to escape with his family out of Syria, for nearly 7 brutally long years, he lived with his wife and children in a refugee camp, before cruciform love welcomed him in to the land of the free, and now, he smiles a global mile wide and hands me an espresso coffee, a man kinda undeniably lit with love for the world that loved him back to life.
"There are people who are living a life that is gloriously alive after death."
"You have come for the candles we have poured by hand?"
His daughter looks up from the table, her eyes glinting warm.
There are people who are living a life that is gloriously alive after death.
"Yes sir," we return his smile, and wink. "We've come for the light we're all going to make."
I had been to this house more than 20 times since August and shared a hundred stories and spent countless hours there and he had never said these chilling words before. As his daughter and wife finished their first candles for the December Fair Trade Friday members, we listened intently to his story, knowing we were some of the first people in the USA to hear it.
On the hour drive home, Ann's eyes on fire, we dreamed about how a candle, a light, could not only provide desperately needed work for this family of six, starting over in America, but it was paving a way to shine the light of Jesus deep into the heart of this home and these lights would burn brightly one day in your home. Isn't this the striking, startling, stunning work of the Gospel? How God connects us all with the Light of love.
How do we climb the mountains in life? We light flames of grace.  "To light a flame of grace and choose one way, every day, to  live out one same brave habit, or to be grace to one person, or to pray day for one person, one situation, this one hurting world," Ann Voskamp
Pre-order Made to Move Mountains: How God Uses Our Dreams and Disasters to Accomplish The Impossible here. And grab a Learner Candle at a deeply discounted price Monday and support the education we are providing for refugees at Mercy House Global.