I've been writing in this space for nearly 13 years now. I've written thousands of blog posts and hundreds of thousands of words… including many on why I think having dinner together as a family is critical.
COVID-19 has given us unlimited time to test this theory.
I won't lie–our family dinners take on this pattern: Prepping. Cooking (usually with a helper). Eating. Discussing (politics, immigration, the virus, masks, the future, the hope and hopelessness we felt). Arguing about one of the above. Doing the dishes. More arguing.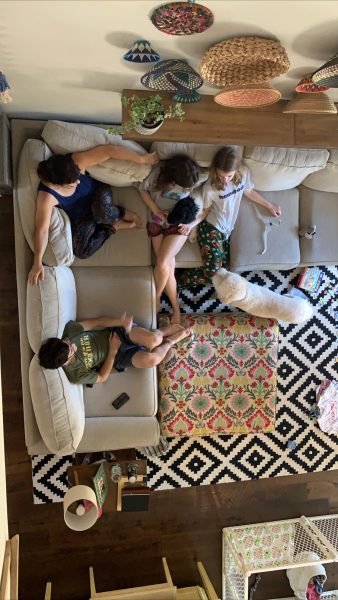 There have been many dinners when I've said this out loud to all present:
I love you a whole lot but I'm getting real tired of you. 
I apologize that statement isn't in any of my parenting books. It should be.
I've been given a crash course in parenting adult college kids who are forced to move back home mid-semester, seniors who don't get to finish their high school career the way they planned and introverted junior highers who hate zoom calls and are struggling with loneliness and disappointment.
Your crash course might look different, but I think it's safe to say that every parent is hanging on for dear life.
Summer has been an exhausting round of ground hog day and in a couple of weeks, and some form of less than normal school starts again.
We are making impossible decisions every single day–or decisions are being made for us –as we try to  juggle work and educating kids, signing death waivers, worrying about our kid's mental health while trying to protect them physically.
Parenting in the year of corona is impossible.
I wish I had magic words to make it easier. I don't. I'm writing a rare summer blog post to tell you a few things:
Me too. It's two of the most powerful words parents can say to each other. It's such an honest way to say "you're not alone. I am scared, angry, frustrated, sad. Me too."
I don't know either. I cannot remember a more uncertain time as a mom. I simply don't know what's best, what to do next, when this will end, how to ease my kids losses. I don't know either.
Whatever decision you make, it's okay. There's no rule book or perfect choice for 2020. We do what we have to in difficult circumstances for the good of our family. That's it. We do the best we can and it will be enough.
That's all I have. I could remind you that God is still in control, but I figure you don't need spiritual platitudes right now.
Maybe you're like me and you just need another mom in the trenches making impossible parenting decisions who simply says heck, parenting in the year of corona is really hard.