"I still struggle with stuff," I said to the young married girl standing in my living room the other day.
"You mean like having, buying, getting stuff? Even after Africa, after all you've seen? This makes me feel better," she confessed.
Why are we afraid to admit we struggle? While my struggle has changed in the last two and a half years, it's still there, resurfacing nearly every time I see a throw pillow that would look amazing on my bed.
Last week, I bought a new one. I hope you're not disappointed in me.
Here's the honest deal: When I returned from my first trip to Kenya, I was wrecked. My husband and kids had little wrapped gifts for me. I refused to open them and asked that they be returned. For months, I cleared and cleaned out, I struggled, I labored with responding to what I'd experienced. We sponsored six more Compassion kids, I didn't go to my favorite store once in all those months. I decided we would only wear second-hand clothes, I only bought fair-trade gifts, I set up this prison of self-sacrifice that made my entire family miserable.
And then finally, I discovered all the pain was leading to an unplanned and unexpected birth, it was hard labor and it produced Mercy House.
One day a wise friend said to me (after hearing of my ridiculous search for second hand black pants my daughter needed for a concert), "what is your one thing?"
"What do you mean?" I asked cautiously.
"What is your passion? If you could pick one thing God has called you to. What would it be? One."
I answered, "Encouraging mothers. Here and around the world."
Then the words that brought freedom, "Kristen, you're wasting a lot of time and energy trying to do it all. Your giving a lot, sacrificing with your time for Mercy House. Don't let guilt rule you. Buy what you need and occasionally something you want. You're all tangled up in sacrifice turned to good works."
Maybe your one thing is fair trade clothes or healthy living and organic food, maybe it's the local homeless shelter, orphan care or adoption. I'm not saying we shouldn't be aware and generous in other areas. This is a given. I just think we shouldn't try to do it all because we are motivated by guilt.
Take adoption for example. We are not all called to bring orphans in our home, but caring for the orphan (and the windows) is a Biblical mandate for believers. It's not optional. Your one thing might not be adoption, but that doesn't mean you shouldn't give to the couple in your church raising money to bring a baby home, host a fundraiser, become certified to offer respite care for foster families.
Finding and pursuing your one passion, changes your life and ignites a Godly desire to support others in their divine pursuits.
My dear friend Suzanne (who is my right hand volunteer for Mercy House) recently brought Reese home from China. This beautiful abandoned child with a cleft palate was just two years old when she came home, she couldn't walk, talk or eat normally.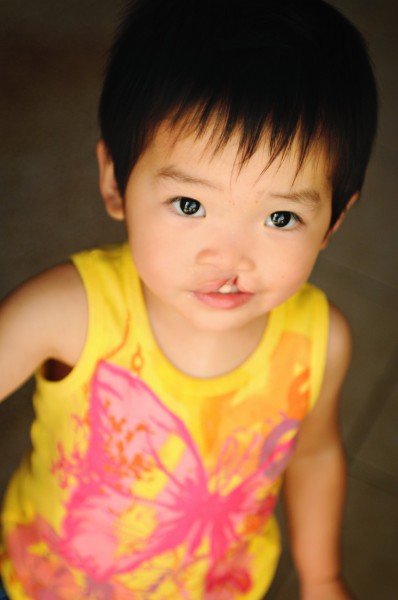 In just six months, she's walking, talking, potty-trained, enjoys food, is in love with her three big brothers, bonded to her mommy and daddy and recovered from two surgeries.
When this baby girl walked thru my door the other day and hugged my leg, I thought my heart would explode.
You know what's amazing about being a part of someone's struggle?
You get to be a part of their victory too.
Because when you pursue your one passion, it's so beautiful, others will want to be a part of it. So, I'm going to keep on struggling.
"If there is no struggle, there is no progress." -Frederick Douglass
This weekend, I'm at Together for Adoption in Atlanta, Georgia, representing my one, Mercy House, but I'm also hoping to engage and encourage in someone else's struggle and eventual victory.
What is your One?