I met him on my first trip to Kenya in 2010. He is one of the children we sponsor through Compassion International.
I visited his home with my family last summer. It was there I discovered that changing a life changes yours.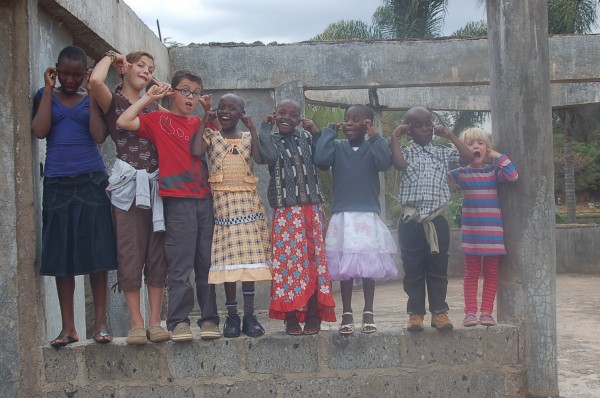 Yesterday, we returned to Ephantus' home where 7 people live (they've taken in two cousins since last year). It is the size of a large walk-in closet. Ephantus has grown taller, his missing teeth are in and his smile is just as contagious.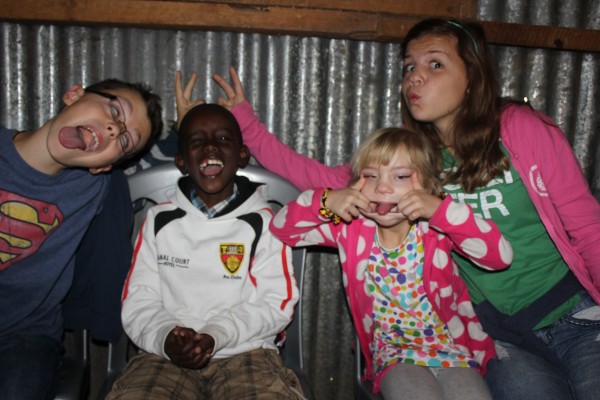 After visiting his Compassion project, we walked the winding path to his home avoiding raw sewage with every step.
We met his mother, Mary, the same and different as last year. We hugged and talked and inquired about their business and spoke of her improved health. She reached into her bag and said thru Maureen, our translator, "I have something for you. My 14 year old son wrote you a letter."
She pulled out a piece of notebook paper so thin you could see thru it, it was worn from the waiting.  She handed me the note from the brother of our sponsored child, someone we have never met and only knew from an occasional mention in a sponsor letter.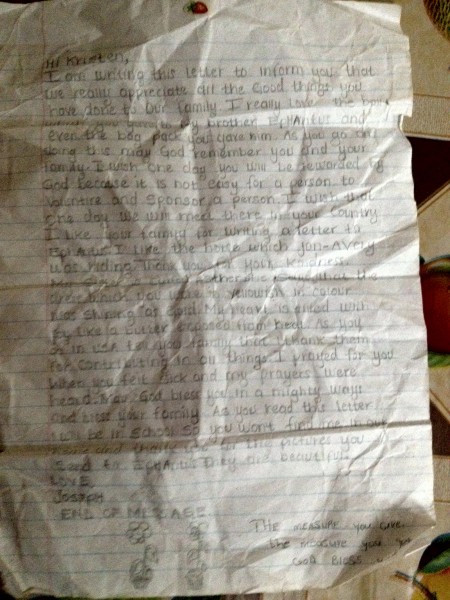 I started reading it aloud to the small group gathered in the neat home and the lump in my throat doubled when I saw my name. I handed it to my husband to continue reading. By the time he finished, everyone in the room was wiping eyes.
Hi Kristen,

I am writing this letter to inform you that we really appreciate all the good things you have done for our family. I really love the ball which you gave to my brother Ephantus and even the bag you gave him. As you go on doing this, may God remember you and your family. I wish one day you will be rewarded by God because it is not easy for a person to volunteer and sponsor a person. I wish that one day we will meet there in your country. I like your family for writing letters to Ephantus. I like the horse which your son was riding. Thank you for your kindness. My sister says the dress which you wore in yellowish in colour was shining as gold.

My heart is filled with joy like butter exposed to heat. As you go in the USA tell your family that I thank them for contributing in all things. I prayed for you when you fell sick and my prayers were heard. May God bless you in a mighty way and bless your family. As you read this letter, I will be in school. So you won't find me in our home and be able to thank you for the pictures you send to Ephantus. They are beautiful.

The measure you give, the measure you get. God bless you.

Love,

Joseph
The powerful words of a boy we didn't know we were having an impact on us left us speechless.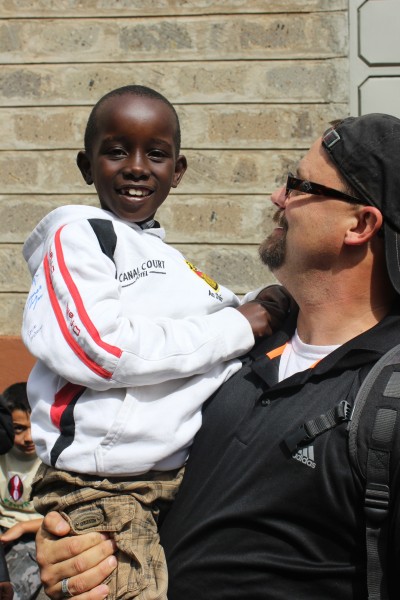 We often wonder what we are to do in this world. How do we make a difference? Do our few dollars a month really matter?  As I sit here in Kenya, far from home, looking at my surroundings, I'm convinced they do.
It's not the size of our contribution that matters, it's that we contribute.
We must do something. 
I couldn't have said it better: his words a gift:  the measure we give, we get.