I'm on a cleaning kick now that the holidays are over.
Once I made the decision to take down the tree (sad moment), I decided to attack the house in full force.
So far, I've deep cleaned my bedroom, master closet and the junk drawers in the kitchen.
On New Year's Eve, my teen daughter and I spent over 5 hours on her room (hola!) Her 16th birthday room makeover is underway and we obviously know how to ring in a new year.
And if I'm honest, I'm a little scared to even go in my 3rd grader's room. Baby steps.
In the middle of all my purging and scrubbing, I organized all my cleaning supplies. It's easy to end up with a cabinet full of half-empty bottles.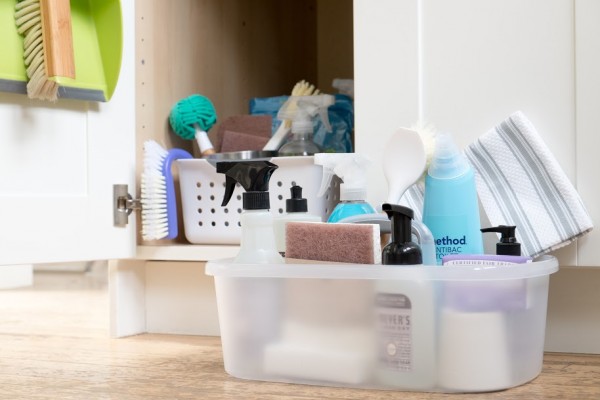 I've been able to get more organized for the new year with ePantry's Mrs. Meyer's Cleaning Kit offer ($37 dollars in free product!) Here's how you can take advantage of it, for free, too. The kit includes an amazing Casabella cleaning caddy packed with some of my favorite cleaning supplies — Mrs. Meyer's dish soap, Mrs. Meyer's hand soap, a Grove Collaborative kitchen towel and Grove Collaborative walnut scrubber sponges. Swoon!
In the past, I've stored all my cleaning supplies under the kitchen sink – and its been a mess. It only took a few minutes to organize my supplies into the caddy, but it saves me loads of time. Now instead of rushing back and forth to the kitchen to grab supplies, everything is at my fingertips. And instead of hunting for bottles under the sink, everything is neatly organized. 
After getting the mess under the sink organized, I was excited to put out my new kitchen goodies, too. There's just something about beautiful soaps and fresh towels that makes your kitchen feel clean. 
When you sign up this month using my referral link, you'll also get the Mrs. Meyer's Cleaning Kit for free! If you're already signed up for ePantry, use my referral link to get 50% off the kit. They're only giving away a limited number of kits, so don't miss out!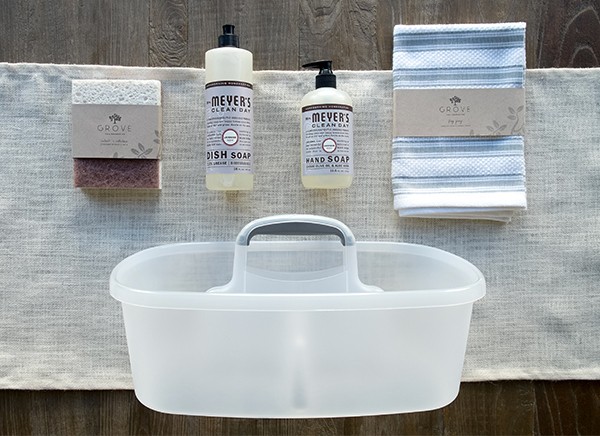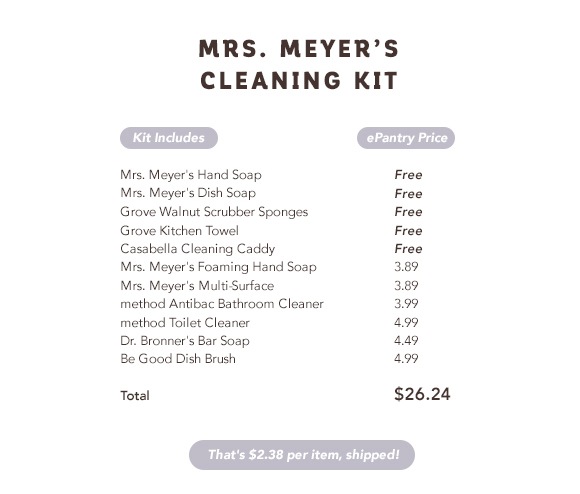 Here's how it works:
1. Sign up for ePantry here. You'll receive the Mrs. Meyer's Cleaning Kit free when you sign up!
2. Answer a few quick questions about your family and how clean you keep your home (be honest!). This takes under 30 seconds and ePantry uses your responses to customize your first basket.
3. Once you've answered the questions, you can finalize the basket of products to suit your needs by adding or removing items.
4. To receive this offer, your order needs to be a minimum of $20. Choose the combination of products and scents you want to receive in your first box.
5. Click finish & pay and place your order.
6. Already signed up with ePantry? Existing customers click here  to get 50% off the Mrs. Meyer's Cleaning Kit with your next order.
Don't forget this special offer is only available until Jan. 8 or while supplies last.
Happy cleaning!