I unbuckled my seatbelt and climbed into the back of our van where my children were sleeping. I had to get away from this stranger. I crouched between their two car seats, pulled my knees up to my chin and cried. I stayed back there for a long time until I could finally make eye contact with the person I thought I knew in the rearview mirror.
In the shadows, I could see my husband's shoulders shake and the tears streaming down his face. I was watching a man break in two. He sobbed with relief, the kind that comes from unleashing pent-up pain for far too long. I was horrified at his confession about his struggle with pornography, disgusted and confused. At the same time, I longed to wipe his cheeks and cling to him. He kept saying, "I'm sorry, I'm so sorry, I had to tell you." He paused. Then, "Even if it means you can't stay married to me. I can't live like this any longer."
As I huddled in the back of the van, I wanted a distraction. I wanted to wake my sleeping children. I wanted them to need me. I wanted to pretend a little bit longer. But they slept on while the man in the front seat begged me to say something. I racked my brain searching for clues that led us to this moment. I couldn't reconcile who I loved with whom he just confessed to be. I loved my best friend and partner, but I didn't know this side of him and it scared me to death.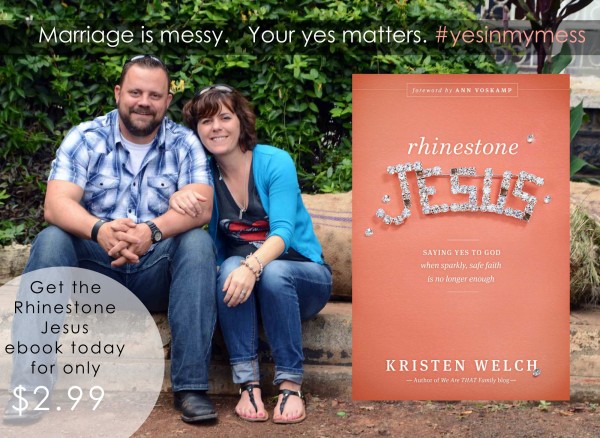 My hands shook and I struggled to breathe. Tears splashed on my babies and I wanted to die. I hated Terrell for his confession, the years of lies he must have told, and for being someone I thought he couldn't be. He had unloaded the burden of his life on me and now I carried the damage of it. I didn't understand the entrapments of his sin, why he couldn't find freedom, and what role I played in all of it. Even the thought of beginning this journey turned my stomach.
But simultaneously, I loved him for doing it. I ached at his desperation and I couldn't fathom what this confession cost him, knowing what the consequences might be. I couldn't imagine my life without this guy. I didn't want to live without him, I didn't want him absent from our kids' lives, but I couldn't even fathom tomorrow. What do we do now? Will he ever be free? How will I ever forgive him? When will I wake up from this hell?
And so I offered the only words I could think of: "We can live as friends."
Immediately, I saw momentary relief in his eyes. But the rearview mirror also revealed a depth of sadness in my husband that shook me. He saw raw fear and pain in my eyes. We couldn't bear it and we both looked away. With hours of driving left, I climbed back to my seat, and we began the conversation that would break my heart even more when I dared to ask why.
Because no matter how he answered that question, I didn't know the man I was married to and I began to wonder if his struggle was my fault.
I thought over our week of memories, of laughter and happiness and wondered if it was all make-believe just like the pretend world we had visited. This was the beginning of a long and gut-wrenching quest for freedom and forgiveness.
Something miraculous happened in the midst of our devastation. The same night Terrell took a bold step and confessed his struggle to me was the same night I stepped toward him and started the process of forgiveness. Everything in me wanted to run away from this stranger I loved. But at the same time, I was so proud of him for wanting freedom more than he wanted to continue in the safety of his secret. We sobbed our way thru intimacy that night and even though we had never tasted so much brokenness, we knew that somehow God would redeem the ashes.
We knew it would be the greatest battle of our lives—this choice to walk in freedom and forgiveness—but we decided in the middle of our devastation, we would fight for wholeness in our marriage.
-an excerpt from my book: Rhinestone Jesus, Saying Yes to God When Sparkly Safe Faith Is No Longer Enough. Today, the ebook version is ONLY $2.99 on Amazon!