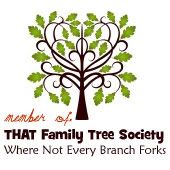 I'm going to be taking a break from THAT Family Tree Society for awhile. If your blog hasn't been featured yet, I will try pick up where I left off. But for now, I've got some new features in the works!

Introduction: 
1.    Tell us a little about your blog (name/reason why you blog):

I blog at Adventures of a Somewhat Crunchy Mama.  I originally began blogging for two reasons.  One, I wanted to chronicle our days as a homeschooling family and, two, I was hoping to find a way to make some extra money with the blog.  However I quickly found that making money with a brand new blog is more difficult than it sounds and that the friendships I was forging were much more real and fun than I ever expected.  Blogging has become an outlet and an obsession.

2.    How long have you blogging?

I have been blogging since September 1, 2008.  What began as an experiment has evolved into a wonderful hobby/obsession/lifestyle.
3.    How would you define THAT family?

Although I think most of us have a little of THAT in us, I think THAT family is the one the people whisper about behind closed doors, the one many find to be slightly odd, a bit outside mainstream or just plain weird.  THAT family is the one who is deemed abject by the world and it's standards.  But THAT family is also the one who can walk with an inner peace because they know they are seeking His acceptance, not that of the world.

4.    When did you discover you were a part of THAT family?

Without a doubt, when I started to homeschool my oldest son.  I was always the "weird one" in my family.  But this pushed me beyond the point of hope.  Thankfully, my family and friends have been able to see that while we may not be mainstream, we have a close family full of love. The path we have chosen is what works for our family and we will support whatever path they deem best for their families.